2014 - Year of Green Wooden Horse

January 31, 2014 - February 18, 2015

The "Yang Wood Horse"!
General Overview of The Wooden Horse Year
The Year of The Green Wooden Horse 2014
2014 is the Year of the Horse. 2014 Chinese New Year Day is on January 31, 2014. Chinese Astrology uses the cycle of 60 Stem-Branch calendar system to build the Chinese astrology birth chart. 2014 is the 31st Stem-Branch in the calendar cycle. That is Green Wooden Horse Year.
Chinese like Horses for many reasons. Horse provides a good and quick transportation for people before automobiles. Horse can give people a ride to their destination. Therefore, horse is not only a symbol of traveling, but also a sign of speedy success.
Horses like to compete with others. They pursuit for their freedom, passion and leadership. Therefore, people will have busy schedule for their goal in the year of Horse. In Chinese Five Element Astrology, Horse is connected to fire, red and heat. Also, horse is a social animal and red is also connected to love, therefore. horse is treated as a Romantic Star in Chinese Astrology.
Horse is intelligent animal. Horses need to be trained to become useful to human. Human can make Horse famous. Without human's guide, Horse just a wild animal. It doesn't know where to go. There is no destination in its life.
In Chinese Five Element theory, Horse is in the Fire group. Horse month is in the middle of summer. Horse is the strongest Fire animal in 12 zodiacs. 2014 is year of Wooden Horse. Wood can help Fire to burn. So Fire can last longer. When Horse meets Tiger and Dog, then they will form even stronger Fire. Too much Fire implies the hot temper and no patient. If the element of Fire is favorable to the person, then the person should have a good fortune in 2014. If Fire is unfavorable to the person, then 2014 will bring big trouble to the person.
The Overall Trend in 2014 Year of Horse
The Horse gallops in with renewed passion in 2014!
The Year of the Wood Horse, January 31, 2014 through February 18, 2015, is expansive and exuberant! It rewards honest opinions and disciplined thinking.
Social networks will be buzzing. People will be more forgiving and cooperative. It's a fabulous year for travel, parties, and community events.
In Wood years, teamwork brings out the best in everyone. You'll find it easier to craft common sense solutions and have fun in the process. Families working together can attract exciting opportunities in the first half of the year.
Later there will be more time to follow your heart.
Like many things in life, a bright start will be quickly followed by months where patience and responsibility are your tools for success. Many will be at a crossroads that requires courage, flexibility, and original solutions.

Challenges to the way you have always done things do not mean anything is wrong. Wood energy encourages slow growth and practical solutions. This disciplines the exuberant promises people tend to make under the influence of Horse. Hard work and creative innovations promise to leave a lasting and positive mark.

With such optimistic energy, it's easy to make too many commitments and then become frustrated and scattered. Don't hesitate to let others know. Ask for help. Focus more on taking care of yourself. Sometimes the best thing to do is take a break from all technology and spend more time close to nature.

Keeping secrets and the dark side of human nature can be a theme this year. Those who are willing to be honest about their feelings, or any emotional wounds, will discover a sense of freedom and healing that may not have seemed possible.

Love is in the air! A Horse year is especially lucky for taking a romantic relationship to the next level. Marriages made this year hold the promise of exceptional happiness and stability.

Those born in Tiger, Horse, or Dogs years will enjoy a boost of cheerfulness that makes you quite popular. You'll have more fun with friends old and new. Positive feedback enhances self-confidence. Share your thoughts. Social networking will allow you to spread your influence.

Those born in Rat, Dragon, and Monkey years have permission to work less and play more. You'll be willing to take more risks to get what you want. Your intuition is strong and creative juices are flowing! Even though you like to take the lead, it will be easier to be a team player.

Those born in Ox, Snake, and Rooster years will use patience and determination to support a foundation for success. What you sense about people and environments will be quite accurate. People are drawn to you. It's an ideal year for research and developing your skills in any area of interest.

Those born in Rabbit, Goat, or Pig years will be well respected for their kindness. You'll play a quiet but vital role in any group or family activity. Step out of your comfort zone and embrace life to the fullest. Anything that brings you joy is where to focus more time and attention.
Known as the year for leaders, 2014 is set for those who want to make a difference and know how to make it happen. This is the year full of immense turning point that opens a new period of fate. The horse will lead us to this new period, a leader that is committed 100% to his responsibility and get the stage ready for the next 25 years.
The Year of the Horse will continue the wrath of 2013. Earthquakes and floods will occur worldwide while weather patterns continue to change triggering a lot of calamities. But 2014 will also be a good year for carrying out psychic research as new techniques are developed to record paranormal phenomena.
People who cater for alternative medicine will have an increase of demand for their services and more people will crave for more peaceful existence. This will be the year where people will get together to help and give support to each other, a communal living but without the hippy element.
People who are born under the sign of Cancer, Pieces and Scorpio are going to enjoy the things that mean so much to them such as friends, travelling, romance and even learning a new language. For those who are born under the signs of Leo, Aries and Sagittarius will be more focused on their careers and responsibilities as the money-making potential for this year is huge for all of them.
Earth signs like Taurus, Virgo and Capricorn are more aware about the progress of their relationships and changes that will lead them to happiness. People under this sign will have more open communication with their loved-ones and those who have kept secrets from them in the past.
2014 In General:
Horse also represents fire energy - energetic, joyful, spontaneous, free-spirited, optimistic - good year for travel.
Improvement in finances, more so for women than men.
Good for creativity, PR, socializing and romance, but be alert for affairs and sex scandals if in an unstable relationship.
New romances do not indicate longevity, but good year for weddings.
Explosions, fire disasters, volcanic eruptions, forest fires - severe wind storms (tornadoes, typhoons).
More misfortune affecting children - protect and watch over your children.
Conflict energy is strong - continued wars, violence, riots.

Health Problems:
Strong fire triggers serious heart disease, blood poisoning, inflammation, lung (bad year for smokers), and skin problems.
As fire destroys metal, too much strong fire will damage metal organs such as the lung and skin.
Yang wood is related to liver, the head and hair. In such a strong fire year the wood is dry and unhealthy, creating problem with the eyes, the liver, losing hair, and headaches. Possibility of virus outbreak amongst general population.
Feng Shui Tips for 2014:
Color of the year is green or brown.
Lucky colors are blue (water, relationship, communication), and yellow (money, wealth, success), to balance the abundance of wood and fire.
Dominating elements of the year are wood and fire.
Water element is important this year as it feeds wood, and tones down strong fire energy, and softens metal element.
Be aware that fire and metal will antagonize wood - colors red, white or grey are unpopular for 2014.
Earth element is missing in 2014 which indicates instability and infidelity.


Best Directions:
South 8 abundance in everything, West 6 finances/creativity.
Center 4 romance, SW 1 female achievement, North 9 future events and joy.

Worst Directions - Avoid:
NW 5 everything bad, East 2 illness, NE 7 violence/robbery, SE 3 serious conflict.
In order to make your feng shui home or feng shui office, you need to know what the numbers in this chart of flying stars stand for and in which corner of your house/office they occupy. Details of flying stars 2014 are as followings: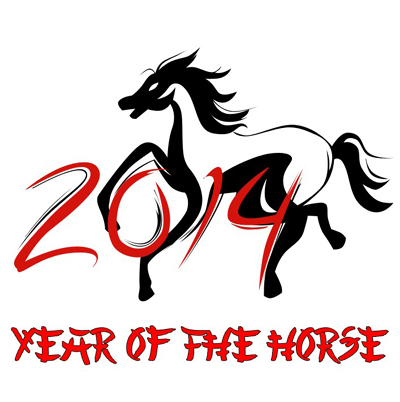 Basics of Flying Star Fengshui
Flying Star System is a system used in Time-Dimension Feng Shui to analyze what type of intangible forces are occupying a particular compass direction. It is moving in a cyclical pattern and constantly changing location in time. It is a body of energies that governs a particular year, month or day. There are nine (9) stars with different influences positioning on each compass direction that affect us.
This system is also used in conjunction with the positioning of important rooms inside a property such as the location of the Main Door, Kitchen, Toilets and Bedrooms. To fully understand this system, let's take a look at the different stars and its meanings:
White Star 1 – star that brings good reputation, recognition and advancement luck.

White Star 6 – brings power and authority. It also brings nobleman or helpful people.

Green Star 4 – good for literary or academic and relationship luck.

Black Star 2 – brings illness and accidents.

Jade Star 3 – brings arguments, gossips and stress.

Five Yellow – brings major misfortune.

Red Star 7 – brings burglary, lawsuit and rivalry

White Star # 8 – is the most prosperous and vibrant star in this current period of 8. It governs accumulation of wealth and prosperity from the main source such as salary, rentals, and other financial source in a regular basis. This is also referred to as the Primary Wealth Star.

Purple Star # 9 – is the star that brings luck for future expansion or prosperity. It is considered the secondary Wealth Star as it the best star to tap if you want long-term and big profits in the future. Its effect is not immediate.
2014 Flying Star Forecast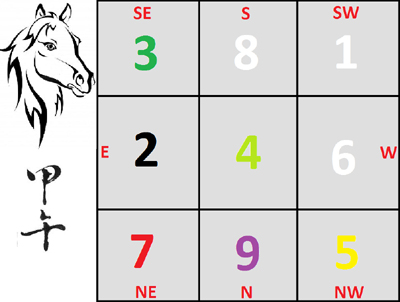 Good Stars: 1, 8, 9
Neutral Stars: 4, 6
Bad Stars: 2, 3, 5, 7
Fire Horse in a Wood Year.
As the Wood Year strengthen the Fire Horse, this is generally a very auspicious year.
Birth Element which will enjoy a favourable/unfavourable year etc.

Strong Water, weak Wood, weak Fire
weak Water, Strong Fire, weak Earth

Compatible Animal Signs
this year:-

Excellent - Ram, Tiger, Dog
Avoid - Rat, Monkey, Ox, Horse

Good Travel Direction
this year:-

Water - North
Wood - East/South-East
2014 Flying Star Forecast
Take note the following sectors :-
Sickness Star this year is at East
Misfortune/Sickness Star this year is at North-West
Disputes/Quarrel Star this year is at South-East
Education/Romance Star this year is at Center

Grand Duke this year is South, 180 Degree.
- Avoid sitting facing the grand duke or disturbing him by having renovations.
Location in Conflict is North.
- Avoid having renovations done opposite the location in conflict.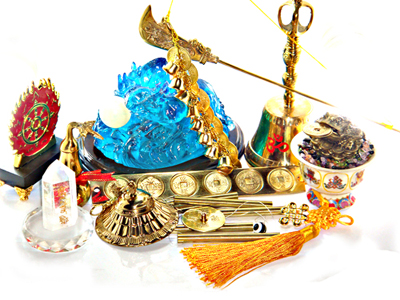 Here we want to tell you which houses are Rich House, Love House, Intelligent House, Sick House, Bad Luck House in 2014 using the theory of Feng Shui Flying Stars.
Flying Star Kua Diagram of 2014
Feng Shui Flying Star positions are changing with the passage of time. 2014 is the cycle of Kua 4 (Green Wood) Year. On the left is the 2014 Flying Star diagram.

Each house has its Flying Star Kua Diagram, too. When certain Kua Numbers overlapping together, certain special Feng Shui good or bad luck will empower. This page will find those special combinations for you. So you can take advantage of this concept to improve your luck in 2014.
House of Love 2014
If you are looking for love and thinking about the marriage, you should find the Love Room in the Love House or apartment of Love House in 2014.
A house facing Northeast is the House of Love.
The Room of Love is the bedroom
in the center of the house.
A house facing Southeast is the House of Love.
The Room of Love is the bedroom
in the east site.
A house facing West is the House of Love.
The Room of Love is the bedroom
in the north side.
House of Sick 2014
If a person has a poor health, then he or she shouldn't sleep in the Sick Room of the Sick House in 2014.
A house facing East is the House of Sick.
The Room of Sick is the bedroom
in the east side.
A house facing South is the House of Sick.
The Room of Sick is the bedroom
in the northwest corner.
A house facing West is the House of Sick.
The Room of Sick is the bedroom
in the northeast corner.
House of Intelligence 2014
A student can improve the academic performance, if his or her study room is an Intelligent Room of the Intelligent House.
A house facing South is the House of Intelligence.
The Room of Intelligence is the bedroom
in the center area.
A house facing East is the House of Intelligence.
The Room of Intelligence is the bedroom
in the southwest corner.
House of Wealth 2014
If you need to improve your money luck, then you should find the Wealth Room in the Wealth house or apartment of Wealth House in 2014.
If your bedroom is the Wealth Room, then you will getting rich while you are sleeping.
A house facing West is the House of Wealth.
The Room of Wealth is the bedroom
in the southeast corner.
A house facing South is the House of Wealth.
The Room of Wealth is the bedroom
in the east side.
A house facing East is the House of Wealth.
The Room of Wealth is the bedroom
in the south side.
House of Debt 2014
Anyone should avoid to live in the House of Debt, especially when facing the financial trouble.
A house facing Southwest is the House of Debt.
The Room of Debt is the bedroom
in the southeast corner.
A house facing North is the House of Debt.
The Room of Debt is the bedroom
in the northeast corner.
Feng Shui for The Year of the Horse, 2014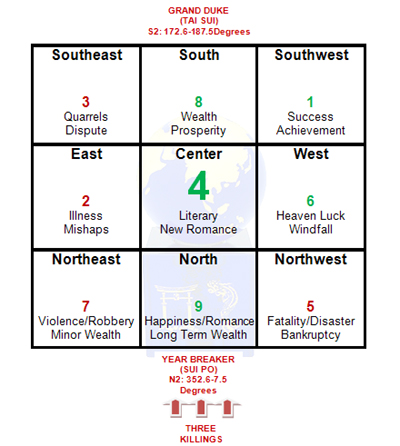 The 2014 Annual Feng Shui Afflictions:
5 Yellow Star ( #5 )
This has flown to the North West in 2014. It is highly recommended not to disturb the North West of your home or business with noisy activities, renovations or maintenance work. When disturbed, the Five Yellow can bring disaster, sickness, lawsuit and major loss of wealth so please be very careful in the North West in 2014 as it is very afflicted.
2 Sickness Star ( #2 )
2 Sickness Star, a misfortune star has arrived in the East Sector for year 2014. It is a dangerous star that indicates accidents, illness and lost of wealth. Do not attempt any groundbreaking, renovation or drilling in this sector. An auspicious time and date selection must be given to perform these activities.
If your main door is located at the East Sector, metal cure remedy is needed to weaken its energy. Alternately, you can activate natal #6 star to counter the #2 star.
3 Conflict or Quarrelsome Star ( #3 )
An inauspicious quarrelsome star is located at South East Sector this year; it brings about gossip, dispute and bad human relationships. You may wish to place a Standing Lamp that represents fire to weaken its negative strength.
Three Killing (San Sha)
It is a direct translation from the Chinese 'San Sha'. This annual affliction is mostly in the North. It is imperative that you do not undertake any form of noisy renovations or re-decorative work in the North part of your house or office. Without proper time given, do not attempt any groundbreaking in this area as it can bring misfortunes like financial loss, injury and sickness.
Grand Duke Jupiter ( Tai Sui )
Resides between 172.5º – 187.5º South. Do not take this affliction lightly. Do not disturb the ground in the South at all costs. South facing properties with front doors to the South must be careful not to allow the doors to slam and do not renovate or dig in this part for 2014.
Age Break/ The Year Breaker ( Sui Po )
Sui Po year breaker occupies the division directly opposite Tai Sui Grand Duke, which for 2014 is North. You should treat this area with the same respect as the other annual afflictions with no groundbreaking work, renovations or any noisy activities. If disturbed this area can and normally cause immediate health problems especially for the elderly or sick so please be very careful. If you have to carry out work or emergency repairs in the North place a six hollow metal rod wind chime between the building and where the work is being carried out and ideally you should contact a professional consultant to select a favourable date to start the work.
2014 Annual Flying Stars:
The analysis of the annual flying stars can only be conducted from a general point of view offering indications as to the potential influences of the stars in the respective palaces for the year of the Horse.
How each area affects the wealth and health aspects of the residents depends greatly on the quality and combination of the 'facing' and 'sitting' stars of the property's natal chart.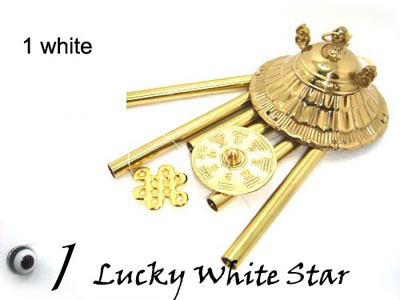 South West (1 White) - Brings Triumph and Success
Kan 1 White, In 2014, Kan (Tang Lang) trigram flies comfortably into the South West.
The White Star 1 is a Victory star, and this year it favors the Matriarch in the SW! It also benefits those born in Monkey and Sheep years. Many can benefit from the image of Dragon Tortoise, Victory Banner or 7 Royalty Emblem. Women in positions of power can maximize luck with Kuan Yin Crystal Ball.
In element Kan is water. In the physical body, it is the ear. Internal organ it is the kidneys and it is also blood.
Kan water #1 when located in the southwest signifies health issues; this is especially the case if there is a bedroom in the southwest this year. There may also be problems to the ear this year so please be aware of this.
If you have a bedroom in the southwest in 2014, you should place a Wu-Lou beside your bed to counteract the effects. Career and business aspects will be good if you have a main door or office here so there can be mixed results depending on the type of room that is present in the southwest. If you work from home, it would be a good idea to use a room in the southwest as an office this year.
If you have children with a bedroom in this sector of the house, there is a risk that they could suffer hearing difficulties which could affect their studies. Make sure that they remain healthy and get necessary health checks throughout the year.
Blue may be a good colour scheme for the room to dissipate the effects and does not just have to be applied by painting the walls; you can also apply colour with beddings, throw-over, lampshades etc… If their bed is also located in this corner of the room, remember to place a brass wu-lou in the southwest corner of the bedroom. If this is also a study area for children or adults, place a metal abacus in the southwest corner of the study to enhance this.
If you have an office or business you may find that that shops or offices with a door located to this southwest palace will generally do well but may go through problematic moments throughout the year. Success can be achieved only with dedications and hard work. To enhance your success this year, you should place a metal abacus and/or a round 12 coin ball with red tassel. This is a very powerful enhancer for the #1 star for wealth luck.
If you have a study in your home that is located in the southwest and especially so if this is used by your children, it would be beneficial to place a Kwan Yin in the southwest corner of the study to enhance study and concentration for children.
If your main door falls into the southwest in 2014, you should place a six hollow metal rod wind chime along with a 12 coin ball to activate the #1 star.
If you are currently suffering from an illness, you have an elderly family member or are expecting a child; I would highly recommend that you avoid this area during 2014. In the year of the Horse, the south would make a much better choice as a bedroom for the year. If you do not have the option to relocate bedrooms this year, please make sure that the bed is located in a good sector of the room being the south, north or west corners. You can place a brass wu-lou on the southwest corner of the bed.
Enhancement summary and advice.
Hang a six rods hollow metal wind chime here if this is your front door.
A brass Wu-Lou would be a good cure for a bedroom along with blue colours.
Place a metal abacus and or a round metal wealth pot filled with coins on your office desk if your office is also in the southwest sector.
If this is a study, an abacus will help enhance studies.
Hang a 12 coin ball tied with red ribbon, this is a very powerful wealth enhancer and perfect for the SW.
Tsai Shen Yeh (God of wealth) in a gold colour is very good for protecting and enhancing your wealth for the year in the SW. It must be gold colour though to represent metal.
An essential enhancer in 2014 is a sheng chi cure.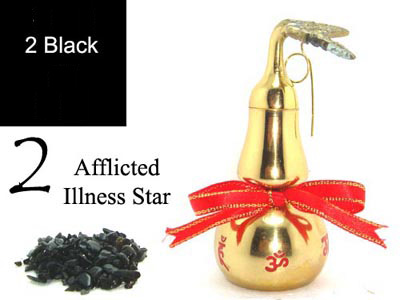 East (2 Black) - Brings Sickness and Illness
Kun 2 Black, the Kun 2 Black (Ju Men) visits the East in 2014.
The Illness Star 2 brings the luck of health degeneration and disease, and is located in the East this year. It brings debilitating health to the Rabbit, the Eldest Son and those who live in East-facing houses and East bedrooms. The star causes an "Earth clash" in the East, and must be subdued with the placement of the 8 Sugata Medicine Buddhas and Health Amulet Keychain Those with bedrooms in the East should place the Golden Wu lou with Sau by their bedside.
During 2014, when the annual 2 Black combines with any untimely visiting monthly stars, the chi manifested from this combination can affect us undesirably and cause problems. The degree of influence will vary depending what the room in the east is used for during the year.
If your front door is located in the east in 2014 the use of this sector on a daily basis will cause problems and will activate its malicious effects very quickly. On the other hand, if this is your storeroom or bathroom, this sector can be quite harmless. The northeast of my home is where I sometimes work from at night and in 2014, I will be avoiding this room when possible and placing all the necessary Cures to make this year as successful as possible.
The amount of use this room gets depends completely on how bad the effects will be so if you are going through your front door two or three times a day in the east, the effects of this Star will be activated very quickly than if you have a storage room that does not see much use or noise.
A good remedy to dissipate the effect of the #2 star is to place a salt water cure, Wu Lou and six Chinese coins tied with red ribbon and also, try to place more round metal decorative objects in this area as long as they are calm looking and do not have any sharp points to dissipate its negative influence in the east corner of your home or room.
Another good Cure is to place a gold Tsai Shen Yeh (God of wealth) statue which will help to reduce the bad earth and will also help to guard your wealth for the year.
If you really have to renovate or refurbish the east room, avoid engaging such activities especially in March May, June, October and December 2014.
The best cure for the east in 2014 is avoidance although I know this is hard so try and follow the advice and try and keep it as quiet as possible.
Remedies
Hang six Chinese coins tied in red ribbon especially if your main door is here. · Place a salt water cure.
Place a Wu Lou and/or other metal ornaments to dissipate the negative earth.
Hang a wooden Wu-Lou in the east corner of the room/bed if your bedroom is located in the east sector of the house.
If this is your main door hang a Ba Gua outside the property. Avoid using red colour in this room and refrain from displaying triangle shape or fiery pictures in this corner of the east room.
Place a Ru Yi wealth and legal enhancer in the east.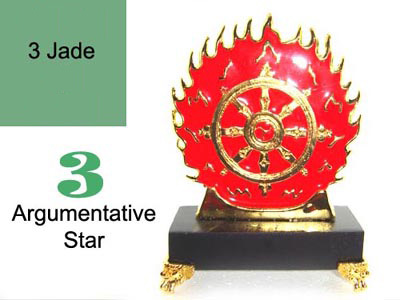 South East (3 Jade) - Brings Hostility and Lawsuits
Chen 3 Jade, the sound of Protracted Wind #3 Jade is making a lot of noise in the South East place in 2014 and this is not a nice combination at all.
The Quarrelsome Star 3 flies into the SE bringing litigation, quarrels, misunderstanding and trouble with the authorities. It is very strong this year and afflicts the luck of the Snake, Dragon and Eldest Daughter. This negative star must be controlled with the placement of the 9 Amulet Cure and Eldest Daughter. This negative star must be controlled with the placement of the 9 Amulet Cure and Three suns with Three Legged Bird. The Snake, Dragon, and Eldest Daughter should carry the Peace & Harmony Amulet throughout the year.
In 2014, the sound of the Protracted Wind of the 3 Jade can be heard in the southeast.
In reality, Chen represents movement. Whether this is a home or office, beware of possible theft and burglary if your front is here. Take extra security measures for the year.
There are a some books out there that you may have read that will tell you that the #3 wood star is a fortunate star in period 8 but in our opinion it is a volatile star and you should not try and activate it unless you are qualified to do so or have a very good Feng Shui Consultant; it will become more usable towards the later part of the 20 year period 8 cycle.
Over the years, I have even seen websites and books recommending placing water here and I feel I should warn you that if you do this without taking into account your land formations, period, mountain and water stars, you will invite arguments, divorce and legal problems so please be very careful.
You will need to double check documents signed during the year of the Horse and make sure they are checked through thoroughly before committing to anything.
The influence of a Chen 3 in Period 8 indicates possible arguments, disagreement and in extreme cases this can result in law suits, either as a petitioner or a defendant. Either way there will be a loss of time, energy and wealth if you are not careful so please treat this area with caution.
In temper, there may be burst of irritability affecting those under this influence so please be aware of this. If your office or bedroom is here, short temper and antagonistic are common characteristics in those affected by the 3.
To calm interactions:
Place a light in this corner of the room. If you have a choice, a lamp with a wooden stand and a peach shade is better.
Do not hang wind chimes in this corner of the house, especially metal wind chimes or may worsen matters.
Place a bu yon an jian Buddha in 2014.
During hot summer months, make sure the fan is not located in this corner of the room.
Be sure to upgrade security if your front door is located here.
Check through everything before signing documents if office is here.
Try and keep this area quiet and do not disturb with loud noises throughout 2014.
Please be careful of back stabbing this year.
Avoid placing heavy metal ornaments here as this will aggravate the wood star, a traditional cure is to place a red Dragon here but make sure he is not made of metal.
From February 4th 2004 – 2024 the east will be the Secondary Wealth area for the 20 years in Period 8 and it requires water in the outside to be activated.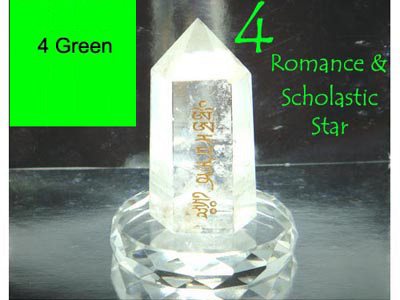 Centre East (4 Green) - Brings Love and Scholastic Luck
Sun 4 Green Wen Qu literacy and romance star gracefully flies into the Centre of the Lo Shu in 2014.
The Romantic & Scholastic Star 4 brings favorable winds of happiness and bliss as it flies into the CENTER, dominating the energies of the home. It benefits the entire household, and thus wedding prospects are excellent. Activate the centre sector with 5 Element Crystal Balls, Double Happiness, Wedding Sedan or Mandarin Ducks with Peony.
The wood 4 occupies the earth centre palace of Period 8. When wood dominates earth, there can be disharmony and insecurity and as the #4 romance star is trapped in the centre palace in 2014 and special cures are needed.
If your bedroom or office is located in the centre in 2014, there is risk of becoming selfish during the year and could also become quite lonely through the unwanted selfishness so please be careful and follow the advice.
If your bedroom or office is not located in the centre, this is not so much of a problem as this will only bring problems in rooms that get a lot of use and activity; an ideal room for the centre would be a utility room or a bathroom. Be sure to keep the door closed in this area as much as possible.
Children may find studying hard if their study or bedroom is in the centre in 2014 and may suffer from procrastination this year. A good Cure to help this is a crystal globe placed on their work table to help studies. A desk light turned on when they work will also enhance concentration and focus.
When a #4 Green is accompanied by benevolent stars it can have bring great things to the area and this will be the case in the months of April, September, October and January 2015. During these months, those who Have a career based on writing and artistic aspects can benefit from its influence.
Cures and enhancers:
Use blue in your décor if this is your office or bedroom.
Place a Shou Kun Qi Fu enhancer in the centre in 2014.
For office and studies, place a desk light and a crystal globe on the work desks. You can also add blue items to the desk e.g. blue paper, blue books etc…
Avoid displaying too many metal objects in the centre this year; especially large heavy ones.
Fresh flowers or small pots of green leafy or flowering plants can be displayed in this spot of the house to lift the qi. Blue or red flowers are good choices. Avoid white or yellow ones.
If you have mandarin Ducks, this is a good area to have them and any other symbols of romance like hugging couples etc.

North West (5 Yellow) - Brings Misfortune and Bad Luck
The 5 Yellow In 2014, the annual 5 Yellow Lian Zhen star of tragedy returns home to the North West place in 2014.
The dreaded Misfortune Star – Five Yellow brings financial loss and physical danger is usually the main cause of reversal in fortune. In 2014. It flies into the NW, afflicting the luck of all PATRIARCHS as well as the Dog & Boar. Those living in NW-facing houses and NW bedrooms are also afflicted. Neutralise this deadly star with the 5 Element Pagoda. All fathers and grandfathers should carry the Kalachakra Stupa with HUM keychain throughout the year.
Although the 5 yellow will be tamed by the metal of the northwest this year, it is highly recommended not to disturb the northwest this year with noisy activities, renovations or ground-breaking work. If you are planning on doing any building work or outdoor maintenance in the northwest, it would be best to try and avoid this in 2014 although if you are not able to, be sure to hang a Wind chime while you are doing the work.
The 5 Yellow also called 'Wu Huang' in Chinese, is one of the three annual afflictions. It is a volatile star. The 4 yellow has no gender and no trigram and is highly dangerous when disturbed. When the 5 yellow is disturbed, its malevolent influence brings disaster, sickness, lawsuits and major loss of wealth so please be careful in the northwest this year. Sometimes, the best cure for this is to avoid it but if that is not possible, try to place some metal Cures here in the northwest in 2014.
During 2014, it would be very beneficial to the occupants of the house if they were to hang a six rod metal wind chime along with six Chinese coins tied in a row with red ribbon and a salt water cure in the northwest corner of the home or office.
Metal can be used to negate the earth element of the 5 Yellow. Metal objects are good elemental cures; try to use a round shaped metal object with grey, white, gold, brass, bronze or silver colours.
If your main door is located in the northwest in 2014, place or hang some metal objects just inside the door. For example, metal umbrella stands, round metal plates hung on wall, grey floor mat etc…
If your bathroom, cloakroom, pantry, en-suite, guest room or a large cupboard is located here, this is good for you, because these areas are not used much and therefore the negative power is not activated due to the quiet nature of the area.
This is where the annual #5 yellow sits for the year. You must be extremely careful not to disturb the northwest with noisy renovations or digging this year and be sure to hang a wind chime here if you cannot avoid loud noises.
As I said at the beginning, one of my most recommended Cures for the year is placing a Salt Water Cure and the northwest is in dire need of a Salt Water Cure this year so please be sure to place one here. It is also recommended to place a Wu Lou and six Chinese coins tied with red ribbon and also place more metal decorative objects as long as they are not menacing looking; a round shape metal is good to dissipate its negative influence.
Make sure there are no red items, bright lights or burning candles in the northwest this year. Do not worry if you have these colours already just introduce colours such as white, silver, gold or copper by introducing furnishings life a floor mat, cushions, throws, tablecloth or such like.
If this is an important room e.g. a bedroom or a living room, and if you cannot move to another room to avoid the 5 Yellow, carefully follow the advice contained here.
To calm interactions:
Avoid playing loud music in the NW of the home or room.
Do not decorate your room with red or earth colours this year. Grey or white beddings and curtains are good colours to use temporarily.
Place a salt water cure in the northwest corner of the room as well as the NW of the home.
Move your bed to another corner of the room if possible even if it is a few feet away from the northwest corner if this is a small room. This way, you will avoid sleeping exactly in the northwest sector of the room.
Place a Brass Wu-Lou in the northwest corner of the room if this is your bedroom.
Metal objects such as six Chinese metal coins tied in a red ribbon and/or a brass Dragon can be placed in this corner too. Try not to use red dragons.
Most of all, avoid disturbing this area at all costs. Any form of renovations that needs to be done, plan it for another year. It is worth keeping this in mind.
Tsai Shen Yeh (God of wealth) in a gold colour is very effective at not only reducing the bad earth but by also protecting your wealth for the year in the NW.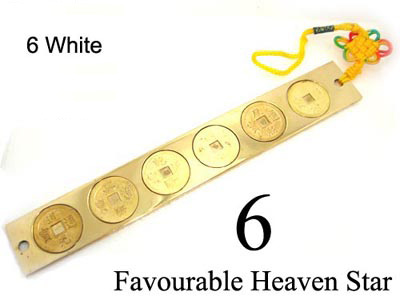 West (6 White) - Brings Good Fortune
Ch'ien 6 White The star of Heaven Chien 6 White (Wu Qu) sits in the West place in 2014.
The Heavenly Star 6 brings divine luck from Heaven and support form powerful mentors. In 2014 it flies to the WEST and benefits the Youngest Daughter and those born in the year of the Rooster. The strength of this star augurs well for all West-facing homes and those occupying West bedrooms. Enhance further by placing images of Crystal Symbols, round crystal balls, crystal diamonds with mantra symbols to capture great luck for the year.
6 White is a giving star and as an annual star, its position in the west in Period 8 holds excellent opportunities with regards to career and wealth but can also run risk of causing jealousy, rivalry and rebellion from those affected by its influences.
You will need to take a look around this area before the year of the Horse starts to make sure that there are no metal objects or colours which may bring illness to the lungs or head region especially in July and October.
If you have a front door or office in the west in 2014, you will enjoy excellent business and career success. However, whilst 6 White represents accomplishment, this can also bring headaches during the year of the Horse.
Success may be evident for those under this influence but they may also experience depression and loneliness so please remember this in case you feel this way at any point during the year. Do not neglect your loved ones at home or close friends in your pursuit of success and remember that you can't be successful at the cost of losing friends.
If your bedroom is located in the east in 2014, you may notice that there are a lot of unnecessary arguments due to tension and jealousy this year. Pay equal attention to your loved ones at home as you would to your work or career. At work, there may be rivalry this year so please follow the advice below.
If this is a child's bedroom, they may feel the need to push boundaries, be firm but with patience and use shades of blue to calm interactions.
Remedy:
If this is your bedroom, it would help calm effects by using blue or black in your furnishing or décor as this may help bridge tension and difference. A blue painting (not water scene) would also be good.
If this is your office, hang a picture of a non moving water scene or a blue painting.
The perfect remedy is to stay away from this sector if constant headaches or depression are experienced by moving your desk away from this corner of the room and place some blue items around you.
Avoid placing additional metal objects in this sector or room, however, a very good symbolic enhancer is a gold coloured wealth ingot (picture above) as it will enhance the wealth nature of the trigram Chi'en.
An urn of still water (change this water every two days) placed in the west corner of the room can also do the trick if you suffer from headaches or depression.
The best Cure for the west in 2014 is to take rests from your busy schedule and spend quality time with your loved ones at home.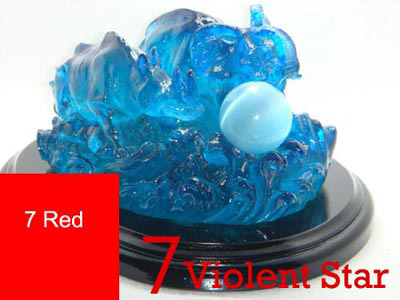 North East (7 Red) - Brings Theft, Burglary and Violence
Tui 7 Red The Lofty breeze of Tui (Po Jun) flies home to the North East in 2014.
The Robbery Star flies into the NE bringing danger associated with burglary and violence. This star afflicts the Tiger, Ox and Youngest Son. The #7 star is very strong this year and protection is needed to ensure safety. Display the Anti-Burglary Plaque in the NE. Those with entrances and back doors facing northeast should carry the Anti Burglary Amulet or wear the Anti-Burglary Scarf.
The 7 red star is a declining influence in Period 8. The trigram Tui is also known as 'Broken Soldier'. This is a fighting star and when this is paired with another untimely star, its negative effect can bring assault, violence and robbery.
#7 Red signifies a high risk of burglary or robbery especially in the months of June, July, August and October 2014 so please heighten security in the northeast at the beginning of the Horse year and try to keep windows locked when possible during summer months. This will be particularly so if the combination of the facing and sitting stars of this sector suggest such a scenario.
The annual 7 red in the northeast also suggests high risks of fire to this sector of the property. If this is your kitchen, please take extra fire hazard precautions and be sure to test your smoke alarms regularly throughout the year.
You should also hang a Ba Gua mirror with a Chinese i-ching coin on the back for added protection in 2014 in the northeast especially if you have a main door here.
If you have doors or windows in this part of the home make sure they are secure. If this part of the home or office is a kitchen you must also be careful of fires so make sure smoke alarms are fitted and batteries tested regularly.
There are circumstances that this star combination in the northeast could be favourable for some types of business but it unwise to activate without the knowledge of a trained traditional Practitioner so please be careful with activating this.
The northeast is not a good area for writers, artist or children studying in 2014 and especially so for the youngest daughter although cures can be placed to dissipate the negative influence this year so do not worry.
you should introduce some dark blue or black colours into the northeast from February 4th 2014 as this will help dissipate the negative energy.
Remedy:
Try to use more blue in your decoration in the northeast this year. You can introduce the colour with cushions, bed covers or doormats.
Do not use anything of fire element or colours red to control it as this may aggravate it. · Do not hang metal wind chimes here.
Avoid having quartz crystals here.
Check fire alarms regularly throughout the year.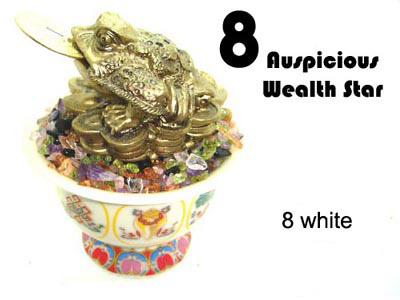 South (8 White) - Brings Wealth Luck and Prosperity
Ken 8 White, Zuo Fu flies elegantly into the South.
The Wealth Star 8 brings strong prosperity luck as it flies into the SOUTH where it is strengthened by Fire energy. It brings good wealth prospects to the Middle Daughter and those born in the year of the Horse! South – facing houses and South bedrooms benefit from this super auspicious star! Enhance with 8 immortals on a Mountain or Bejewelled Maple Tree.
Wealth, prestige and distinction can be expected through the #8 Kens influence this year. This Flying Star brings good fortune and exciting times during the year and when activated correctly, can bring fantastic results. It also represents a strengthening of family values.
If you are in the business of sign making or something similar related to symbols, it would be beneficial to place quartz crystals, crystal balls or hanging faceted crystals in the south palace this year. The #8 star also governs relationships so a very powerful romance enhancer is a pair of rose quartz double hearts or a pair of Mandarin Ducks in the south this year.
Located in the south in 2014, it is benefiting from the element of the 'Yuan Dan Pan'. Use this sector as often as possible.
If you have a teenage son who's room is located in the south in 2014, please be aware that they may experience difficulties and problems this year during certain months so be sure to offer advice and patience this year.
Do not place metal in the south in 2014 as it will weaken the good earth. Great news if you have your main door here and if you are in an office try and locate your desk in south part of the office.
This is a very strong wealth area for 2014 so it would be very good to store your important financial papers here like pensions, stock portfolio etc. If you use symbolic cures this is where you should place your three legged Toad facing your Sheng Chi direction.
This is the governing flying star for the next twenty years of the lower era of the sexagenarian cycle of the flying stars system.
To enhance:
Hang a faceted crystal sphere in this area of the house near the window or door. Hang it above head height and twist now and again.
The energies of the annual 8 can be activated by human activities. Use this room as frequently as possible unless you have a professional advice against it.
The red three legged toad can be placed here. Make sure the toad is facing into the house and not towards the door and the coin is never taken out of his mouth.
If your bedroom is here, you can also place an amethyst or any crystal items in the south of the bedroom to further strengthen the earth element of the benevolent 8 white.
This is also a good study area for children. Place a desk light and a crystal globe on the desk to enhance concentration.
A romance enhancer is a pair of rose quartz Mandarin Ducks in the south this year.
Keep area active with noise and open doors and windows.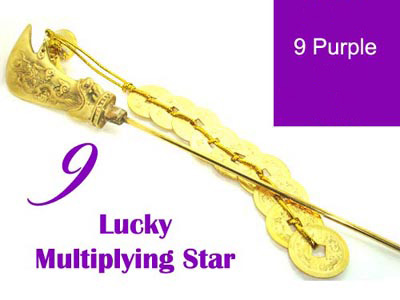 North (9 Purple) - Brings Future Prosperity
Li 9 Purple (You Bi) Li 9 Purple is found in the North palace in 2014.
The Multipying 9 Star of Future Prosperity flies to the North, benefiting the Rat & Middle Son. This star attracts future prosperity and brings recognition luck. Enhance by displaying Four Friends, Wind chime and Red Glitter Lamp.
9 Purple is the star of future wealth and has an auspicious influence in Period 8. Career opportunities and promotions are possible at the right months so please be sure to consult your Tong Shu Almanac. Where the 9 star is present, there will be fame and acknowledgement, growth and improvement so try to make the most of this influence in 2014. This influence can be said particularly for the months of February, May, June, July and November.
As in every star, there is always a positive and a negative side to them. When it is afflicted by a negative star, occupants may experience its negative influences so it is advised that you check back on the monthly Flying Stars to make sure there are no problems.
This is a good area in general especially for those who are currently in studies. If this is a family area (living, dining or a library) you should try to encourage children to study here as much as possible in 2014 to reap to the benefits of the influences.
Couples with a bedroom in this location will also enjoy good relationships this year. There may also be a chance of producing intelligent children but be aware of the negative influences by checking the monthly Flying Stars each month.
Although deemed as an auspicious star, the element of the annual #9 star in the north can strengthen the malevolent effects of visiting monthly stars #2 and #5. Hang a coin sword on the wall here to weaken the undesirable influences of the monthly stars #2 and #5.
A coin sword can also wards off sha qi (external poison arrows) at the front door or windows. If there is incoming traffic or driveways pointed directly at your front door or window, apart from hanging a Ba Gua mirror to counter this destructive flow of qi, you can also hang a coin sword with its hilt facing the door or window.
To enhance:
Healthy green leafy plants or blue flowering plants such as violets are good for this area. · Fresh flowers displayed here will bring positive qi too.
Symbolic objects such as a gold abacus or six Chinese coins can be placed here all year round to enhance benevolent influence and at the same time dissipate the malevolent influence by the visiting monthly #2 and #5.
A coin sword hung with its hilt facing the front door or window in this sector can help ward off any external poison arrows as well as weaken the effects of visiting monthly stars #2 and #5.
Water placement in 2014:
As we entered period 8 (4th February 2004) the use of water outside is critical up until 2024, so a pond outside in the correct area can really work in your favour. You must not unless advised by a professional Feng Shui consultant place water outside in the north-east up until 2024.
Outside water in 2014:
Outside water can be placed in the southwest or east, this is your primary and secondary wealth areas for the next twelve years. In 2014 water outside in the southwest is very good but it would not be advisable to install a water feature this year though as the annual flying star is inauspicious, if you know what your natal chart (flying star chart) is and you also have a good facing star this would make a very powerful combination for wealth.
Indoor water for 2014:
It is not advisable this year 2014 to use water inside unless you have had a professional consultation.
If you are using water outside you must make sure the water is clean and flowing and never allow it to become stagnant. Water is a very powerful enhancer and is the essence of Feng Shui (Shui meaning water) the Ch'i is caught by the water and cleansed (providing the water is clean) and distributed throughout your property.
Annual and Monthly Flying Stars Feng Shui Charts for the Wooden Horse Year (2014/2015)
Flying Star Feng Shui Chart provides vital information to take note of as it involves the way luck changes from year to year. The annual stars change its positions on a yearly basis while monthly stars shift their sectors every month. The optimal way to update your feng shui is to pay attention to their position changes in order to make the most out of the auspicious stars and suppress the bad energies brought by the malignant stars. Below are the complete charts for the Annual and Monthly Flying Star of the 2014 Wooden Horse Year.

The numbers on the left in the 9 grids of the charts below indicate the annual star while the numbers on the right indicate the monthly star. Use a good compass to accurately determine the direction of your home. Then refer to the chart below to look out for good or bad sectors of the month and take the necessary steps to suppress the inauspicious stars or enhance the auspicious ones.

When the combination of the annual star and monthly star in a compass sector is made up of the good stars (8, 6 and 1), the particular sector is said to very auspicious and will bring lots of good luck to its occupant. But when the bad stars congregate in the same sector, it's important that you vacate the room for the month. If this cannot be done, you must install Feng Shui cures to suppress them or they will bring misfortunes of the most severe kind. However, you do not have to worry if the bad stars fly into a storeroom, toilet, garage or a missing corner because its negative effect is said to be contained and dissolved. The effect, whether good or bad, is lesser when the number appears alone.

1st Month
4th Feb 2014 - 5th Mar 2014

2nd Month
6th March 2014 - 4th April 2014

3rd Month
5th April 2014 - 5th May 2014

4th Month
6th May 2014 - 5th June 2014

5th Month
6th June 2014 - 6th July 2014

6th Month
7th July 2014 - 7th Aug 2014

7th Month
8th Aug 2014 - 7th Sept 2014

8th Month
8th Sept 2014 - 7th Oct 2014

9th Month
8th Oct 2014 - 6th Nov 2014

10th Month
7th Nov 2014 - 6th Dec 2014

11th Month
7th Dec 2014 - 5th Jan 2015

12th Month
6th Jan 2015 - 3rd Feb 2015
Whilst the methods above are considered safe, there are many exceptions to the placement of water and as Master Practitioners and teachers. We use many more methods of water placement for wealth, education and relationship, these methods whilst extremely powerful can only be used with expert guidance and a full analysis of your property and land formations.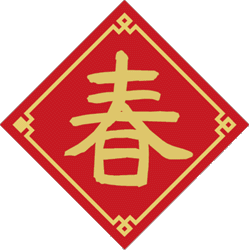 Tips For Annual Flying Stars for 2014
Star #1 - Romance, Water element - brings romance (South West).

Your relationship with others is good, fame is there, and prosperity will happen. This will benefit those in sales and your bottom line will be fatter. It will brings career luck in promotions and recognition (Water element) Couple will web soon. However, married couples should avoid illicit affairs to avoid ruining your family life.

Put a "cup of water" in order to enhance relationship and if you want to go further in a relationship add an extra "mechanical music box and turn it on a few times in a day".
Star #2 - Sickness, Earth element - brings sickness and illness (East).

The sickness star reigns in the East rendering poor health. This star is an earth element and brings disease, sickness, health problems and even death in the South West sector. House facing or sitting on East or with the main door located in the East sector will find that the occupants are more vulnerable to falling sick.

Precaution is needed for those whose bedrooms are situated here as this sickness chi could lead to ailments. Avoid staying in this sector or room. Move to another bedroom. If that's not possible, use Feng Shui cure to repress the negative energy flowing from this star. Take good loving care of the elderly, and children. This is true especially for woman. If your kitchen is situated here, the problem might become more severe. Always seek early treatment.

Suppress the effect by putting a "mechanical music box and turn it on a few times in a day". A bunch of old keys will also work.
Star #3 - Dispute, Wood element - brings hostility and lawsuits (South East).

This star brings about verbal accusations and assaults, quarrels and law suits between family members, friends and colleagues. It is the wood element. Made stronger and more destructive by the Wood element of this sector, this angry star brings a host of problems ranging from minor misunderstandings to legal suits to everyone who is hit by it.

For business owner, it is important to ensure the main entrance is not placed here. When the office main door is located in the South East, it could lead to severe conflicts, fights between workers, causing undesirable business obstruction.

It can also mislead people and lose concentration thus making the wrong move. Scandalous words entangle you, as well as the disputes with others causing you much headache. Vile people might try to stand in your way.

Those sleeping in this sector will find themselves easily stressed and agitated, impatient and short-fused. Productivity will drop. Relationships between spouses will be affected with argument energies. Harmony of families and safety of marriages will be affected. Watch out for trouble with the authorities or you will be slapped with court case and litigation. Keep this part of the house quiet.

Avoids gossip circles and keep your important documents secured. Be sharp to discern people as conmen are everywhere.

To suppress the energy put "1 to 2 pink or red envelops or pillows".
Star #4 - Academic, Wood element - brings scholastic luck (Centre).

This brings excellence out of everyone in terms of academics. If the students are diligent, being among the top is no questions at all. Those at work will find new ideas, solutions to problems and propositions flow from their mind readily. If the #1 star amalgamates with #4 star, there will bound be academic excellence and is favorable for cultural arts.

Many consider this star is favorable for bringing in mentorship and guidance. Politicians and scholars are fond and pay full respect for it. Students residing in this sector will have better examination luck and better luck in their applications for admission into reputable schools or colleges. Relocate your kid's study desk to this corner if possible or at least face this direction in order to tap into its good energy. Enhancing this part of the house will greatly benefit students sitting for examinations. Therefore, it's a good idea that you enhance its energy.

To enhance put "4 lucky bamboos".
Star #5 - Misfortune or Fatal illness, Earth element - brings misfortune and bad luck (North West).

This year, the yellow star or "Wu Wang" plagues the North West corner. It is a malicious star feared by all as it brings bad luck of all kinds. It is an earth element bringing with it financial loss, obstacles, tragedies, accidents, mishaps and anything else that is negative, depressing and bad. One will face accidents, loses, serious illness, obstacles at work and others difficulties.

Everyone should be wary of the obstructions and difficulties brought on by this malicious yellow star. Hence, it is vital to subdue its evil influences before its destructive force spreads and wreak havoc everywhere. The influences of this vicious star should never be underestimated. It is always a good idea to vacate the afflicted room and avoid any loud sounds in this sector coming from the TV or radio. Do not hold a party in this sector. Those affected will find themselves finding faults all the time and become really difficult to handle. You will feel down most of the time.

Put "a cup of water" and mechanical music box and turn it on a few times in a day or cured by a Six-Rod Wind Chime.
Star #6 - Military, Metal - brings good fortune (West).

The Heavenly white star number six associated with the cosmic energies of heaven. It is a very favorable star of good luck straight from heaven. It is mainly deal with authority and money.It benefits all those working outside the office like those work at construction site, police officers etc.

Be prepared for plenty of good heaven's celestial blessings if you spend a lot of time in this part of your house. People who gamble be it in lottery, horse racing, football betting or casino games will benefit from this auspicious star that brings cosmic chi that manifests into good fortune and windfall luck.

To increase wealth luck a glass of water will do. If you want to aim for promotion put 8 white pebbles.
Star #7 - Robbery/Violence, Metal element - brings theft, burglary and violence (North East).

This unfavorable star brings with it bad luck and tidings, lies, defeat, losses and violence. It is a metal element associated with financial loss, robbery, theft, violence and injuries. Losses that occur usually come from robbery, fierce competitors, theft and power abuse from others. Everyone in the household will be affected and at risk.

Watch your back during this period and be careful not to trust everyone.

If you have a door or window at this sector, make sure you double locked it. The 7- Flying star influence in 2014 will degrade your money luck. So, print out the chart and map out the North East location of this belligerent number 7.

An excellent way to overcome the #7 star is to use Water, which weakens its Metal energy. Suppress the bad energy of this star with a "a cup of water".
Star #8 - Wealth, Earth element - brings wealth luck and prosperity (South).

The all-powerful Prosperity star for 2014 falls into South. It is the star of fortune, wealth and good luck and brings abundance of wealth luck. This sector is extremely fortunate as it enjoys fantastic money luck & financial success, and is particularly beneficial to those with house or office main entrance located here.

Use this area as much as possible.. Enhance by putting just "a cup of water".
Star #9 - Celebration, Fire element (North).

This Purple star is of fire element. This #9 is generally considered second only to the #8 in terms of attracting good fortune and prosperity.

This Fire #9 Purple Star is also a magnifying number which expands both good and bad luck. It increases nasty effects when combined with the unlucky star 2, 3 or 5, so do update yourself on when the unlucky combination occurs and stay protected with cures & remedies.

This star also bring relationship and marriage luck. To enhance marriage, put 4 pots of plant surrounding one plot of 9 red roses (or any flower, must be red).

If you only want further enhance your relationship but not marriage just put the 4 pots of plant.

If you want to add a new family member, just put one pot of plant.

If you want a promotion, just put one pot of plant.
The Annual Xuan Kong/Flying Stars apply to all homes, regardless of the Time Period in which they were built. The Annual Stars can act as catalysts or triggers within each compass sector, and you should examine their interaction with the natal Xuan Kong probability combination of the Siang Sin, Main Star and Chor Sin within each compass sector to determine how strong or weak the annual influence may be. It also helps to look ahead at the monthly flying stars to see when the annual positive and negative factors will be doubled or enhanced by monthly stars.

Rameshwar Prasad invites you to the Wonderful World of Chinese Astrology
CONTACT THE CONSULTANT
Engineer Rameshwar Prasad (B.Tech., M.Tech., P.G.D.C.A., P.G.D.M.) VAASTU INTERNATIONAL
49 C (Second Floor), Pocket- B, SFS Flats,
Mayur Vihar,
Phase-III,
New Delhi - 110096,
INDIA
TeleFax : +91-11-22615299 (Landline), Mobile : +91- 9810105218
e-mail : vaastuinternational@yahoo.com vaastuinternational@gmail.com