2015 - Year of Green Wooden Ram/Sheep/Goat

February 19, 2015 - February 7, 2016

The "Yin Wood Goat"!
General Overview of The Wooden Goat Year
The Year of The Green Wooden Goat 2015
2015 is the Year of the Sheep. 2015 Chinese New Year Day is on February 19, 2015. Chinese Astrology uses the cycle of 60 Stem-Branch calendar system to build the Chinese astrology birth chart. 2015 is the 32nd Stem-Branch in the calendar cycle. That is Green Wooden Sheep Year. The Year 2015 is the 4712th Chinese Year.

The first day of Wooden Sheep is on February 4, 2015, which is from the Chinese astrology calendar. The Chinese astrology zodiac signs are assigned by Chinese Astrology Calendar, not the Chinese Lunar Calendar. Chinese New Year Day is from Chinese Lunar Calendar.
Sheep is the 8th animal in 12 zodiac signs. The 6th is Snake and the 7th is Horse. Snake, Horse and Sheep are in the Fire cycle based on the theory of Five Elements (Metal, Water, Wood, Fire and Earth) astrology system. 2015 is the last year of Fire cycle. Therefore, if Fire brought you luck in 2013 and 2014, then your luck in 2015 will continue.
2016 is the year of Monkey. Monkey is the first year of Metal cycle. Therefore, 2015 is the year between Fire and Metal. 2015 will be a turning point year for many people. If you were lucky in past two years, then you need to prepare to adjust your approaches to maintain your achievement. If you were out of luck last two years, then 2015 brings you the opportunity to create your new future. This is because Sheep contains the Female Earth, which can grow plant. Sheep contains the Female Wood (seed), which is the source of your creativity. It's required time to turn seed into flower and fruit. Therefore, in the Sheep year, we need to think twice to well prepare next path to advance.
Sheep mixes with Fire, Wood and Earth. It could move people's luck to different directions.
Chinese Zodiac uses 12 animal signs to predict people's fortune. The twelve animals are Rat, Cow, Tiger, Rabbit, Dragon, Snake, Horse, Sheep, Monkey, Chicken, Dog and Pig. The 12 Chinese zodiac signs are determined by people's birth year.
Chinese New Year is celebrated on February 19th 2015 but you make your Flying Star changes on February 4th.
2015 is the year of the Yin Wood Goat (sheep). Not a good year with the conflict between the Wood Goat and the Argument Star which is in an Earth sector this year. This could result in more aggression and hostility in certain parts of the world coupled with an increase in natural disasters. As the Argument Star is in the Centre of your house/business, everyone will be affected.
However as in previous years my advice is to be aware and informed about the effects of the Flying Stars and by placing the appropriate cures you can be assured of having the best the year has to offer and avoiding the worst. There were many new cures last year and some of these can be used again this year BUT you must cleanse them before placing them in their new position.
Remove ALL of last year's cures, wash them and place overnight in the full moon or in direct sunlight for most of a day. Some things really shouldn't be reused as they will have accumulated too much negative energy e.g. the 6 metal wind chime, the 6 coins on red ribbon and possibly the Bagwa mirror. However, more on this as we go through the individual sectors.
Regarding flying star feng shui, the current twenty year period from 2004 to 2024 is called "Age of 8" and this number 8 represents the Trigram of Mountain and it also is symbol of young children. Therefore since stepping into Age of 8 in 2004, it seems there are more disasters and misfortune affecting children. The latest incidents included the South Korean ferry boat disaster in 2014 killing a lot of school kids, the student protests in Hong Kong….this is another examples of young people problem which is most prominent in "Age of 8". This number 8, representing children will always present in the centre of the flying star chart in this 20 years from 2004 to 2024. So it is always important to pay attentions to children safety and well being in this period of 8.
Regarding the economy, fire element is often the driving force behind the stock market. The five elements are also affecting people's mood. In general fire is joy, water is fear, Earth is meditation, metal is sadness, and wood is anger. As such, fire year often generates optimism and drive up the stock market, such as 2006 and 2007. But in 2008 the water arrived and obviously people began to have fear about worsening of the USA sub-prime problem and recession. So the financial tsunami occurred in autumn of 2008 leading to a few years of instability in the world economy. The years subsequent to 2008 were missing the fire element, so the crisis and instability particularly in USA and Europe prevailed until 2013, when the US economy showed strong recovery with the fire Snake year. In 2014 horse year the fire element continued to fuel the economy and it is obvious that USA and Europe are out of the bearish years. In 2015, the momentum of fire driven optimism will continue so this could be a year that the economic activities and stock market will continue to be very active particularly in spring and summer. The strong fire and absence of water this year is still positive for the economy and the optimism continue to bring confidence to buy. This positive fire energy will continue into 2015 and 2016 which are also wood and fire showing up in the Heavenly stems.
The wood earth element of 2015 is expected to bring prosperity to wood industries and metal industries; this is because wood conquers earth, so the earth element is a symbol of money to the wood industry, which includes textile, environment, paper, magazines. The second best industries could be metal, as metal conquers wood, so wood is money to metal industry. Metal industries are hi tech, banking, machinery, cars, engineering. Fire industry is also positive as fire produces earth, so it will be an active year for fire elements such as stocks, finance, energy, power generating, oil... The not so good industry is earth. Earth industries are construction, property, agriculture, chemical, insurance…, in a strong earth year, this industry will be very active, but competition is also very strong and the wood goat brings many competitors in the scene.
In summary, the industries that will perform well in the year of the Goat will be industries related to Metal and Wood elements. Metal industries are banking, machinery, engineering, computer, and high tech industries. Wood element is referring to textile, paper, magazine, media, environment... Fire industry will be moving ahead with conservatism; fire sees earth as productivity but sees wood as conservatism and restraint. Fire industries are energy, finance and entertainment. Earth industry may not be doing very well as their money element waterl is absent and the strong earth goat means keen competition in the property market.
In general, the Yin Wood Goat year, with wood on top and earth below, is symbol of optimism and flexibility for compromise and progress. There is still conflict and disharmony in international relationship and may be even a new Gulf war. So it will not be a peaceful year but people are more easy to adjust and willing to negotiate and compromise hence there will be more peace treaties and agreements to avoid international clashes. Also there are natural disasters such as earthquake, landslide, tornado and hurricane and some environmental disasters and nuclear issues and disease and epidemic still prevail.
Feng Shui energies also change from year to year. Therefore, it is necessary to watch for the re-allocation of good and bad energies at the beginning of each year, so that we can take necessary precautions if some bad energy happens to arrive at important locations of our residence or offices. In the year of the Goat, the bad energy called "Five Yellow" – symbolizing obstacles and misfortune, arrives at the W. It is recommended that one hangs a metal wind chime in the W of the house to dissolve this bad energy. The worst months will be in April, June, July, 2015 and January 2016. Another bad star number 2, symbolizing sickness, will arrive in the southeast in 2015. The traditional method to dissolve this 2 is to hang a string of six metal coins in the affected area in the south east of the house The Grand Duke this year is in the Southwest, hence it is not favorable to "move earth" or make substantial construction work in this direction. It is also not recommended for one to sit with back against West as you will be sitting against the unfavorable energy called "Three Shars" or "Three Killings". The Northeast is the "Crash position" against the Grand Duke which is also not good to sit. The bad star 3 is a star of conflict and robbery. This is present in the centre.. It is necessary to put a piece of red paper in this position to minimize such bad influence. Also the bad star 7, representing scandals is in the South, the traditional solution for this bad star 7 is to place 3 piece of bamboo plant grown in clear glass vase of water in the South location. As we are already passed middle of "Age of 8" the star 7 already becomes very negative, we have seen the "Curse of 7" in the tragic incident of MH17 so it is necessary to pay serious attention to cure this 7.The annual star 3 located in the centre is the Trigram Thunder and Earthquake , as such, it is anticipated that more earthquake can be anticipated in 2015 and the affected area could be Central and West area. The star 3 is also a star of conflict which may bring more clashes and conflict particularly in the center area, This will often affect Middle East and countries and regions with name "Central", this may include China as well as the name of China is Central Country.
2015 In General:
Strong fire element due to serious lack of water - strong, dry unhealthy earth element - lack of metal energy.
Most upsetting months are earth months of July, October and January, which are months of Goat, Dog and Ox.

Improvement in finances, economic activity and stock market.
Improved relationships but high level of mistrust, misunderstanding and disputes.
Conflict between government and citizens - riots.

High potential for earthquakes in Western and Central regions.
Environmental disasters of forest fires, deforestation, mudslides, landslides, avalanche, air and sea pollution.
Possibility of serious collapse of buildings disasters.
Higher potential for serious road accidents.
Protect and watch over your children, their safety and well-being.

International conflict energy is more easily resolved without violence.
A year for diplomacy and compromise rather than anger and force.
A year for treaties and sanctions.
Incidents in desert areas such as Middle East or Arabian Gulf countries.

Health Problems:
Stomach afflictions, pancreatic disease, increased diabetes, and cancer.
Carbohydrate moderation is a must as is lower sugar intake.
Personal -
Improvement in finances both individually and collectively.
Romance is favoured.
High level of mistrust this year, and backstabbing from people we know.
The center of every home and business is afflicted with the conflict star creating very short tempers and irritability.
Stay calm, take a deep breath - diplomacy will go a long way this year.
Lawsuits may well increase so be sure everything is in order, and managed correctly and honestly.

Global -
The good news is conflict is more easily resolved with diplomacy and compromise this year. Sanctions and treaties are more effective.
War is NOT the answer, and never will be the answer.
Desert areas such as Middle East, will continue with incidents and misfortune.
The mistrust between citizens and government will continue to fester and riots may well ensue.

High Possibilities -
1) Earthquakes. Lock down and secure furniture and possessions, especially glass and crystal.
2) Burglary. Check security and alarms. Lock and check doors and windows when going out, especially along the South wall of home.
3) Fire. Check fire detectors are in working order. Leave no fire unattended, or candles burning alone.
4) Car accidents. Slow down and drive carefully. Pay attention.

Health -
Health Challenges are focused on the pancreas which indicates increased diabetes, which means diet MUST be addressed and the focus placed on removal/decrease of sugar (potatoes, bread, pasta, candy, cakes, cookies), and increase in veggies and low sugar fruit.
WATER For 2015:
Outdoor water for 2015 is best in SW or EAST - pool, jacuzzi or fountain. NO water in NE until 2024.
Indoor water features (moving water), such as fountain or aquarium, ok in East for 2015.
Feng Shui Tips for 2015:
Colors of the year are green for growth, and blue for calm.

Water element is important this year as it feeds wood, and tones down strong fire energy potential.
Keep all water fresh and sparkling clean to prevent misfortune and affairs.

Earthquake potential for Western and Central areas of USA, China and Middle East is high possibility in 2015 - Lock down all insecure objects and heavy furniture that can fall over, and secure all glassware and crystal asap.

Best Directions:
North 8 wealth, success, romance - NW 4 finances, romance, travel, study.
East 1 achievement, touch of romance - SW growth, celebration, relationships - NE 6 career, leadership.

Worst Directions - Avoid:
West 5 severe misfortune - SE 2 illness, disease, car accidents.
South 7 violence/robbery/abuse/deceit - Center 3 nasty conflict, short temper, lawsuits.


REMEMBER ... ENHANCE THE GOOD STARS, SUPPRESS THE BAD STARS.
NOTE REGARDING ELEMENT PLACEMENT:
If you believe indoor water features seem to be having a negative effect, remove.
If any section appears negative, re-evaluate - tone down, remove or add other elements/colors.
If you know how, check the natal flying star birth chart of your home, for conflict with annual visiting flying stars.
Elements and Colors:
1)
You do NOT have to buy strange Asian objects to activate or remedy your home - simply use the elements/objects you already have.
However, having said that, there are five objects we personally like which can be used every year:
a)
The Five Element Metal Pagoda
- to protect against the nasty 5 earth star (2015 in West).
b)
A blue rhino and blue elephant
- to protect against the 7 metal violence and robbery star (2015 in South.
c)
6 rod metal outdoor windchime
- to protect against the 2 earth illness star and the nasty 5 earth star (2015 SE and West).
d)
Metal gourd, known as a Wu Lou
, which protects against the 2 earth illness star (2015 in SE).
e)
Pi Yao
for protection - treat him as a pet and face him from NE towards SW in 2015 - if you have two Pi Yao, place the other in SW facing NE.
Every year - which begins in February - cleanse your objects by washing them in salt water, and then allow them to dry in the sun for a few hours. Then, place the objects in the appropriate area for the 'new feng shui year'.
2)
Elements are stronger than colors
- e.g. water is stronger than color blue, fire is stronger than color red, etc.
3)
Be careful using fire and water elements!
- they are very powerful energies and if placed incorrectly will block your intentions or create havoc.
4)
For colors, use rugs, throws, towels, curtains, cushions, bedding, candles, lampshades, etc.
5)
NO water in bedrooms ever! - including fountains, aquariums, water scenes, etc.
6)
No fire/candles in NW ever!
In order to make your feng shui home or feng shui office, you need to know what the numbers in this chart of flying stars stand for and in which corner of your house/office they occupy. Details of flying stars 2015 are as followings: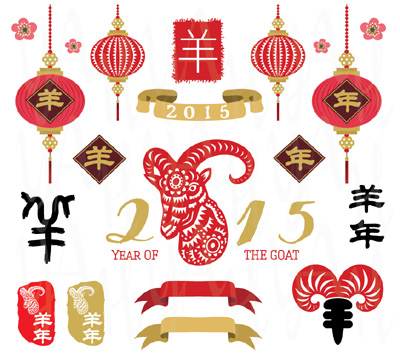 Basics of Flying Star Fengshui
Flying Star System is a system used in Time-Dimension Feng Shui to analyze what type of intangible forces are occupying a particular compass direction. It is moving in a cyclical pattern and constantly changing location in time. It is a body of energies that governs a particular year, month or day. There are nine (9) stars with different influences positioning on each compass direction that affect us.
Each number is connected to a specific set of energies which can be favorable or unfavorable. As Feng Shui a very complex body of knowledge, there are always many levels to this categorization but generally, the good stars are 1, 4, 6 & 8 whilst the bad ones are 2, 3, 5 and 7. In the current Period 8 (2004-2024; the Flying Star school of Feng Shui divides time in periods of 20 years, with 9 periods creating a complete cycle of 180 years), the #9 Star is considered the Future Prosperity Star and is auspicious on its own or paired with a timely Star. However, its magnifying influence can be damaging when it meets up with a hostile Star.
When the lucky Stars (1, 4, 6 & 8) occupy a certain sector, residents of that sector will enjoy the auspicious energies of the said Star, be it in career, love, power or wealth accumulation. Conversely, the unlucky Stars (2, 3, 5 & 7) will bring illness, quarrels, misfortune and violence. The influence of the Stars will be more acutely felt when say, both Monthly and Annual stars in a sector are inauspicious.
The luck and properties of the 9 Stars changes with each period. For Period 8 (2004-2024), the luck of the different Stars, together with the recommended cures or enhancers, are summarized as follows:
#1 White Star – Water
This Star which brings career & academic success and good reputation. It is also the star that blesses one with good victory luck and the patronage of influential people.
# 2 Illness Star – Earth
This hostile Star brings diseases, sicknesses, accidents, lethargy and general poor health & bad luck.
#3 Conflict Star – Wood
This quarrelsome Star brings hostility and danger of misunderstandings which can lead to stress and even litigation. It causes obstacles to all your plans and at its most severe can be dangerous as well.
# 4 Romance & Literary Star – Wood
This delightful Star governs romance, career, travel, creative, academic and artistic talents, wisdom and intelligence as well as self-development.
# 5 Misfortune Star – Earth
This deadly Star brings the worst luck compared to all other stars and must be avoided or countered. It causes calamity, work obstructions, family disputes, injuries, wealth loss and even death.
# 6 Heaven Luck Star – Metal
This divine Star brings potential windfall, wealth and good blessings, but is a bit weak in Period 8. It also generates nobleman's luck and attracts benefactors so that work could be carried out smoothly.
#7 Violent Star – Metal
This vicious Star brings injuries, burglary, fire, rivalry and lawsuits. It also causes financial losses, disputes in every aspect of life, either at home or at work.
# 8 Prosperity Star – Earth
This is the luckiest and most vibrant Star in the current Period 8. Also known as the Primary Wealth Star, it brings fortune, nobility, favourable promotion, salary increment, smooth wealth luck, good health and career success.
#9 Future Prosperity & Magnifying Star – Fire
This Star brings luck for future expansion or prosperity. As the Secondary Wealth Star due to the coming Period 9, it is the best Star to enhance for long term gains. It also serves to magnify the effects of other stars be it good or bad.
Fortunately, the flight paths of these Stars are predetermined so we can foretell their positions and take the necessary steps to remedy or enhance the energy in a certain sector. When we know that bad Stars are going to gather in the same sector, we can install Feng Shui cures to suppress their negative energies and similarly place enhancers to maximise the positive effects of the good Stars.
Refer to the chart below to locate the afflicted and lucky sectors up to year 2020 so that you have ample time to take the necessary measures to either subdue the inauspicious stars or enhance the auspicious ones.
| | | | | | | | |
| --- | --- | --- | --- | --- | --- | --- | --- |
| Chinese Solar Year | 2014 | 2015 | 2016 | 2017 | 2018 | 2019 | 2020 |
| North | 9 | 8 | 7 | 6 | 5 | 4 | 3 |
| North East | 7 | 6 | 5 | 4 | 3 | 2 | 1 |
| East | 2 | 1 | 9 | 8 | 7 | 6 | 5 |
| South East | 3 | 2 | 1 | 9 | 8 | 7 | 6 |
| South | 8 | 7 | 6 | 5 | 4 | 3 | 2 |
| South West | 1 | 9 | 8 | 7 | 6 | 5 | 4 |
| West | 6 | 5 | 4 | 3 | 2 | 1 | 9 |
| North West | 5 | 4 | 3 | 2 | 1 | 9 | 8 |
| Centre | 4 | 3 | 2 | 1 | 9 | 8 | 7 |
For a more thorough analysis, you may want to find out the locations of Monthly Flying Stars of the current year.
2015 Flying Stars Forecast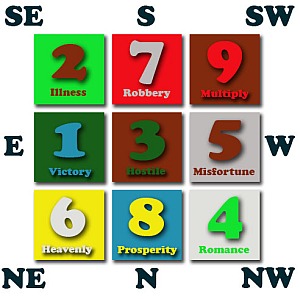 Good Stars: 1, 8, 9
Neutral Stars: 4, 6
Bad Stars: 2, 3, 5, 7
Earth Ram in a Wood Year.
As the Wood Year destroys the Earth Ram weakening it, this is an inauspicious year.
Birth Element which will enjoy a favourable/unfavourable year etc.

Strong Water, weak Wood, weak Fire
weak Water, Strong Fire, weak Earth

Compatible Animal Signs
this year:-

Excellent - Rabbit, Horse, Pig
Avoid - Rat, Ox, Dog

Good Travel Direction
this year:-

Water - North
Wood - East/South-East
2015 Flying Star Forecast
Take note the following sectors:-
Sickness Star this year is at South-East
Misfortune/Sickness Star this year is at West
Disputes/Quarrel Star this year is at Center
Education/Romance Star this year is at North-West

Grand Duke this year is South-South-West, 210 Degree.
- Avoid sitting facing the grand duke or disturbing him by having renovations.
Location in Conflict is West.
- Avoid having renovations done opposite the location in conflict.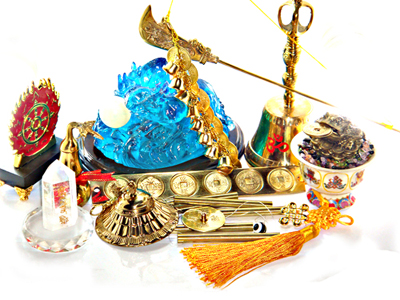 Here we want to tell you which houses are Rich House, Love House, Intelligent House, Sick House, Bad Luck House in 2015 using the theory of Feng Shui Flying Stars.
Flying Star numerology has the theory of overlapping Kua Numbers between Heaven Calendar Flying Star diagram and Earth House Flying Star diagram. When certain two numbers are overlapping together, certain natural phenomenon will create and human will have certain responses. The following are some overlapping number combinations which can change the Feng Shui environmental luck to people. This valuable information can help people to find their right houses on their right timing.
Using the the theory of Feng Shui overlapping Kua Numbers, we will know which house has potential to enhance people's luck in wealth, career or love. Then we look for which bedroom or office will be impacted by Yearly Flying Stars. If you need money luck, then you have to find the House of Wealth. If you are in the House of Debt, then you have to make sure your bedroom or office in the Room of Debt.
Flying Star Kua Diagram of 2015
Feng Shui Flying Star positions are changing with the passage of time. 2015 is the cycle of Kua 3 (Emerald Wood) Year. On the left is the 2015 Flying Star diagram.

Each house has its Flying Star Kua Diagram, too. When certain Kua Numbers overlapping together, certain special Feng Shui good or bad luck will empower. This page will find those special combinations for you. So you can take advantage of this concept to improve your luck in 2015.
House of Love 2015
If you are looking for love and thinking about the marriage, you should find the Love Room in the Love House or apartment of Love House in 2015.
A house facing South is the House of Love.
The Room of Love is the bedroom
in the northwest corner.
A house facing Northeast is the House of Love.
The Room of Love is the bedroom
in the southwest corner.
A house facing Northwest is the House of Love.
The Room of Love is the bedroom
in the north side.
House of Sick 2015
If a person has a poor health, then he or she shouldn't sleep in the Sick Room of the Sick House in 2015.
A house facing Southeast is the House of Sick.
The Room of Sick is the bedroom
in the southeast corner.
A house facing North is the House of Sick.
The Room of Sick is the bedroom
in the west side.
A house facing Northeast is the House of Sick.
The Room of Sick is the bedroom
in the south side.
A house facing Northwest is the House of Sick.
The Room of Sick is the bedroom
in the northeast corner.
House of Intelligence 2015
A student can improve the academic performance, if his or her study room is an Intelligent Room of the Intelligent House.
A house facing North is the House of Intelligence.
The Room of Intelligence is the bedroom
in the northwest corner.
A house facing Southeast is the House of Intelligence.
The Room of Intelligence is the bedroom
in the east site.
House of Wealth 2015
If you need to improve your money luck, then you should find the Wealth Room in the Wealth house or apartment of Wealth House in 2015.
If your bedroom is the Wealth Room, then you will getting rich while you are sleeping.
A house facing North is the House of Wealth.
The Room of Wealth is the bedroom
in the southeast corner.
A house facing Southeast is the House of Wealth.
The Room of Wealth is the bedroom
in the north site.
A house facing Northeast is the House of Wealth.
The Room of Wealth is the bedroom
in the center of the house.
A house facing Northwest is the House of Wealth.
The Room of Wealth is the bedroom
in the southeast corner.
House of Debt 2015
Anyone should avoid to live in the House of Debt, especially when facing the financial trouble.
A house facing Southwest is the House of Debt.
The Room of Debt is the bedroom
in the south side.
A house facing East is the House of Debt.
The Room of Debt is the bedroom
in the center of the house.
Feng Shui for The Year of the Goat, 2015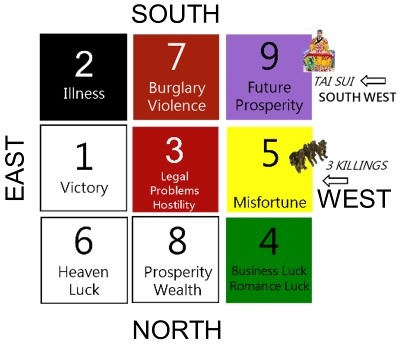 Three Killings Affliction in the West
West (232.5 – 307.5) is the location and direction of the Three Killings in 2015
When at work, you may sit facing the west direction only if this is one of your personal good directions, if not, do not sit with your back to the west in 2015 or you may find unscrupulous people working against you or you may encounter undue gossip and back stabbing during the year.
The established Feng Shui remedy for the 3 Killings is to summon the help of the Three Divine or Celestial Guardians – a powerful of aPi Yao, a Fu Dog and a Chi Lin. The Pi Yao protects against loss of wealth (Robbery Sha), the Fu Dog protects against accidents (Disaster Sha) and the Chi Lin protects relationships (Year Sha). Place the Three Celestial Guardians on the afflicted sector facing the 3 Killings, to protect from these 3 deadly energies.
If your animal sign is afflicted with the 3 Killings or your bedroom or office is located in the afflicted sector, it is imperative to stay protected constantly against the harmful energies by carrying protective amulets such as the 3 Celestial Guardian Key Ring and amulets wherever you go.
Do not take the 3 Killings affliction lightly. If disturbed or left uncurbed, the results can be disastrous. Peace and quiet coupled with suitable cures in the afflicted can keep its hostile effects in check. You will be grateful for having taken the effort to protect yourself and your loved ones from the catastrophes and disasters which the deadly Three Killings is capable of bringing
Tai Sui Affliction in the Southwest
Tai Sui Grand Duke Jupiter flying to the Southwest
SECTOR AFFLICTED: SW1
ANGLE AFFLICTED: 202.5° - 217.5°
ANIMALS IN DIRECT CONFLICT: Ox
ANIMALS IN INDIRECT CONFLICT: Sheep, Dragon, Dog
Southwest is where Tai Sui (Grand Duke of Jupiter) resides in 2015
Resides between 202.5º - 217.5º degrees southwest in 2015.
Like the Three Killings, Tai Sui does not like to be disturbed either. The effects of Tai Sui can be good or bad depending on the annual flying stars that coincide with its location.
The traditional Chinese method to appease Tai Sui is to place a gold coloured special Pi Yao sitting on a Dragon & Phoenix coin in the northeast sector of the home or office facing the 15º southwest radius where Tai Sui sits.
Sui Po is located in the Northeast in 2015 (The year breaker)
Sui Po year breaker occupies the division directly opposite Tai Sui Grand Duke, which for 2015 is northeast. You should treat this area the same as the other annual afflictions with no ground-breaking work, renovations or any noisy activities. If disturbed this area can and normally will cause immediate health problems especially for the youngest male, so please be very careful. Traditionally to appease Sui Po in a Goat year you need to display a gold coloured special Pi Yao sitting on a Dragon & Phoenix coin. If you have to carry out work or emergency repairs in the northeast place a six hollow metal rod wind chime between the buildings and where the work is being carried out and ideally you should contact a professional Feng Shui Master or Practitioner to select an auspicious date to start the work.
2015 Annual Flying Stars:
The analysis of the annual flying stars can only be conducted from a general point of view offering indications as to the potential influences of the stars in the respective palaces for the year of the Horse.
How each area affects the wealth and health aspects of the residents depends greatly on the quality and combination of the 'facing' and 'sitting' stars of the property's natal chart.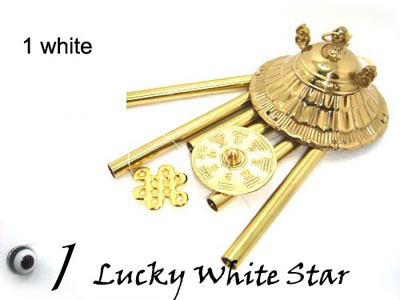 East (1 White) - Brings Triumph and Success
Kan 1 White, In 2015, Kan (Tang Lang) trigram flies comfortably into the East.
In element form, Kan is water. In the physical body, it is the ear. Internal organ it is the kidneys and it is also blood.
Kan water #1 (tan Lang) has flown into the east. #3 star (Lu Cun) wood location for 2015 which caused water to enhance the wood of the east in 2015, which can bring some wonderful influences for the year such as aiding study, romance, career, children, wealth and many other positive aspects which makes this a good area to work in the year of the Goat and this is especially the case if you have a main door, bedroom, office or any other important room in the east in 2015. If possible, it is advisable to make full use of the east as this can bring some good influences in 2015.
If you have a child's bedroom in the east in 2015 or a study area, you can enhance the area further by placing a metal wealth ingot. To enhance a child's academic studies in 2015, try and have your child study in the east part of their bedroom.
Wonderful Star for study, romance, career, wealth etc especially if your front door, office or bedroom are in the East. Rabbits will benefit most from this Star this year. Use this eastern sector as much as you can this year. Place a Citrine crystal on an I Ching coin, Yang side up, to increase your wealth luck. Display a Victory Banner and also the Bejewelled Wind-horse.
If your bedroom is in the East, place a set of 6 coins tied with red ribbon on or beside the bed. Use as much blue or green colour here (easiest is to use cushion or pillow covers, throws etc)..
Aquariums, water features (moving water) are good in this area in 2015..
If your office/workspace is in the East increase METAL objects here, also calligraphy items will increase your creativity.
This lucky star promises triumph over your competitors and brings success luck. Those residing in this part of the house are set to enjoy auspicious luck. Career advancement is very likely this year if your work desk in the office is visited by the Water Star 1. Ambitious young men who engaged in competitive pursuits will highly benefit from this Star. Keep this sector energized with yang energy.
Those whose office or business premises entrance and bedrooms located in the East will enjoy all kind of triumphant moments as this White Star helps you to be victorious in any competitive situation.
Revive the star and its power by displaying a General Figure nearby such as the Bejewelled King Gesar Of Ling . You should also display the AKA Sun and Moon Wind chime or on the go, carry the Medallion for Success and Wish fulfilling or the Victory Banner Amulet.
The east element is Wood which is strenghthened by water. Yang Water is a great activator for this star. Products that are recommended to activate the best feng shui benefits pertaining to this star are the Victory Banner Flag , The Umbrella, The Three Goats reaching the top and others selected below to help achieve triumph over enemies and remove obstacles or problems standing in the way of success.
The First Son in a household will benefit from this . Also, those who were born in lunar years of the Rabbit should be able to tap into the auspicious energy of this star. People in these two categories would be advised to carry or possess a Producing Victory Medallion Feng Shui Keychain, Victory Banner with Success Amulet Keychain to maximize their potential for enhanced fortune.
This location also enjoys the fabulous 1/6 HOTU combination which triggers education or examination luck! Children living in the East room can benefit tremendously if they also carry the 1/6 Hotu Mirror for Academic Luck or display it in the East corner of their bedrooms
VICTORY 1 White Star in the East is a harmonious connection as the 1 Star is a Water element and the East's Woody nature is nourished here which keeps the mother element of Water busy and active. The 1 Star brings success in academics, fertility, romance, wealth, and overall good fortune. Those most affected are those born on the Day or in the Year of the Rabbit, the first born son, and those with a bedroom or front entrance in the Eastern sector.
CURES to Enhance:
AVOID clashing color like Fire Red, Fuchsia, Orange, Violet and Rose, Earth tones like tan, brown, and yellow, Metal and its associated colors of black, white and gray.
Support the Water with shades of BLUE and Green as in pillows, rugs, throw blankets, artwork that is lush with landscapes, trees, and flowers, silky flowing fabrics too.
For $$Money luck$$ and good fortune place a single gold ingot on a piece of blue fabric with a green houseplant.
If this is a front door, use it regularly and use a green or blue door mat with healthy potted plants (if blooming, choose blue flowers) or shrubs near the entrance.
To motivate romance place a pair of birds, 2 candles, and/or an image of a couple embracing, dancing or in some way happily together.
Place a brass pagoda on the desk if you have a child's bedroom in the East to encourage good grades.
A set of six Chinese i-ching coins tied with red ribbon would be good for a bedroom that falls into the east along with blue and/or green colours.
Place a metal abacus and or a round metal wealth pot filled with coins on your office desk if your office is also in the east sector.
If this is a study, a metal abacus will help enhance studies.
A Chinese or western calligraphy set is very good to place in the east for 2015 if you want to enhance creativity as an artist or writer or student, if you can place it close to where you study/write/paint.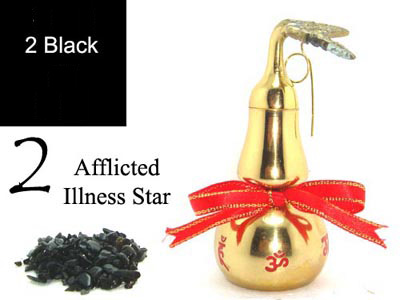 South East (2 Black) - Brings Sickness and Illness
Kun 2 Black, the Kun 2 Black (Ju Men) visits the South East in 2015.
The southeast in 2015 is not a very nice area at all and best left alone if possible I know that it is easy for me to say and for me personally the SE is the main bathroom and part of the kitchen, so not that bad but if my main bedroom fell in the SE I would move rooms although i do appreciate this is easier said than done.
If the southeast of your home or office is a bathroom, utility room, guest bedroom or other less important room do not panic this is great news for you as the annual influence will not be as strong as if you had a bedroom or kitchen in the southeast in 2015. Regardless of what room there is in the SE I will still place the recommended cures below and I will not be decorating or disturbing this SE area for the whole of 2015.
If your front door, bedroom, office, lounge or other well-used room is located in the southeast this will inevitably activate its malicious effects, so read on… This negative #2 star affects the health and luck of those under its influence bringing with it sickness, disease, bad luck, stress, stomach and digestive problems, bloated feeling, gossip, back stabbing, family harmony and distress. This is especially so for people who are a Gua #1, 3 or 4 and also for the eldest daughter or eldest female.
Never a good Star and this Year it attacks the Southeast sector. Not good if your front door, bedroom, office etc so cures must be placed to avoid this negative influence on your health. Dragons and Snakes are the most vulnerable. Place health/longevity talismans here.
Place a Wu Lu, six I Ching coins tied with red ribbon, metal singing bowl (or other round Metal objects) to reduce the effects of this Star. A GOLD elephant, trunk raised with jewels on its back is a strong cure to counter the clash between wood and earth. A salt cure / lamp would be good as is a Jade Wu Lu.
A GOLD Tsai Shen figurine will protect your wealth this year. Reduce red colours, bright lights, candles etc here this year. (if you do have these colours you can negate them with whites, silvers, golds etc).
If this is your bedroom try to change rooms especially if a woman expecting your first child. If not possible hang a metal coloured Wu Lu on the Bed and avoids reds etc and triangle shapes, bright lights, candles etc.
If your front door faces Southeast place a Bagwa mirror outside.
The black, negative number 2 Illness Star is known as the sickness inauspicious flying star that brings illness, diseases and health problems in those affected by it, even if they were previously healthy, and it is believed to worsen an existing sickness. People whose living room is facing South East or located in a South East direction should place metallic feng shui cures on prominent display in that afflicted sector.
It will mostly affect the first daughter in a family or those born in a lunar Year of the Dragon and Snake,it is necessary to wear the Medicine Buddha pendant.
Subdue the Illines Star by displaying in the Southeast wall the Pharmacist Buddha Plaque containing the 8 Sugata brothers (medicine Buddhas) with the powerfull medicine mantra.
Other powerful symbol is the Garuda Bird that can subdue "naga spirits" that cause cancer, lung problems and skin disorders.
On the positive note, this location enjoys the 2/7 HOTU which will offer magnified money luck during 2015. Activate this good fortune by displaying the 2/7 Hotu Mirror for Big Money in the Southeast sector in 2015.
Sickness Yellow 2 Star in the SOUTH EAST is connected to Illness, Stomach and digestive issues, bloating, arguments, gossip, and distress.
The Earthy nature of the 2 Star is greatly weakened by the Woody nature of the South East which is good. Those most affected are people born on the Day or in the Year Dragon or Snake, those with a South East facing home or bedroom, and first daughters. It is best practice to surrender this area of your house by vacating it and not using it at all. If that is not possible then follow the cures below. It is lucky if the SE falls in a laundry room, storage area, bathroom, or guest room.
CURES to Dispel:
Focus on colors of Green exclusively and Wood furnishings.
AVOID Blue, Water, Metal, White, Gray, Earth tones and Fire especially Purple, Red, Yellow, Brown, Tan, Fuchsia, Orange, Violet and Rose.
If a Bedroom place a Brass Wu Lou by the bedside for good health and a Salt Water Cure to absorb any residual toxicity.
If a front door, place 2 Fu Dogs on either side of the front stoop along with a Ba-Gua mirror on the front door to deflect the negative chi – Use an alternate entrance if at all possible.
Close curtains and doors to this room.
Do Not burn lights for long periods of time or use Fire in any way.
Place a round Metal bowl in the center of the room.
Do Not Bang, Dig, Renovate or in any way rattle the chi in the South Eastern part of your home or property – this includes. placement of the TV, stereo, or other electronics/ machinery that make noise.
Hang six Chinese coins tied in red ribbon.
Place a salt water cure.
Place a GOLD elephant, trunk raised with jewels on its back .
You do not need all Dragons and bells, you can use any metal ornament as long as it is not sharp or aggressive looking, and believe it or not a good cure is a round metal dog bowl or weight lifters weights.
Place a Wu Lou and/or other metal ornaments to dissipate the negative earth.
A metal singing bowl is very good as is a stainless steel Dog bowl, yes you heard right.
Avoid using red fire colours in this room and refrain from displaying triangle shape or fiery pictures in this corner of the southeast room.
Avoid candles or bright lights at all costs.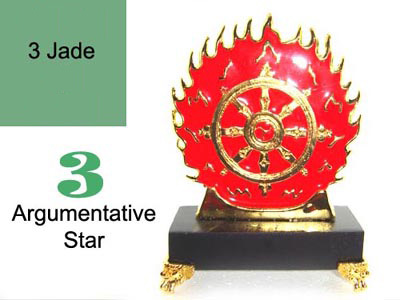 Centre (3 Jade) - Brings Hostility and Lawsuits
Chen 3 Jade, the sound of Protracted Wind #3 Jade is making a lot of noise in the Central place in 2015 and this is not a nice combination at all.
In reality, Chen represents movement. Whether this is a home or office, beware of possible theft, arguments, disputes, hot tempers and legal problems throughout 2015. Because it has flown into and trapped in the centre palace this can cause more problems than usual as the centre permeates around the rest of the eight palaces of the lou shu.
Try and keep the centre of your home as quiet as possible this year and avoid building work or renovations throughout 2015. To find the centre of your home, the best way is to draw a square around the outside walls on your floor plan then measure the width and draw two equally sized lines horizontally and vertically.
As this Star is trapped in the CENTRE it will cause more problems than normal and will affect the other surrounding sectors. Keep this area as quiet as possible, avoid renovations etc. Use as much red as you can- objects, covers, mats, hangings, bright light, candles and so on. Hang a peace/harmony amulet, place a Flaming Magic Wheel in this area.
Avoid metallic items especially chimes. Avoid the use of a metal ceiling fan in summer. NO water. Check your security and smoke alarms.
Beware of arguments, disputes, irritability, legal problems and litigation particularly if your office or bedroom is here. Read all legal documents thoroughly before signing.
The use of as much red colour in the centre is the best cure for 2015.
For business owners too, it is important to suppress the number 3 star to avoid conflicts between employer and employee, between suppliers and customers causing undesirable business obstruction. Display the Red Pyramid in your desk and on front desk of the business's premise.
Place the Three Harmony warriors to set at bay conflicts between spouses, between parents and children among relatives and friends, this cure works wonderfully.
Decorate in red, fire element to exhaust the wood element of the number 3 star.
Place the 7 Royal Emblems to bring auspiciousness. The 7 Emblems are extremely auspicious symbols that can be set surrounded the center sector. Symbols are Precious Horse for success, Precious Elephant to represent Power, Precious Minister to care domestic affairs, Precious General for protection, Precious Jewel symbolizing wish-fulfilling gemstone, The Precious Queen representing the matriarchal energy and The Dharmachakra Wheel.
Everyone should consider carrying an amulet such as the Fire Protection Wheel Keychain or the Feng Shui Peace and Harmony Keychain.
Being the Center of the home or office suggests every family is vulnerable to litigation, misunderstandings on a large scale, and overall disharmony. The 3 Star is a Wood element and the Center is Earth, in the cycle of relating, Wood conquers Earth.
CURES to Dispel:
The 3 Star is weakened by the Earth but Wood controls this element.
Focus on strong accents of Fire with Red like a lamp with a Red shade, a Red floor rug, even a red envelope on a table – but it must be exactly in the Center of your home or office.
AVOID Blue, Water, Metal, White, Gray – Earth tones and some accents of Green tones with Wood are okay.
A Kitchen in the South East creates a natural cure with the stove
Keep curtains drawn and doors shut to this room to quell the negativity from spreading throughout the house.
Keep the Center quiet without renovations, banging or other disturbances.
Place a light or candle (with care) as close to the centre of building as possible. If you have a choice, a lamp with a wooden stand and a peach/red shade is better.
Do not hang wind chimes in this area of the house, especially metal wind chimes as it will worsen matters.
During hot summer months, make sure the fan is not located in the centre of a building or centre of a room.
Take extra security measures for the whole home or business during 2015 and check smoke alarms.
Check through everything before signing documents if your office is here.
Try and keep this area quiet and do not disturb with loud noises.
Try not to let children or noisy animals play in the centre of your home in 2015.
Beware of backstabbing, as sometimes it is unseen and behind your back and also from someone you thought you knew quite well.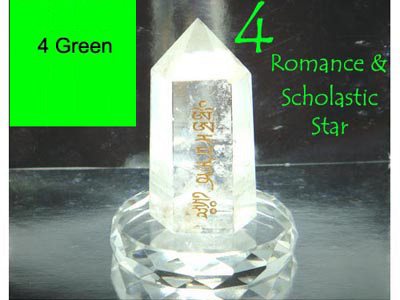 North West (4 Green) - Brings Love and Scholastic Luck
Sun 4 Green Wen Qu literacy and romance star gracefully flies into the North West in 2015.
The Sun wood 4 occupies the northwest palace for 2015 and if the cures and enhancers are placed it can be very good for romance, research, study/exams and more.
The #4 Flying Star is a conditional star but is auspicious in period 8 (2004 – 2024). The #4 star governs romance, travel, creativity, academic and artistic talents, wisdom and intelligence as well as self-development. If you wish to enhance this wonderful star, I would recommend activating It with a Yin water feature or place objects and decoration that are blue in colour or black.
The #4 Star governs romance, relationships, travel, study and self development. Activate it with water and blue/green colours. Do not use fountains or moving water. The Yin water energy must come via clean still water (vase of flowers, bamboo shoots etc BUT the water must be kept very clean).
Place a Double Happiness talisman in the Northwest, and other relationship symbols (mandarin ducks, hugging couples, pictures of couples, dragon headed tortoise, puffy Rose Quartz Hearts etc).
If your front door is here expect wanted and unwanted romantic attention so placing your cures here is important. Boars and Dogs will benefit most from this Star this year.
Avoid fire or metal colours here (pink, red purple silver, gold, white). Blue / black colours are good. Do not hang wind chimes here in 2015 and certainly not metal items.
An important area for relationships, creativity and those in the travel industry. A Crystal Globe will boost travel and study aspirations.
For those looking to enhance their romance and education luck will welcome the #4 Green Star (wood element) and appreciate its benefits, which flies into the Northwest sector of your home or office in 2015. It is also often called the Peach Blossom Star or a star of beauty, knowledge and learning. This star brings forth good luck on the romantic side of your life, and is promising for academic and scholarly pursuits. The first daughter, Dragon and Snake-born, and those single or unmarried residing in this corner will benefit tremendously from this timely star. If this area is frequently utilized, you will enjoy closer ties and better relationships with your loved ones. It is highly auspicious for singles that are searching for love and marriage. We recommend displaying a Rose Quartz Hearts and Double Happiness Symbols
It can also augment romance among married couples but the outcome here depends on whether there is also a danger of straying for married people during this year. Some suggestions for those seeking the magnification of their romance luck include displaying the Double Happiness Symbol and a pair of Mandarin Ducks.
Those with a literary, artistic or creative background such as lecturers, teachers, artists, writers and researchers will see positive results in their work, with indication of further advancement. You can expect some travelling, Carry the Traveling Amulet for luck and protection.
Students residing in this sector will have better examination luck and better luck in their applications for admission into good schools or colleges. Therefore, it's a good idea that you energize its energy by displaying the 9 Tier Pagoda to call the Wen Chang Star.
Businesspeople and those who can benefit from promotion to a higher position should strongly consider investing in the Seven Tier Feng Shui Pagoda Keychain, the Clear Crystal Globe or the Golden Pagoda.
This Northwest sector also enjoys the amazing 4/9 HOTU special which triggers a very powerful kind of business luck! If you are sleeping or working in this sector or have a Northwest-facing house or office, then display the 4/9 Hotu Mirror for Business Success and Profits in the this sector to attract the luck of excellent business luck.
The Romance and Scholarly Green 4 Star Sits in the North West and is connected to Intelligence, Academic Achievement, Relationship, Happiness, and Creativity. The 4 Star will have a hard time playing in the Metal direction of the North West and a mitigator of Water is needed to ease the conflict of elements here. People affected are Pig, Dog and the man of the house.
CURES to Enhance:
Focus on mitigating with colors of Blue and Black – throw rug, artwork, pillows, etc.
AVOID Metal, white, gray, Fire, Red, hot pink, purple, orange, Wood and shades of Green.
Keep curtains open, open windows on nice days and keep doors open as well to keep chi active.
Place on the desk a jar with brushes, pens and markers and Blue covered books to support creativity and scholarly success
4 stalks of Lucky Bamboo in a Blue glass vase with a Pair of Birds to enhance romantic relationships.
Be aware of the negative potential for infidelity, heart break and other relationship woes in the months of January, March, June, October and December.
Great area to place pictures of you and your lover or if single, pictures of couple you admire.
If you have an office and study located in this area, place a task light and a crystal globe on the work desks. Blue items can be added to the desk e.g. blue paper, blue books etc
Avoid displaying too much metal objects here especially large heavy ornaments.
Fresh flowers or small pots of green leafy or flowering plants can be displayed in this spot of the house to lift the qi. Blue flowers are a good choice.
If you have mandarin Ducks this is a good area to have them and any other symbols of romance like hugging couples etc.
A Chinese or western calligraphy set is very good to place in the NW for 2015 if you want to enhance creativity as an artist or writer or student, if you can place it close to where you study/write/paint.
Place photos of loved ones or images of love to enhance relationships or attract new love. This can done with photos, paintings or statues, make sure there is always a pair in the image.
For romance a Dragon headed Tortoise or Mandarin Ducks is very good.

West (5 Yellow) - Brings Misfortune and Bad Luck
The 5 Yellow In 2015, the annual 5 Yellow Lian Zhen star of tragedy returns home to the West place in 2015.
Although somewhat restrained by the metal of the west, it is highly recommended not to disturb its position here with noisy activities, renovations or maintenance work at any point in 2015. Houses with gardens in the west of the property should avoid disturbing the ground with major digging or building work if possible this year. This palace is particularly unlucky this year as the Three Killings is also located here and not a very nice combination at all; and special cures are needed in 2015.
The 5 Yellow also called 'Wu Huang or Lian Zhen)' in Chinese, is one of the annual afflictions. It is a very volatile star. It has no gender and no trigram and is highly dangerous when disturbed. When disturbed, its malevolent influence brings disaster, sickness, lawsuits and major loss of wealth. Do be careful with it. Stillness together with metal cures can keep its negative influences at bay.
This yearly affliction of the 3 killings is in the west (232.5º to 307.5º). It is imperative that you do not undertake any form of noisy renovations or re-decorative work in this part of your house or office between February 4th 2015 and February 3rd 2016.
You should place a salt water cure, six rod wind chime, Wu Lou and six Chinese coins tied with red ribbon and also place more metal decorative objects (provided they are not menacing looking, round shape metal is good) to dissipate its negative.
Wherever the Five Yellow is, you must never disturb its position by lots of drilling or knocking activities. So please be careful when you hang your metal six rod wind chime to control its influence in the west sector of your house or business.
You must not place red objects, bright lights, candles or red coloured furnishing in this sector. Do not worry if you have these colours already just introduce colours white, silver, gold or copper in the way of a floor mat, cushions, throws, tablecloth or such like. You can also use dark blue or black if you prefer.
If your bathroom, cloakroom, en-suite, guest room or a large cupboard are located in the west, this is good for you this year, because these areas are not used much and therefore the negative power is not activated, I would still place the cures though regardless of what room is located in the west.
Do not activate this area with loud noises, keep quiet and avoid at all costs building work or refurbishment. Do not use the fire element or colours red, pink or purple. Keep doors closed. Place a six-rod wind chime, Wu Lou, salt water cure and six coins here along with metal ornaments. Use colours white, silver, gold or copper. I will repeat this part, as it is so important, please keep the west of your home quiet, avoid redecoration and building work in 2015 in the west part of your home or office and when you hang your wind chime try not to make so much noise with hammers etc, don't worry about the noise the wind chime makes, this is all part of the cure, so when it is in place try and remember to knock it a few times a day.
A bit weaker this year although it will be important to keep this area quiet and undisturbed in 2015. Avoid renovations, disturbing the ground, noisy activities as the Three Killings are also located in the West this year which increase the volatility and potential disaster, sickness and legal issues. Roosters are most susceptible.
Place a salt cure/lamp, 6 metal rod wind chime, Wu Lu, 6 I Ching coins tied with red ribbon and lots of metal items. Metal coloured Dragons are good (not red). The Five Element Pagoda and images of the Tree of Life are important protection.
Avoid fire items (red colours, bright lights, candles, triangle shapes etc) If you have these here already you can negate with metal colours (silver, gold white etc). Blue/green colours can also help.
A gold coloured Tsai Shen figurine will protect your wealth if placed here in the West.
The most dangerous, vicious and aggressive of all stars, the #5 yellow star or Wu Wang, flies to the West sector, this means that homes facing or sitting in the West or homes with west main entrance location will be negatively affected by this malignant star. The young woman and younger daughter will be afflicted. It is a malicious star feared by all as it has the tendency to attract unfavorable outcomes, bad luck of all kinds and sometimes calamity, which includes fatal accidents and disease.
It is advised to use strong metal cures in this sector, such as the 5 Element Pagoda. The Vairocana Stupa and Metal Dorje are also great remedies to subdue the #5 star. Carry the Five Element Pagoda keychain specially designed for Period 8
The West sector is also afflicted by the presence of The Three Killings, bringing three kind of loses: loss of good name, loss of a loved one and loss of wealth. Display the Three Celestial Guardians with the three element color to invoke the element water, wood and earth. Other wonderful cure for this year is The Gold Metal pagoda with red light specially designed to awake the fire element.
Additionally, decorate the west sector with red colour carpet or pillows to bring the yang fire energy to exhaust the Three Killings.
Below we have listed different cures for the West sector.
Yellow 5 in the WEST is connected to Sickness, Turmoil, Bad Luck and Overall Misfortune
The West as a Metal direction weakens the Earthy nature of the malevolent 5 Star but we need to add further cures to silence its wrathful potential. This energy most affects people born on the day of or in the year of the Rooster, have bedrooms or home facing this direction, and the youngest daughter. This is the WORST area for 2015 and should be avoided at all cost. Anyone with a garage or front door in this sector should look for alternative entrances. Extreme care and caution should be exercised. The West is a Metal direction that weakens the Earthy 5 but further cures are needed to disable any potential for its activation.
This is also the place of the Three Killings so DO face the West but do NOT put your back to the West.
CURES to Dispel:
Metal as in Chiming clocks, Musical Instruments, an empty round bowl, Metal statues and chimes all work to weaken the Earthy nature of the 5 Star.
AVOID RED, Fire, YELLOW and all Earth tones as well as pottery, stones, porcelain and crystals – if this is a Kitchen cover the stove burners with cookie sheets or Metal plates when not in use.
Focus on Metal to drain as in colors of white, gray, gold and silver, black and white photography, Metal statuary with an accent of Blue.
Do not sleep or spend significant time in this area of your home
If you must sleep here use a Metal Wu Lou to protect health and the Salt Water Cure.
Keep the door closed off to the rest of the house if possible, draw the drapes and keep the chi dormant.
No renovations, digging or loud noises inside and outside too – don't forget to extend your Ba-Gua into the yard – also no music or TV in this area!
No bright lights, lights left on for hours at a time, candles, fire place, stove, barbeque, fire pit.
If this is a stairwell hang jingle bells along the railing.
If this is the front entrance hang a Ba-Gua mirror and place Gold Fu Dogs on the front steps.
Avoid playing loud music in the west of the home or room.
Do not decorate your room with red or earth colours this year. Grey, blue or white beddings and curtains are good colours to use temporarily.
Place a salt water cure in the west of the building along with six Chinese coins tied in a row with red ribbon and six hollow metal rod wind chime.
Move your bed to another corner of the room if possible even if it is a few feet away from the west corner if this is a small room. This way, you will avoid sleeping exactly in the west sector of the room.
Place a gold coloured Wu-Lou in the west corner of the room if this is your bedroom.
Metal objects such as six Chinese metal coins tied in a red ribbon and/or a brass Dragon can be placed in this corner too. Do not to use red dragons.
Do not place red objects, burning candles or triangular shaped furnishing in this sector.
A strong metal (brass) Dragon is very good in the west in 2015.
Most of all, avoid disturbing this area at all costs. Any form of renovations that needs to be done, plan it for another year. It is worth keeping this in mind.
Tsai Shen Yeh (God of wealth) in a gold colour is very effective at not only reducing the bad earth but by also protecting your wealth for the year in the west.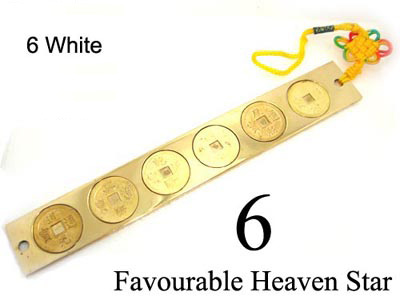 North East (6 White) - Brings Good Fortune
Ch'ien 6 White The star of Heaven Chien 6 White (Wu Qu) sits in the North East place in 2015.
The # 6 White is a benevolent star and as an annual star, its position in the northeast in 2015 is usually excellent for career, wealth, politicians, leaders and anyone involved in the property market, so for those with a main door, office/study in the northeast would benefit greatly however, Sui Po is located in the northeast in 2015 and can bring a great deal of problems if disturbed so please treat the northeast with caution this year.
Those who have main doors or offices in the NE should aim to use another door to enter and leave the home this year if possible; if this is not possible, please be sure to avoid banging doors and keep the hinges well oiled. Whilst 6 White represents attainment, if the #6 annual star is located in a bedroom it can cause problems with the chest or hands. If you do have a bedroom in the NE place some blue cloth like a rug or duvet cover to dissipate its energy.
You should treat this area the same as the other annual afflictions with no ground-breaking work, renovations or any noisy activities. If disturbed this area can and normally will cause immediate health problems especially for the elderly, so please be very careful. Traditionally to appease Sui Po in a Goat yi wei year you must place a golden coloured pi yao that sits on a special Dragon & Phoenix i-ching coin, the pi yao must face towards the southwest in 2015, this is a very important cure and the reason we have included this important cure and enhancer in all our annual kits in 2015. Another crucial Cure for 2015 is to place a Zhao Cai Jin Bao Protection Amulet.
If you have to carry out work or emergency repairs in the northeast place a six hollow metal rod wind chime between the buildings and where the work is being carried out and ideally you should contact a professional Feng Shui Practitioner to select an auspicious date to start the work.
A good position for this star for wealth, career, leaders and those involved in the property market.
In 2015, the Heavenly #6 Star flies into the NORTH EAST, hugely benefitting the Patriarch of the family and those born in the year of the Tiger and Ox. The number 6 is a favorable star associated with Metal element and cosmic energies of heaven.
It is popularly known as an indirect wealth star as it brings unexpected fortune and windfall luck. The most important thing to do is ensure the #6 auspicious chi is greatly activated and strengthened and the best way to do it is to get the energy moving. Constant movements will transform the energy to powerful yang chi which is perfect for the father figure of the family. Star 6 is metal element flying into an earth element sector exhausting to the young men of the family. Activate this sector with small metal to avoid conflicts and tensions between father and sons.
We suggest to display the 6 smooth crystal balls in the Northeast to bring the earth element and indirectly activate the metal element, this is because earth creates metal.
Heaven White 6 Star in the North East connected to Windfalls, Money, Good Fortune, and Helpful Allies
The 6 Star is nourished by the Earthy North East making this a very favorable area for 2015. Those born on the day of or the year of the Tiger or Ox, the youngest son, and anyone with a bedroom or front door facing North East benefit the most from this positive chi.
This is also the Sui Po or Year Breaker area so refrain from renovations or big noisy disturbances.
CURES to Enhance:
The Metal quality of the 6 Star finds companionship with the Metal direction of the West. This area will easily be enhanced with good fortune given the right treatments.
Those who most benefit from this chi are youngest daughters and those born in the year or on the day of the Monkey, Dog and Rooster.
Support Metal with Earth tones like Tan, Brown, Terracotta, Peach, Chamois, Yellow.
AVOID Fire, colors of Red, Hot Pink, Violet, Brick, Burgundy and Orange as well as heavy Wood furniture and green tones.
If this is a bedroom use accents of Blue and/ or Black for good health.
Keep this area active but QUIET, open curtains and windows and doors.
If this is the Kitchen cover the stove burners when not in use with a Metal cookie sheet or Metal burner covers
Hang a strand of 6 coins with a Gold Buddha or Hotei is very good for money luck.
For the Sui Po, place a Pi Yao.
If you are a Gua #3 you should stay away from this sector if possible, if not place a bowl of still clean yin water.
Place a golden coloured pi yao that sits on a special Dragon & Phoenix i-ching coin.
Avoid placing additional metal objects in this sector or room; however, a very good symbolic enhancer is a gold coloured wealth ingot, as it will enhance the wealth nature of the trigram Chi'en. Try and get one that is not made of metal though and not just metal coloured.
Real quartz crystal is very good in the northeast for 2015 as is a faceted crystal sphere.
A golden Buddha is very good in the NE this year.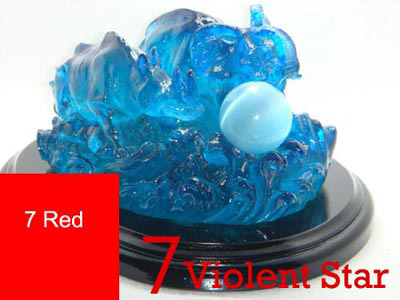 South (7 Red) - Brings Theft, Burglary and Violence
Tui 7 Red The Lofty breeze of Tui (Po Jun) flies home to the South in 2015.
The 7 red star is a negative influence in Period 8 especially now we are over half way through period 8. The trigram Tui is also known as '
Broken Soldier
'. This is a fighting star. When combined with another untimely star, its negative nature denotes assault, deceit, violence and robbery. This year 2015 it falls into the fire of the south, which happens to be Jo's office so we will want to get this area as secure as possible in 2015.
#7 Red portends a high risk of burglary, deception, copyright theft, gossip and back stabbing especially in the months of February, May and November 2015. This will be particularly so if the combination of the facing and sitting stars of this sector suggest such a scenario.
Do not display valuable items on the windowsill, which may attract the interests of passers-by.
The best advice I can give is check or install smoke alarms, check electrics and check the security of windows and doors in the south in 2015 and also read the recommendations below . This is especially so for buildings that face north and sit in the south and even more so if they were built between 1984 and 2024.
The best remedy is to stay away from this sector or try to use it less frequently. You can also use more blue in your decoration. Do not use anything of fire element or colours red to control it as this may aggravate it and don't forget that the negative influence of the monthly stars are usually of the earth elements.
Be careful of your colleagues stabbing you in the back. Sometimes this often goes unnoticed as it is done very secretly and behind your back. Having good Feng Shui is really being aware of potential problems and not just placing cures here and there to protect. If you wanted to use another cure, a good one is to place a Dragon on the right hand side of your work desk and if it overlooks a globe of the world even better, you only need this if your office or main doors are located in the south, southeast or west.
The negative, fighting star causes assaults, deceit, violence and robbery. Check your door and window security, smoke alarms etc. Be aware of back stabbing and internal theft particularly if your office/ main door is in the South, place a Dragon and world globe on your desk. Display the blue Rhino and blue Elephant here. A Night Protection amulet is good if you venture out often at night. Horses are most vulnerable.
Increase the use of blue colours, avoid fire colours and fire items, particularly candles. No metal wind chimes.
Buddhas and wealth charms are suggested this year.
Quartz and Sodalite crystals are good here this year.
People whose main doors are located in South or sleep in the south sector should carry the Anti-burglary amulet and place remedies to suppress the negative energy of the star #7.
The middle daughter in a family as well as those born in the year of the Sheep are particularly susceptible to danger from the #7 star
There are several feng shui cures to disarm the #7 star including the Anti Burglary Plaque to Counter Robbery Star, the Blue Rhinoceros and Elephant flanking the South main entrance door.
7 Star in the South is connected to Robbery, Crime, Violence, Cheating and Arguments. This is a conflicted arrangement as the Fire of the South controls Metal 7, but is good to have this threat weakened. Those most affected are those born on the day or in the year of the Horse, the middle daughter, or with bedroom or front entrances facing South.
CURES to Dispel:
Double check security of windows, doors and smoke detector.
A large quartz crystal is another great cure – check your local crystal shops for best selection.
If you have a desk in the South place a Brass Dragon to the right with a world globe.
If an entrance or a Kitchen place a Blue door mat.
Use this room minimally, keep door closed, windows closed and drapes drawn.
Avoid sleeping in this sector.
AVOID Fire, Red, Earth tones like Yellow and Brown as well as Wood and shades of green.
Focus on Blue accent with use of pillows, towels, rugs, and artwork (not actual Water)
You should also use more blue in your decoration. You can introduce the colour with cushions, rugs, bed covers or doormats.
Do not use anything of fire element or colours red to control it as this may aggravate it.
Avoid candles at all costs.
Install or service smoke alarms and security systems.
Do not hang metal wind chimes here.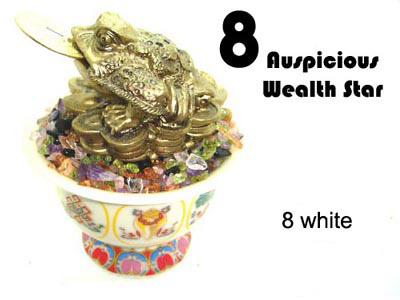 North (8 White) - Brings Wealth Luck and Prosperity

Ken 8 White, Zuo Fu flies elegantly into the North.

This is the governing flying star for the next twenty years of the lower era of the sexagenarian cycle of the flying stars system.

Wealth, fame. Romance, prestige and distinction can be expected especially if you have an office here or a main door in 2015, even if you do not we can still activate it and welcome some very pleasing influences. It brings good fortune and exciting times.

This is a very strong wealth, success and romance area for 2015 so try and store your important financial papers here like pensions, stock portfolio etc. If you use symbolic cures this is where you should place your three-legged Toad facing your Sheng Chi direction for wealth a pair of rose quartz crystal hearts for romance.

Wealth, fame, recognition can be expected this year particularly if your front door or office is in the North. Those working with crystals, symbols, crystal balls etc will benefit this year. Rats will be most likely to benefit this year. Placing romance enhancers will assist relationships ( Mandarin Ducks, hugging couples, Rose Quartz hearts etc).

However be aware of overworking as whilst the extra work will improve income it can create stressful situations affecting your health. Avoid heavy metal items in the North.

A double Carp statue is recommended for wealth protection and the generation of new wealth. Use also Citrine, Ammonite and similar crystals. Place the red 3 legged Toad with a coin in its mouth facing into the house for wealth.

Hang a faceted crystal sphere in the door/ window of this area.

Use this area as much as possible this year. If your bedroom, place Amethyst and other natural crystals here. Keep the area clutter free to encourage the flow of good energy (Chi).

The # 8 Earth Star is the luckiest star in this Feng Shui Period 8. It is associated with abundance of wealth, prosperity, good fortune and success luck.

In 2015, this all powerful auspicious star flies to the NORTH bringing great fortune and wealth luck to everyone who resides here. This sector is extremely fortunate as it enjoys fantastic money luck & financial success, and is particularly beneficial to people born in the year of Ox or Tiger, younger men and those with house or office main entrance located here. Activate this area with the earth and water element. Water presence is important in this sector since earth control the water North sector

8 Star in the North is connected to Money, Wealth, Happy Celebrations and Good Fortune. Again, we have opposites colliding as the Earthy nature of the 8 Star is controlling the Water element so we will want to mitigate with Metal to ensure we get the most out of this most benevolent energy for prosperity. Those most affected are born on the day of or the year of the Rat, the middle son, and anyone with a bedroom or front entrance in the North. BEST area of 2015 to enhance with activity!

CURES to Enhance:
Focus on colors of Fire Red with accents of Yellow, Brown, Tan and other Earth tones.
AVOID Metal, white, gray, shades of Blue, Water, Green and heavy Wood Furniture.
Open the windows, drapes and doors to keep the chi active.
Use a Red light (lamp shade, light bulb or lava lamp, salt lamp) and keep on.
In the yard plant 8 terracotta pots with red flowers.
Inside place 8 red silk flowers in a pottery vase.
String of 8 coins.
Hang a faceted crystal sphere in this area of the house near the window or door. Hang it above head height and twist now and again.
Place a Double Carp Statue in the north.
The energies of the annual 8 can be activated by human activities. Use this room as frequently as possible unless you have received professional advice against it.
The red three-legged toad can be placed here. Make sure the toad is facing into the house and not towards the door and the coin is never taken out of his mouth.
If your bedroom is here, you can also place an amethyst or any crystal items in the north of the bedroom to further strengthen the earth element of the benevolent 8 white.
This is also a good study area for children. Place a task light and a crystal globe on the desk to enhance concentration.
A romance enhancer is a pair of rose quartz Mandarin Ducks in the north this year.
Keep area active with open windows and doors (yang energy) although do not renovate or make loud noises this year.
Keep the area outside and inside the north, east and northeast as clear, clutter free and open as possible.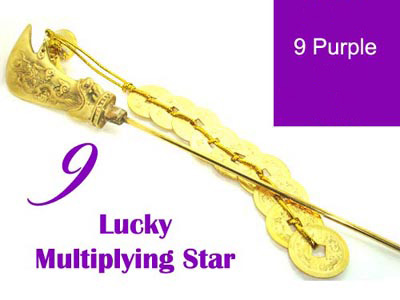 South West (9 Purple) - Brings Future Prosperity
Li 9 Purple (You Bi) Li 9 Purple is found in the South West palace in 2015.
The # 9 Purple is the star of future wealth and has an auspicious influence in Period 8. Career opportunities and promotions are probable especially if you have an office or main door in the southwest in 2015. There is fame and acknowledgement, growth and improvement.
Although this is generally a good area, especially for those in studies, the annual influence of Tai Sui resides in the southwest in 2015 and could cause problems if not treated carefully.
If you have a main door in the southwest where Tai Sui is located in 2015, you must be careful not to allow the doors to slam and do not renovate or dig in this part of your home. If you have to carry out work or emergency repairs where the Tai Sui is located place a six hollow metal rod wind chime between the building and where the work is being carried out and ideally you should contact a professional Feng Shui Practitioner to select an auspicious date to start the work.
This destructive energy Tai Su (Grand Duke) is best avoided and each year you need the best cure available.
Career opportunities and promotions are likely if your office or main door is in the Southwest although the Grand Duke resides here this year so care is needed to not upset him. If there are poison arrows facing this door you must place a Bagwa mirror or coin sword to counter this negative energy. Sheep and Monkey people should activate this area in preparation for better times.
Healthy leafy plants are good here as are hanging 6 I ching coins.
Place 3 I ching coins tied with the mystical knot.
Do not sit with your back facing the Southwest.
Lucky Multiplying Star 9 is the star for promotions, new start of enterprise, marriage, giving birth of new baby, etc. So this auspicious flying star will be a great benefit to people whose main door is located in the Southwest.
Southwest is the matriarch sector and this year, woman will enjoy a light advantage over male colleagues in working places.
The #9 Purple Star is also a magnifying number which expands both good and bad luck. All those whose bedrooms or main doors are located in the Southwest will see magnified luck and will enjoy all the benefits brought by #9 Star.
Energize this sector with the fire element, decorate in RED, cushions, carpet, furniture or paint a wall in red, this activate the star #9 and enhance the number 8 as well bringing a powerful mother energy
Multiplying Star of Future Prosperity 9 in the South West is connected to Happiness, Marriage, Success, Good Fortune and Promotion all happening in the future, so a good area to plant seeds of new ideas, make babies, launch projects, open new businesses, etc. Very auspicious to have a front door or office in the SW. The Fiery nature of the 9 Star is weakened by the Earth, its child but keeps the chi active. Those who will benefit the most are those born on the day or in the year of the Sheep or Monkey, woman of the house, and anyone with a bedroom or front entrance in the SW.
BUT this is also the location for the Grand Duke which cautions us to NOT disturb this area.
CURES to Enhance:
Focus on colors of Purple, Fire Red, Fuchsia, Orange, Violet and Rose, Yellow, Brown, Tan and other Earth tones.
In the yard place 9 terracotta pots with Red or Purple flowers.
AVOID Metal, White, Gray, as well as lots of Water influences in the form of actual Water and too much Blue.
If this is a bedroom and you are trying to conceive, place a bowl of unshelled peanuts by your bedside.
In a window place 9 purple crystal balls or 9 Purple silk flowers.
If a Dining Room or Kitchen area place 9 red or purple candles on a table or counter top.
Keep windows, curtains and doors open to keep this chi moving.
To assuage the Grand Duke place a Pi Yao in the SW facing into 15 degrees. AVOID this area when the 2 and 5 stars visit in the months of February, August and November. The Flying Stars are DOUBLED in APRIL, take heed!
Healthy green leafy plants or blue flowering plants such as violets are good for this area.
Hang Three i-ching coins with mystic knot.
Fresh flowers displayed here will bring positive qi too.
Symbolic objects such as a gold abacus or six Chinese coins or Gold cards can be placed here all year round to enhance benevolent influence and at the same time dissipate the malevolent influence by the visiting monthly #2 and #5.
Water placement in 2015:
As we entered period 8 (4th February 2004) the use of water outside is critical up until 2024, so a pond outside in the correct area can really work in your favour although you must not do so unless advised by a professional Feng Shui consultant place water outside in the northeast up until 2024.
Outside water placement in 2015:
Outside water can be placed in the southwest or east, this is your primary and secondary wealth areas for the next twelve years. In 2015 water outside in the north is good but please only do so if you know what your natal chart (flying star chart) and you also have a good facing star this would make a very powerful combination for wealth.
Indoor water placement for 2015:
If you have to use indoor water the best area is in the north as this activates the auspicious #8 star and is also at home in the natural element of water in the north. Regardless though it is better to seek professional advice before placing any water feature inside or out as in Feng Shui it is the catalyst to good and bad so please take care and consult or use our software.
If you are using water inside or outside you must make sure the water is clean and flowing and never allow it to become stagnant. Water is a very powerful enhancer and is the essence of Feng Shui (Shui meaning water) the qi is caught by the water and cleansed (providing the water is clean) and distributed throughout your property. If you look on our resource pages you will find more detailed information on water placement for 2015 and beyond.
Whilst the methods above are considered safe, there are many exceptions to the placement of water and as Master Practitioners and teachers we use many more methods of water placement for wealth, education and relationship, these methods whilst extremely powerful can only be used with expert guidance and a full analysis of your property and land formations, please visit this link for more details of a consultation or home/business visit.
Salt water cure after just 4 weeks.
You should use the salt water cure this year after February 4th 2015 in the west & southeast (DO NOT REUSE LAST YEARS SALT WATER CURE).
There are many exceptions to be made, the thing to remember with flying stars is, if you have a 5 yellow in a dining room and if it is an open plan home the 5 yellow's power can drift into any other part of the home, think of perfume, if you sprayed some in your bedroom your partner may still be able to smell it downstairs because the smell goes into the air (Ch'i) and drifts around the home, so as general advice it is better to cure than leave to chance.
Annual and Monthly Flying Stars Feng Shui Charts for the Wooden Goat Year (2015/2016)
Flying Star Feng Shui Chart provides vital information to take note of as it involves the way luck changes from year to year. The annual stars change its positions on a yearly basis while monthly stars shift their sectors every month. The optimal way to update your feng shui is to pay attention to their position changes in order to make the most out of the auspicious stars and suppress the bad energies brought by the malignant stars. Below are the complete charts for the Annual and Monthly Flying Star of the 2015 Wooden Goat Year.

The numbers on the left in the 9 grids of the charts below indicate the annual star while the numbers on the right indicate the monthly star. Use a good compass to accurately determine the direction of your home. Then refer to the chart below to look out for good or bad sectors of the month and take the necessary steps to suppress the inauspicious stars or enhance the auspicious ones.

When the combination of the annual star and monthly star in a compass sector is made up of the good stars (8, 6 and 1), the particular sector is said to very auspicious and will bring lots of good luck to its occupant. But when the bad stars congregate in the same sector, it's important that you vacate the room for the month. If this cannot be done, you must install Feng Shui cures to suppress them or they will bring misfortunes of the most severe kind. However, you do not have to worry if the bad stars fly into a storeroom, toilet, garage or a missing corner because its negative effect is said to be contained and dissolved. The effect, whether good or bad, is lesser when the number appears alone.

1st Month
4th Feb 2015 - 5th Mar 2015

2nd Month
6th March 2015 - 4th April 2015

3rd Month
5th April 2015 - 5th May 2015

4th Month
6th May 2015 - 5th June 2015

5th Month
6th June 2015 - 6th July 2015

6th Month
7th July 2015 - 7th Aug 2015

7th Month
8th Aug 2015 - 7th Sept 2015

8th Month
8th Sept 2015 - 7th Oct 2015

9th Month
8th Oct 2015 - 6th Nov 2015

10th Month
7th Nov 2015 - 6th Dec 2015

11th Month
7th Dec 2015 - 5th Jan 2016

12th Month
6th Jan 2016 - 3rd Feb 2016
Whilst the methods above are considered safe, there are many exceptions to the placement of water and as Master Practitioners and teachers. We use many more methods of water placement for wealth, education and relationship, these methods whilst extremely powerful can only be used with expert guidance and a full analysis of your property and land formations.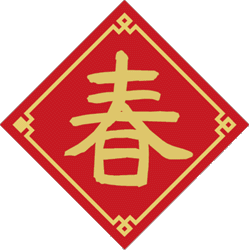 Tips For Annual Flying Stars for 2015
Star #1 - Romance, Water element - brings romance (East).
water star - Achievement and Touch of Romance.
Use accent colors blues or greens.
Vase of fresh flowers with clean water.
Lucky bamboo in water ok.
Fountain or aquarium (moving water), ok here for 2015

NO red/pink/purple/orange/yellow colors. No candles or bright lights.
Avoid plants as they will drain water energy.
Beware ear, kidney, blood problems.
Star #2 - Sickness, Earth element - brings sickness and illness (South East).
earth star - Sickness, Miscarriage, Accidents.
Place strong, round METAL objects here - moving metal such as pendulum clock is good.
Outdoor 6 rod metal wind chime is advised.
A metal Wu Lu (gourd) should be placed here for the year.
Can use metal singing bowl, music box, metal dog bowl, bunch of keys or weights in this sector.
Choose white/silver/gold/copper colors - blue accents ok.

NO red colors, NO fire or candles, no bright lights. No triangle shapes.
No earth or ceramics.
No renovation, drilling or digging. Keep quiet. DO NOT DISTURB.
Keep doors and windows CLOSED.
DO NOT SLEEP HERE, especially if trying to conceive as may cause miscarriage.
Star #3 - Dispute, Wood element - brings hostility and lawsuits (Centre).
wood star - Disputes, serious conflict, accusations, deceit, fights, legal problems.
Focus on red and fire energy to suppress bad wood star.
Place RED colors here, fire/bright lamps, red candles - rugs, throws, sheets, cushions, curtains, lampshade etc
Pyramids and triangle shapes ok.
No TV, fax, fan, music - no noisy children or animals, keep sector calm and quiet.

Bad for couples bedroom. No good for couples wanting to conceive.
No good for restful sleep and inner calm or relationships - beware of backstabbing from people you know.
Keep doors and windows CLOSED.
Check smoke alarms are in working order.

NO water colors or water features.
No earth/ceramics/crystals.
NO plants or wood.
No metal - No windchimes.
No renovations, digging or drilling.
Beware skin, stomach, nerve problems.
Star #4 - Academic, Wood element - brings scholastic luck (North West).
wood star - Romance, Travel, Education
Focus on water/blue to feed good wood star.
Use blue or black color or accents.
Vase of flowers in CLEAN still water - Good area for lucky bamboo in water (no water allowed if bedroom area).
Small lush plants ok.

Do not add water here if love relationship is not stable and strong, as it may trigger betrayal, heartbreak, sex scandal.
Add Images of romance and travel. Can place poster of wishes and goals.
Add love objects in pairs such as mandarin ducks. Good sector for bedroom.
Double happiness symbol is good here or image of dragon and phoenix.
Pink/rose quartz crystals. Images of couples.

Can add crystal globe, world map poster if office or study.
Metal horse statue ok for travel.

NO fire, candles or red/pink/purple colors.
NO heavy metal objects or windchimes.
March, June. October and December are unfavourable.
Star #5 - Misfortune or Fatal illness, Earth element - brings misfortune and bad luck (West).
earth star - Worst star, very BAD energy - Financial Loss, Serious Health Problems, Bad Relationships.
Focus on metal color and a few metal items to suppress bad earth star.
5 element pagoda here is excellent.
Moving metal objects: music box - 6 rod outdoor windchime.
Can place metal singing bowl, metal dog bowl, bunch of keys or weights in this sector.
Note: Do not add too many metal items as sector is already metal by nature.
Use white/grey/silver/copper/gold, metallic colors.
Bad sector for children, bedroom or office.

No renovations, no digging, no drilling. DO NOT DISTURB!
CLOSE doors and windows.
NO FIRE/candles/red colors/triangles/bright lights.
NO earth/crystals/ceramics. No plants.
DO NOT WORK OR SLEEP HERE - NO TV/STEREO HERE.
Beware food poisoning, respiration, stomach, and skin problems.

3 Killings here for 2015.
Do not sit with back to West, sit facing.
Worst months will be April, June, July, January.
Star #6 - Military, Metal - brings good fortune (North East).
metal star - Heavenly Help, Leadership, Career
Earth colors are good.
Quartz crystal rocks , stones or spheres are ok to strengthen earth and enhance metal.
Use blue/black/grey colors if bedroom - blue painting ok if bedroom but no water scene.
Bad sector for the elderly.
Good for office.
Gold Buddha is good here for 2015.
To move or sell, place a small earth or metal horse statue.

NO fire/reds - keep lighting soft.
Do not add extra metal items.
If sector is a bedroom, beware chest or hand problems.

Sui Po is located here in 2015.
Place a Pi Yao facing SW
Keep area quiet.
No renovations.
Best not to sit here.
Star #7 - Robbery/Violence, Metal element - brings theft, burglary and violence (South).
metal star - Robbery, Deception, Backstabbing, Unexpected Betrayal or Loss, Violence, Abuse.
Add blue rhino/elephant for protection.
Place black or blue Fu Dogs either side of front door if located here (on outside) for protection against intruders.
Use colors blue or black for decor.
Vase of flowers with fresh water ok.

Keep doors and windows very securely CLOSED and LOCKED! - Same applies to car if parked outside in South.
NO fire elements or red colors - No bright lights.
No wood/plants.
NO Metal - NO wind-chimes.
NO earth. NO crystals.
Bad sector for front door or office.
No renovations, drilling or digging.

Fire hazard potential. Check smoke alarms are working.
Be careful respiratory, mouth, teeth, head and heart problems.
Unfavourable months are February, May and November.
Star #8 - Wealth, Earth element - brings wealth luck and prosperity (North).

earth star - Best star for Wealth, Success, Romance
Keep area well lit - active, fresh, clean, calm, clutter free - windows open.
Salt lamp is good here.
Add hanging faceted crystal balls - Add quartz crystal clusters, crystal lotus.
Good for amethyst and rose quartz crystals if bedroom.
Fire or earth colors and accents.
A ship figurine is good. A 3 legged red frog is good (facing into home).

No heavy metal items or colors which will act to suppress the good earth star. No wind-chimes.
Beware of stress or overworking which may result in blood pressure, kidney or ear problems.
Star #9 - Celebration, Fire element (South West).
purple fire star - Celebration, Growth - (9 star doubles intensity of monthly visiting star).
Small lush plants are ok with vibrant colored flowers.
Any soil plant that bears fruit.

Good for couples bedroom, living room, dining room or front door.
Keep sector quiet and calm. No renovations or ground breaking.
Candles ok.
Minimal earth/ceramics.

Grand Duke (Jupiter, fierce warrior energy), is visiting here 2015
Place a Pi Yao facing NE.
The Annual Xuan Kong/Flying Stars apply to all homes, regardless of the Time Period in which they were built. The Annual Stars can act as catalysts or triggers within each compass sector, and you should examine their interaction with the natal Xuan Kong probability combination of the Siang Sin, Main Star and Chor Sin within each compass sector to determine how strong or weak the annual influence may be. It also helps to look ahead at the monthly flying stars to see when the annual positive and negative factors will be doubled or enhanced by monthly stars.

Rameshwar Prasad invites you to the Wonderful World of Chinese Astrology
CONTACT THE CONSULTANT
Engineer Rameshwar Prasad (B.Tech., M.Tech., P.G.D.C.A., P.G.D.M.) VAASTU INTERNATIONAL
49 C (Second Floor), Pocket- B, SFS Flats,
Mayur Vihar,
Phase-III,
New Delhi - 110096,
INDIA
TeleFax : +91-11-22615299 (Landline), Mobile : +91- 9810105218
e-mail : vaastuinternational@yahoo.com vaastuinternational@gmail.com