Meditation

Meditation is not really forcing your mind to be quiet; it's finding the quiet that's already there. In fact, when you really examine the background static of guilt, worry, resentment, wishful thinking, fantasy, unfulfilled hopes, and vague dreams in your head, it becomes clear that the internal dialogue going on inside is literally controlling us. Each of us is the victim of memory—that's how the Ayurvedic masters diagnosed it thousands of years ago.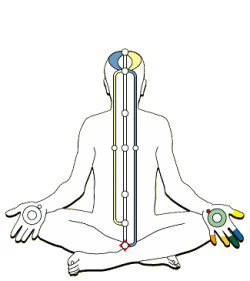 Behind the screen of our internal dialogue, there is something entirely different: the silence of a mind that is not imprisoned by the past. That's the silence we want to bring into our awareness through meditation.
Why is this important?
Because silence is the birthplace of happiness. Silence is where we get our bursts of inspiration, our tender feelings of compassion and empathy, our sense of love. These are all delicate emotions, and they're easily drowned out by the chaotic roar of the internal dialogue. But when you discover the silence in your mind, you no longer have to pay attention to all those random images that trigger worry, anger, and pain.
As you gain experience with meditation, you'll begin to feel the reappearance of youthful energy and vitality that is being released from a deeper level of the nervous system. This is a very profound change and the real fountain of youth.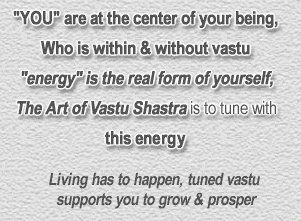 Bhumi, Jala, Agni, Vayu & Akash are basic ingredients of any VASTU. Right combination creates intense & harmonious environment within & without, to be cosmic law.
Astrology, Ayurveda, Yoga, Meditation, Reiki, Energy healing are various occult shastras incorporated in the study of Vastu Silpa Shastra.
VASTU is an Indian architectural science founded by ancient Rishies, through their meditative approach and intuitions. Basic concept of VASTU is just to make harmony between man and nature, and the result will follow like shadow, but unfortunately VASTU is misunderstood and believed as superstitions. VASTU has been embraced by all the cultures of the world, for example if we look ancient architectures of Rome, or England's queens Buckingam palace, or even magnificent India's Taj Mahal which is one among the seven wonders are totally based on VASTU science. In ancient India VASTU shastra is used in every part of lifestyle still it is reflecting in Indian culture.

In modern times VASTU has become the essential need today, as man has forgotten to live with nature.By applying VASTU which means just changing the surrounding environment around us and applying right direction of our eating, sleeping, studying or even working place, we simply allow energy to work harmoniously and it will bring positive results in all dimensions of our life which includes our material, physical and spiritual growth.
Soham Meditation
Soham is a NATURE. Soham is a essence of our Living. This is a Mantra for life.
The cycle of breathing is Soham.
Breath in is SO.
Breath out id HUM.

Quality of life is based on how consciously we breath and live. Awareness of Breath in and Breath out brings you Peace, Harmony and Satisfaction. Our conscious efforts here are to bring the best at your surrounding to enhance the Life Style.

Our living consists of the surrounding Nature (Prakriti). We live in and our bodily receptive senses (Indriya).

Conscious & aware Soham is the key of success to tune and mearge you and existence around you.
Our every senses is connected (&Ruled by) to one of each (Pancha Tatva) Vastu Elements & Shapes (Form). Thus we imbibe esthetic way to express the vision of Soham in making your Dreams True for Living.

" As your relation with your Environment". The Five senses that make you feel the five Elements (P.T.) of existence & Sixth Sense- is intelligence (Pragya).
Soham brings balance between you & your Environment.
Need of our Living is to Utilise pancha Mahabhuta by Panchendriya the most harmonious way. As the Body of Human being is a suburb Example of Combination of (P.T. & P.I.) senses & Elements
Our Body & Galaxy (Vishva) - Cosmic Body consists of Earth as abase for building a Foundation of human being, which has its own 'Gandh' unique for one to one. Whatever is rooted earthly has a Gandh of itself. Element Earth of our body is combined with the support of 70% of water element, it harmonious & absorb it stands for life itself. Wind, which is very important element balancing all Elements & Senses, as plays very significant role in Ayurveda. Wind allows conscious Flow of our life.
Agni, which is Fire in existence & Aap in our body to keep things alive, warm & Shakti igniting. Fire determines the Formation with the help of wind, water & Earth.
Fire is the derive Force for every shape & size within us & everywhere in Nature.
Space i.e. Aakash where everything evolve & merge in itself it is the vision infinite understanding & reproductive in itself. Any travel of life, all happenings of Nature is within this infinite space.

Space is always in & out of every element, as the either is everywhere in Galaxy, which will remain forever.
CLICK HERE FOR PRINCIPLES AND TIPS OF VAASTU ARCHITECTURE
CLICK HERE TO KNOW OUR SERVICES AND CHARGES
Rameshwar Prasad invites you to the Wonderful World of Vastu Shastra
CONTACT THE CONSULTANT
Engineer R. Prasad (B.Tech., M.Tech., P.G.D.C.A., P.G.D.M.) VAASTU INTERNATIONAL
49 C (Second Floor), Pocket- B, SFS Flats,
Mayur Vihar,
Phase-III,
New Delhi - 110096,
INDIA
TeleFax : +91-11-22615299 (Landline), Mobile : +91- 9810105218
e-mail : vaastuinternational@yahoo.com vaastuinternational@gmail.com
Languages

English


Français


Español


Deutsch


Italiano


Portugues