Vaastu Compass

| | |
| --- | --- |
| A Vastu Compass is innovative self indicating device helping you to check arrangements according to vastu as well as suggests arrangements. Vastu compass is a device used to determine the right arrangement for any given place. It is a self-pointing device, which helps the Vastu expert to check the arrangements and placement of things within a structure and suggest alternative arrangement accordingly. The compass guides one to become healthy, financially stable and ensures prosperity in one's life. Professional Vastu consultants use the compass to determine the right direction and corners for stationing anything. | |
Vastu compass comes with 8 ready charts i.e. for Residence, Living Room, Bed Room, Kitchen, Shop, Office, Factory, and Dispensary. It is easy to use and manageable as well. The article will help you know how to use a Vaastu Shastra compass in the right way.
How To Use Vastu Compass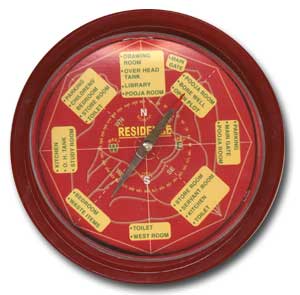 As per your requirement, select a chart from among the eight different charts, as each of the charts signifies a different aspect.
Place the selected chart on the dial of instrument; in such a way that centre-pin comes out from the centre point of a chart.
Place the given direction-indicating needle on the centre- pin.
Allow the needle to rotate freely on the centre pin. The needle will stop moving after some time and will set on one direction. Take care to prevent the influence of outside wind, air or jerk on the needle.
To identify the directions, you can read out the marks on the needle, such as a "Red" mark on the needle signifies the "North" direction. From the north direction, the other directions can be determined and marked accordingly.
Rotate the needle in such a way that the Red mark of the needle or the 'N' pole come exactly over the 'N' pole of the chart. This instrument has to be placed on the surface of a ground or a table as a leveled surface would give better results.
Now check the situation and location of your residence or commercial premises as per the Vastu chart, indicating the ideal situation.
Compare the results and make the required changes according to what has been dictated by the Vastu chart, to bring prosperity, peace and wealth to your house.
CLICK HERE FOR PRINCIPLES AND TIPS OF VAASTU ARCHITECTURE
CLICK HERE TO KNOW OUR SERVICES AND CHARGES
Rameshwar Prasad invites you to the Wonderful World of Vaastu
CONTACT THE CONSULTANT
Engineer R. Prasad (B.Tech., M.Tech., P.G.D.C.A., P.G.D.M.) VAASTU INTERNATIONAL
49 C (Second Floor), Pocket- B, SFS Flats,
Mayur Vihar,
Phase-III,
New Delhi - 110096,
INDIA
TeleFax : +91-11-22615299 (Landline), Mobile : +91- 9810105218
e-mail : vaastuinternational@yahoo.com vaastuinternational@gmail.com
Languages

English


Français


Español


Deutsch


Italiano


Portugues