Vaastu for Pooja Room

| | |
| --- | --- |
| The pooja room in your house should be planned according to Vastu Shashtra, because it the place where you meditate and worship. So, it is important to gain positive energies to connect to God. If your pooja room is designed according to the right Vastu, after seeking the advice of expert consultants, you will feel charged and rejuvenated after meditation and your mind will not wander into different directions when you sit to worship. | |
The article comes up with the most suitable Vastu tips and advice for your pooja room. Go through them to know the correct Vasthu for your puja room.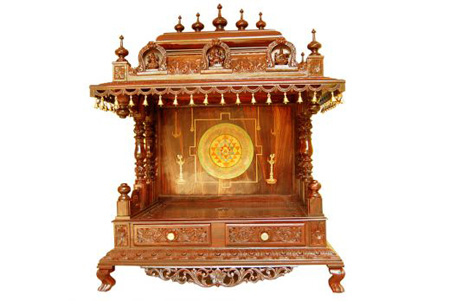 We have to take care of the following points while studying about the vastu of the pooja room. Vastu consultation of pooja room involves thorough analysis.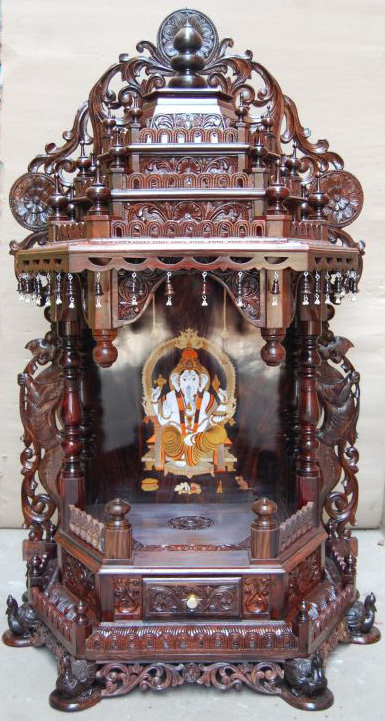 Proper location of the pooja room in the house
The direction of the Entrance
The direction & placement of the windows
The direction & placement of the God place
The direction & placement of the almirah containing pooja stuff
The colour scheme of the room
Vaastu Tips For Pooja Room
Location
The best location for pooja room is the Northeast direction. A pooja room in north quadrant gives positive results. You can go for east, north and north-east directions as well. Avoid other directions to locate your pooja room. Special pooja can be performed in Brahmasthana (center of house). In plots with bigger areas, pooja room can be in Brahmasthan (central portion) of the house. It should be on ground floor, not on first floor or in the basement. Avoid constructing your pooja room under the stairs or basement.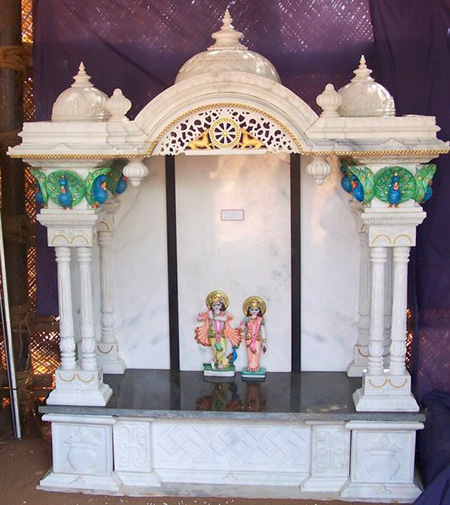 Design
The doors and windows of pooja room should be in north and east directions, respectively. The doors should have two shutters. The doors should not have any door closer and a ventilator in the pooja room is a must. The walls of pooja room should be painted in white, light yellow or light blue color. Its floor should be of white or off-white marble in color. Cupboard for placing things should be in south or west of pooja room. It is favorable to have a threshold in pooja room.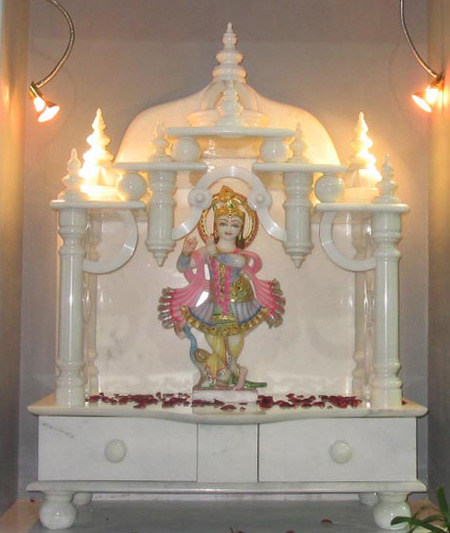 Interiors
The idols should be kept in northeast side of pooja room. The idols should not face one another, or the door of pooja room. Two idols of same god should not be placed in pooja room. The idols should be, at least, one inch away from walls. 'Kalash' or water body should be in north or east of the room. 'Deepak', lamp and 'Agni kund' should be in south-east. The members of the house should face east while worshipping. Avoid keeping heavy, cluttered and broken idols in the pooja room. Avoid photos of dead people in pooja room. There should be only pooja room in a house and it should not be used for other purposes, like storage etc.
Some Other Tips
The pooja room should never ever be made in the bedroom.
The pooja room should not be made above electrical appliances or gas stoves.
The pooja room should not touch the same wall as the toilet.
The pooja room should not be built opposite a bathroom or toilet.
The pooja room should be neat and clean. Avoid dirt or clutter therein and keep it fragrant.
The ground floor is the ideal location for a pooja room.
CLICK HERE FOR PRINCIPLES AND TIPS OF VAASTU ARCHITECTURE
CLICK HERE TO KNOW OUR SERVICES AND CHARGES
Rameshwar Prasad invites you to the Wonderful World of Vaastu
CONTACT THE CONSULTANT
Engineer R. Prasad (B.Tech., M.Tech., P.G.D.C.A., P.G.D.M.) VAASTU INTERNATIONAL
49 C (Second Floor), Pocket- B, SFS Flats,
Mayur Vihar,
Phase-III,
New Delhi - 110096,
INDIA
TeleFax : +91-11-22615299 (Landline), Mobile : +91- 9810105218
e-mail : vaastuinternational@yahoo.com vaastuinternational@gmail.com
Languages

English


Français


Español


Deutsch


Italiano


Portugues