Kua Number 7
Know your Element, Lucky Directions & Colours
| | | | |
| --- | --- | --- | --- |
| Kua Number | Eelement | Lucky Directions | Dominent Colours |
| 7 | METAL | NORTH-WEST, SOUTH-WEST, NORTH-EAST, WEST | WHITE, METALLIC |
Colours: White, metallic gold and silver.
Direction: West.
Bedroom/Home/Office Location: North West, West, North East and South West.
House Zones: Ideal for living in a house where door faces North East or South West.
Animal: Goat.
Shapes: Rounds, ovals and square shapes.
Avoidable Colours: Oranges and Reds.
Health Problems: You are susceptible to illness associated with Mouth, Teeth Stomach, Intestines, kidney and lower back. To maintain good health the right partner is very crucial. To balance your workload fun and entertainment is very important to stimulate you.
Profession: Advertising, Teaching, Banking, Public relations, in short anything with hospitality industry is a suitable occupation to you. You are a gifted communicator and writer.
Personality Profile: Elegant, fun loving, Sociable are the words that describe a Kua 7 personality. A self motivated person you have strong directional abilities and powerful financial aptitudes. You are an optimistic person. You are quick witted communicative and happy in partnership both in business and in love. Your observational skills make you an asset in any work environment. You are strongly attracted to love and most fortunate if you find a partner to share your dreams and aspirations. Settling for the second best would only make you fickle and deceptive. You need to be careful not to confuse yourself . You need a lover, loyal friend, playmate all rolled into one as your soul mate. Any other relationship with someone who is not responsive will tend to break or fade away over a period of time. Your natural gift of negotiation will always keep you and your partner happy. You have a tendency of postponing your own happiness while catering to the needs of others. People will take advantage of you if you are not very careful.
Relations: A right partner can make a Kua 7 personality reach dizzy heights therefore it is very crucial that a person of this element settles for only the best to be able to give his best.
Er. Rameshwar Prasad invites you to the Wonderful World of Feng Shui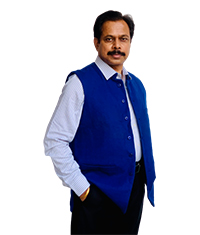 Engineer Rameshwar Prasad
(B.Tech., M.Tech., P.G.D.C.A., P.G.D.M.)
P: (+91-11) 22615299, 22615833
M: (+91) 9810105218, 9654255234