VASTU NEWS
Even factory chimneys need correct location
Readers Questions and Answers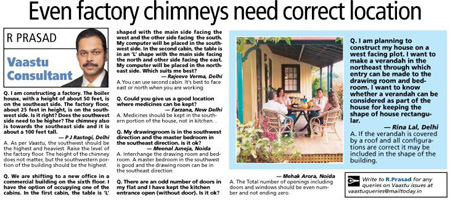 Even factory chimneys need correct location
- Rameshwar Prasad, Vastu Consultant, Delhi, India.
Q. I am constructing a factory. The boiler house, with a height of about 50 feet, is on the southeast side. The factory floor, about 25 feet in height, is on the southwest side. Is it right? Does the southwest side need to be higher? The chimney also is towards the southeast side and it is about a 100 feet tall.
— P J Rastogi, Delhi
A. As per Vaastu, the southwest should be the highest and heaviest. Raise the level of the factory floor. The height of the chimney does not matter, but the southwestern portion of the building should be the highest.
Q. We are shifting to a new office in a commercial building on the sixth floor. I have the option of occupying one of the cabins. In the first cabin, the table is 'L' shaped with the main side facing the west and the other side facing the south. My computer will be placed in the southwest side. In the second cabin, the table is in an 'L' shape with the main side facing the north and other side facing the east. My computer will be placed in the northeast side. Which suits me best?
— Rajeeve Verma, Delhi
A.You can use second cabin. It's best to face east or north when you are working.
Q. Could you give us a good location where medicines can be kept?
— Farzana, New Delhi
A. Medicines should be kept in the southern portion of the house, not in kitchen. .
Q. My drawing room is in the southwest direction and the master bedroom in the southeast direction. is it ok?
— Meenal Juneja, Noida
A. Interchange the drawing room and bedroom. A master bedroom in the southwest is good and the drawing room can be in the southeast direction.
Q. There are an odd number of doors in my flat and I have kept the kitchen entrance open (without door). Is it ok?
— Mehak Arora, Noida
A. The Total number of openings including doors and windows should be even number and not ending zero.
Q. I am planning to construct my house on a west facing plot. I want to make a verandah in the northeast through which entry can be made to the drawing room and bedroom. I want to know whether a verandah can be considered as part of the house for keeping the shape of house rectangular.
— Rina Lal, Delhi
A. If the verandah is covered by a roof and all configurations are correct it may be included in the shape of the building.
Mail Today
Rameshwar Prasad invites you to Read Published Articles Written by Him.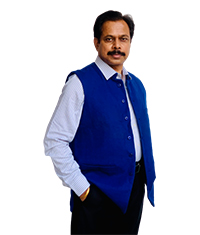 Engineer Rameshwar Prasad
(B.Tech., M.Tech., P.G.D.C.A., P.G.D.M.)
P: (+91-11) 22615299, 22615833
M: (+91) 9810105218, 9654255234