NUMBER FOUR
Number 4

Number Four – The Conservative

Famous Number Four Personalities: George Washington, Lord Byron, Neil Diamond, Arnold Schwarzenegger, Paul Hogan

Number Four Good Traits: Traditional, Organized

Number Four Bad Traits: Stubborn, Persistent

Number Four Lucky Color: Turquoise
Your lucky number is 4
The planet governing you is the Pluto.
Your life is full of unexpected happenings. For example, you may suddenly become millionaire and due to certain reasons you may even become penniless. You may suddenly acquire some disease and suddenly it may disappear also. You are very expert in the art of making friends. But your friendship will not last long. Only one or two of your friends will support you, all other will only be taking undue advantage of your good nature, tolerance and good position.. You may run into losses if you act on the advice of others.
You will be more influenced by Pluto if you are born between 21st June to 31st August. In that case you can bring revolution in the field of politics, Society or religion.
You can succeed in the Business of Electrical equipment, Tobacco, Wine, Spirit, Narcotics and Mining.
For success and progress in your business and job the directions of south-east and south-west will be favourable to you. The directions of North-west are not be favourable to you.
For MARRIAGE purpose, the persons born on 2, 4, 5, 6, 8 and 9 of any month will be suitable to you and they can be your FRIENDS also. But the people born on 1, 3, and 7 of any month are not suitable to you as a marriage partners. You are advised not to keep friendship with them.
Every year during the months of October, November & December, take special care of your health and unnecessary expenditures.
The period from 21st March to 28th April and from 10th July to 20st August brings prosperity and good luck to you. The dates favourable to you are 4, 13, 22, 31 and specially if they fall on Saturday, Sunday or Monday. You are advised do all your important work on these days.
The colours favourable to you are Blue, Grey. To avoid accidents you should prefer the Car and two wheelers of these colours. You should prefer the clothes of these colours and keep handkerchief, pens in your pocket of same colours. Caution - Don't use black colour, otherwise you can have an accident.
Your lucky year of your life will be the 13, 20, 22, 28, 29, 31, 37, 38, 40, 46, 47, 49, 55, 56, 58, 64, 65, 67 and 74th.
You may suffer from problems of lungs, liver, diabetes, urinary troubles, diseases of the feet, and other problems which will be difficult to diagnose.
For improvement in your luck and health , you must keep a fast on Tuesday . For gaining a lot of wealth and success in business, you must keep a suitable Yantra with you and at the place of worship in your house .
For your luck and good health wear Sapphire (Neelam) in iron ring made out of the horse shoe of the black horse.
Signature
Your signature should slant upwards and should not be less than 4 cm. Also after half the signature there should be an underline.
Name characteristics of number four
Now here are some of the characteristics of persons who are ruled by rahu and number 4. Those whose name sums up to number 4, 13, 22, 31, 40, 49 and so on.
Name number 4
Person having name number 4 will have hard luck as there will be no returns of whatever hard work done and labor spent. As a result abilities of the person will not yield. He may face mental afflictions. Patience and tolerance are very necessary for these persons whose name sums up to number 4.
Name number 13
Actually some persons having name number 13 will enjoy prosperous life but still they may be surrounded by confusion and uninterrupted sorrows. Actually 13 is a number of upheaval, so that new ground may be broken. It is associated with power which if used for selfish purpose will bring destruction upon itself. There is a warning of the unknown and the unexpected.
Name number 22
Persons having name number 22 will attract the evil much quicker than the good. It will steer the powers of mind into evil paths like gambling, speculative activities, horse race, betting, alcoholism etc. They will lose all their wealth due to bad friends or immoral women. They may be involved in judicial cases. Name on this number should be avoided.
Name number 31
Having name on this number can make a person self contained, self sufficient, lonely, and isolated from others. These persons are experts in arts. They are greatly interested in spirituality. They will not be carried away by the happiness at their own success. They will establish the principles of justice.
Name number 40
These persons will have sharp intelligence. They will enjoy unexpected income of money. This number indicates success. Person having this number will enjoy success and fame in his life. He will have good wealth and property. They are daring and self confident. They can excel in agricultural or farm related professions.
Similarly persons whose name number sums up to 49, 58, 67, 76, 85, 94, 103 and 112 have different characteristics after having their names on these numbers.
Numerology 2016 Forecasts
This year more or less will be good. People may recognize your abilities during this year 2016. Your energy is more attractive, strong and powerful than ever seen. This may be a profitable year for you. Don't need to lend money to others because there is a least possibility to get back the money. You will able to resolve the issues speedily which will come at your path.
Money, Career and Business :
There may be good returns for your previous investments. Your creative or artistic inclinations are also stimulated, and your work in these areas will be especially satisfying and successful at this time. Transparency and clarity in communication may give you unexpected success in year 2016. Just keep your eyes on your overall goals and even if you feel you are being mistreated you should not let this situation get out of hand. If you have your eye on a new piece of land or property, go ahead and follow up on it. You'll get a good deal now that will reap you rewards in the future. Very constructive year for who is in Politics, Films, Business or Spiritual guidance. In coming months, you will need to become skilled at the give-and-take of a partnership. This new year 2016 will allow you to travel quite far, abroad or to a beautiful island, or to stay within your own country and fly to a distant city. It is more important to maintain balance in tough situations. You may get decent returns for little efforts. There may be improvement in your working conditions.
Marriage and Love :
Communication will remain the key to a happy relationship. Married couples will find themselves indulging in needless arguments and will find the argument going in circles. In year 2016 you may feel pulled between the various parts of your life, including the tension between your work and your relationship. You will get involved actively in social activities and get-together events. Dragging matters out won't help. If someone is pressing you to make a decision, ask them to give you a little more time. Make your partner feel special and important and you will find that both of you are more comfortable and happier together. You should understand your partner instead of keeping blamed. Take blessings of your gurus or parents in the family. You really need to think beyond your own desires. Channel your feelings in new directions. If you want to be successful both professionally and personally, give as much focus to your partner as you give to your work this year. It is better to avoid communication with strangers or who want your company without your interest. If you are singly, get ready for mingle. It's right time to find the right partner.
Health :
The possible previous health problems promise to evolve positively. The general condition will be good and will progressively get better. Avoid mental tension because that could aggravate the problem again. Otherwise, enjoy this year of improved health. People suffering from heart-related illnesses would be at ease this year. However, make sure that you follow your dietary restrictions strictly to enjoy continued sound health. Your focus will turns towards healthy lifestyles and habits, so take this time to develop positive eating habits and get some fresh air and exercise; you will see the positive results!
Celebrities :
Barack Obama (4/Aug), Sarojini Naidu (13/Feb), Sardar Patel (31/Oct), Arbaaz Khan (4/Aug), Kishore Kumar (4/Aug), Sridevi (13/Aug),Tabu (4/Nov), Juhi Chawla (13/Nov), Preity Zinta (31/Jan).
Favorable Months : January, February, April, October, November
Lucky Days : Wednesday and Sunday
Lucky Color : Yellow and Sky Blue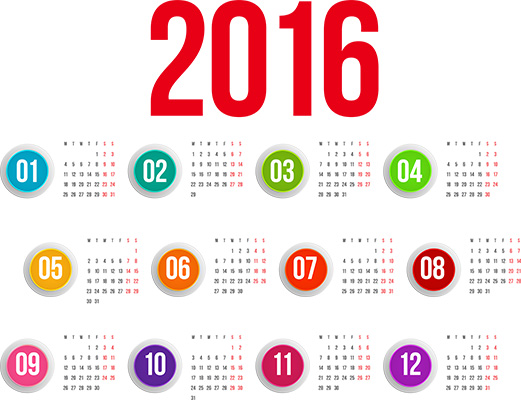 Click on your date of birth to find out the business suitable to you, your marriage partner, your lucky stone, your enemies & friends and the colour of car/ two wheeler suitable to you. Make 2016 your Best Year Ever with the help of our extremely useful forecast.
1 2 3 4 5 6 7 8 9 10 11

12 13 14 15 16 17 18 19 20 21

22 23 24 25 26 27 28 29 30 31