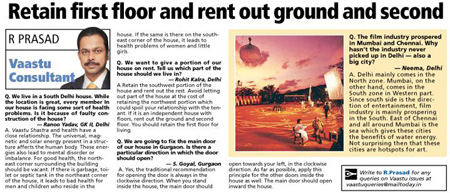 Retain first floor and rent out ground and second
- Rameshwar Prasad, Vastu Consultant, Delhi, India.
Q. We live in a South Delhi house. While the location is great, every member In our house is facing some sort of health problems. Is it because of faulty construction of the house?
— Ranoo Yadav, GK II, Delhi
A. Vaastu Shastra and health have a close relationship. The universal, magnetic and solar energy present in a structure affects the human body. These energies also lead to mental disorder or imbalance. For good health, the northeast corner surrounding the building should be vacant. If there is garbage, toilet or septic tank in the northeast corner of the house, it leads to bad health for men and children who reside in the house. If the same is there on the southeast corner of the house, it leads to health problems of women and little girls.
Q. We want to give a portion of our house on rent. Tell us which part of the house should we live in?
— Rohit Kalra, Delhi
A. Retain the southwest portion of the house and rent out the rest. Avoid letting out part of the house at the cost of retaining the northwest portion which could spoil your relationship with the tenant.
If it is an independent house with floors, rent out the ground and second floor. You should retain the first floor for living.
Q. We are going to fix the main door of our house in Gurgaon. Is there a particular direction in which the door should open?
— S. Goyal, Gurgaon
A. Yes, the traditional recommendation for opening the door is always in the clockwise direction. When you stand inside the house, the main door should open towards your left, in the clockwise direction. As far as possible, apply this principle for the other doors inside the house as well. The main door should open inward the house.
Q. The film industry prospered in Mumbai and Chennai. Why hasn't the industry never picked up in Delhi — also a big city?
— Neema, Delhi
A. Delhi mainly comes in the North zone. Mumbai, on the other hand, comes in the South zone in Western part.
Since south side is the direction of entertainment, film industry is mainly prospering in the South. East of Chennai and all around Mumbai is the sea which gives these cities the benefits of water energy.
Not surprising then that these cities are hotspots for art.
Mail Today
Rameshwar Prasad invites you to Read Published Articles Written by Him
CONTACT THE CONSULTANT
Engineer Rameshwar Prasad (B.Tech., M.Tech., P.G.D.C.A., P.G.D.M.) VAASTU INTERNATIONAL
49 C (Second Floor), Pocket- B, SFS Flats,
Mayur Vihar,
Phase-III,
New Delhi - 110096,
INDIA
TeleFax : +(0091)-011-22615299, Mobile : +(0) 9810105218
e-mail : vaastuinternational@yahoo.com vaastuinternational@gmail.com