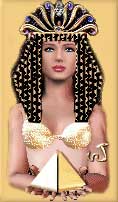 Points To Remember
The Pyramid
-Must be at 51-52 degrees
-Must be aligned with "true North" Magnetic north works ok, or compass north.
-Material should consist of copper or gold.
-Time in energy field will vary.
-Draws out negativity.
-Can be solid or hollow
-1/3 up from the bottom seems to be the power zone
-Vibration from inside the pyramid is different from outside.
Pyramids
-Eliminate headaches
-Allow deeper states of meditation
-Keep food from spoiling
-Promotes fast dehydration
-To receive answers or visions (meditation pyramid)
-Shape has centers just like chakras
-Clean out Aura's
-Relax the body
-Increased Psychic energy
-Increased memory recall
-Answers to Prayers
-Accumulator of static energy
-Sharpen razor blades
-Alter tastes of food
-Help plants to flourish
-Alter water to a state of charge (never goes bad)
-Storage place for lottery tickets (several claim to have done it)
-Become more centered
-Food containers remain bug free (also mosquitoes will not go in)
-Mellows Whisky and ages beer
-Place seeds in a pyramid before germination and it will produce healthier stronger plants
-Better antennas for TV and Radio
-Give you more energy
-Make you more sharp
-Colds seem to go away after a few hours
-Charge batteries
More experiments are continuing ....... daily