DOWSING
Precautions during Dowsing
Dowsing - Phrasing the Question :

Break it into parts so it can be answered by a yes, no, or maybe. Be very clear and literal in your wording as a single word can change the meaning.
Hold the question firmly in your mind. Remember the universal law "energy follows thought." Make sure your thoughts are clear and accurate.
Writing down both the questions and then the answer can be helpful. Accept your original answer; repeatedly asking the same question is saying in effect that you did not like the first one so you are asking for another chance.
Get the full answer to the first question before you go on to the next question. It is a good idea to halt your pendulum before continuing.
If you are concerned you are inserting conscious thinking into an answer have someone else dowse it for you. Personal questions for you and those close to you are where this is most apt to happen. Begin with mundane questions and build up to the more important questions over time. Practice often for best results.
Learn how to recognize when you are becoming tired. Detoxify yourself after a long session by washing your hands, taking a bath in sea-salt or taking a walk in nature. If you are a gardener, this is a wonderful way to "ground" oneself.
Be sure to dowse for "need not greed" and you will be most successful. Remember "all life is sacred" and "do no harm" - that which you give out comes back to you threefold. And finally, remember to remain humble and give thanks to the Universe for your blessings.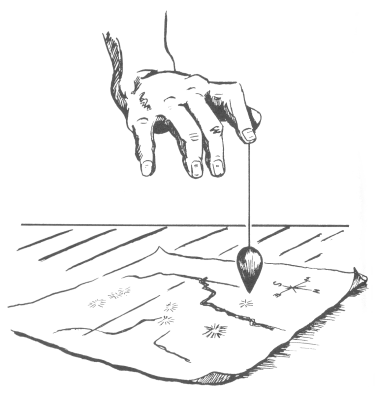 All dowsers, however skilled have to be cautious not to let this happen.
To accurately interpret the reactions of the dowsing tool, we must create in our own minds the necessary focus. We must develop a mental regime whereby we can attune only to the subject at hand. It is very easy to interpret any reaction of the tool as an indication of what we wish to know.
If we just wander around with our instrument looking for reactions, we will get many, however, unless we have attuned to a particular subject, we will be guessing or assuming as to what the energies represent.
Say for instance, we were looking for beneficial or detrimental energy zones around our house, it is inevitable we will get many reactions from all sorts of energy sources, these could be underground water pipes, power or telephone lines, or any similar source.
We must program ourselves so that our tools will only react to what we are looking for. This may sound difficult, however, with practice, we can achieve this by just focusing on the subject in our mind and our tools will only respond to energies from that source.
DO NOT, unless you are really confident, get involved in proving that dowsing works, don't do 'party tricks' for others such as finding a hidden coin. In many of us, the feeling the pressure that we need to perform will work against us and our accuracy may suffer as a consequence.
Practice is the best way to develop personal confidence in our abilities. Dowsing is very personal, and unless there are really good reasons for doing otherwise, we are better off not publicising our abilities too broadly, especially to skeptics.
This subject can be very wide ranging, from our spiritual belief through to entity attachments to people or inanimate objects. Many will not feel comfortable with dealing in these matters, but for those who are, it is necessary to establish some fundamental guidelines.
In people, entity attachments are said to be in the form of elemental attachments through to possession either temporary or long term. It is best to identify these by dowsing on the witness of the person, rather than while they are in your presence.
When dealing with entities or attachments to inanimate objects such as houses, identification can be done on the premises, but be prepared for some metaphysical manifestation, or opposition to your work. It takes a cool head and heart to continue working whilst objects are flying around the room. It often makes more sense to do your 'ghost hunting' remotely, either whilst visualising the house or, dowsing over a sketch of the premises.
Another word of Warning - many of us may be uncomfortable dealing with this subject and if there is any doubt - leave it alone - do not get involved - enlist the assistance of a dowser who has had experience in this field. It is very easy to attract unwanted attachments or thought forms to ourselves if we aren't skilled or confident in developing personal protection.
As a final word, just as in the physical form, we cannot judge or understand the lessons and experiences individuals need for growth and advancement; the same can be said for entities that appear, or manifest themselves to us in some discomforting manner. We do not have the experience or the right to direct them to another plane of existence. The entity may be in the process of evolving and we certainly do not have any entitlement to interfere, even though their experience may appear to impacting on us.
DOWSING IS NOT A MAGIC ART OR AN EXERCISE FOR THE 'BRAIN OF BRITAIN' TYPES.
IT IS NOT MEANT TO BE ANALYSED OR REASONED ABOUT.
IT IS THERE TO BE TAKEN ON TRUST – TRUST THAT ANYONE CAN DEVELOP THE SKILL.
A LITTLE PATIENCE AND PRACTICE IS THE KEY.
IF YOU FEEL THAT IT COULD BE FOR YOU, DO NOT HESITATE, JUST GO FOR IT
AND
ENJOY IT
Er. Rameshwar Prasad invites you to the Wonderful World of Dowsing.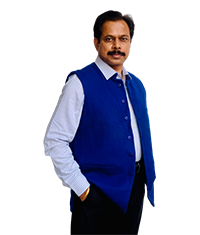 Engineer Rameshwar Prasad
(B.Tech., M.Tech., P.G.D.C.A., P.G.D.M.)
P: (+91-11) 22615299, 22615833
M: (+91) 9810105218, 9654255234