VASTU SHASTRA
Vastu For Office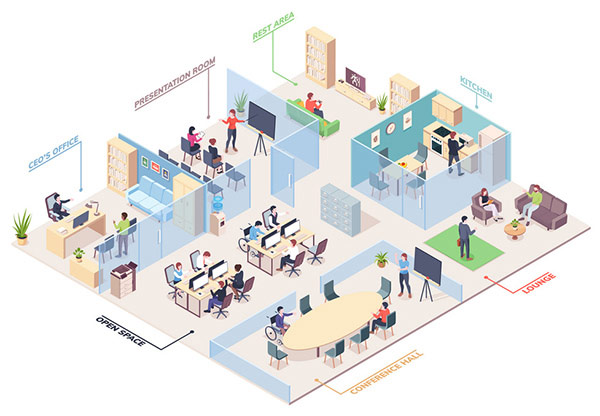 Our Office is such a place where we spend most of our significant portion of our life working and earning our livelihood.
Therefore, one should be always very careful about the functionality of various items and the decoration as well.
FOR VAASTU INTERNATIONAL COURSES - CLICK HERE
If you have hired the best staff, new accessories, excellent services for your product and still not satisfied with the inflow of income, probably the reason behind it can be the design of your office which would not be according to the Vaastu Shastra.
Office is primarily constructed to get over-all success and good profit thereby maintaining & controlling staff properly. Vastu complaint office renders everything in positive way keeping the flow of wealth in good position and help making a business successful.
We often see people sometimes venturing into business without consulting regarding plot and direction important for every business. Vastu office maintains the economic growth, tackles staff, helps make the environment serene and positive and clears the obstacle coming in the business.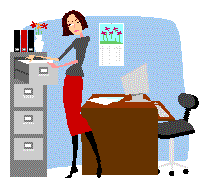 The concept of the Vaastu Purusha Mandala and emphasis on the directions, is equally applicable at your workplace as it is at your home.
At the workplace an implementation of the principles could lead to greater harmony between the employees and also help enhance the profitability quotient of the business. It also serves to alleviate the obstacles that a business or the employees may face.
Outside
A tastefully decorated entrance having a pleasant fragrance and soft music will attract more customers. Light it well and keep it free of clutter and useless furniture because a dirty, dark and congested entrance is bad for business. It will keep away customers, friends and profits.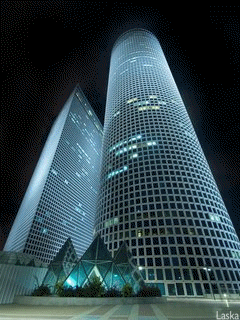 It should be tastefully decorated. A well placed aquarium or a fountain will have a soothing effect on the customers and guests.

It is better to have a large main door rather than a restraining main door. A well finished old door looks mature and respectable, and indicates stability and promises better business. An old and shabby door which does not open freely, has a missing doorknob should be repaired immediately.

Hanging a wind chime in the entrance and installing a statue of Ganesh promotes positive energy, reduces work related tension, helps to keep away obstacles and intruders, and customers who have visited once are likely to visit again.

Creaking doors and windows should be strictly avoided. If there are any, oil the hinges immediately.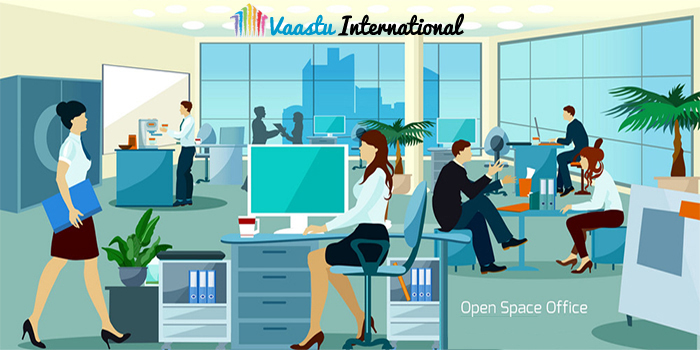 Inside
Create a pleasing atmosphere in the Office. This is the primary condition. Use balanced lighting, fresh flowers, soothing colours, aesthetic interior decoration, sound-absorbant flooring and piped music to create the desired atmosphere.

Display your Company's products, their photographs, or brochures about your services in the lobby. The products or the literature should be well lit by focused lights. The customer must be attracted towards them as soon as he enters the reception area.
Design the Reception in the North-Eastern direction. But earmark the actual North-Eastern corner of the office for the image of a deity, or if nothing else, then decorate it well with light and flowers. Avoid having rest rooms in North Eastern corner of the office. This always proves disasterous results and blocks off growth and happiness in career and personal life
The office of the Chairman or the General Manager can be located in South-West or Southern part of the Office. It is desirable that he should sit in the South-West corner of his office in such a way that he faces East.
I usually place a heavy safe in the South-Western corner of the room of the boss in which important documents, papers about Company's assets, files of important projects etc are stored. Embedding it in the wall is also a good idea.
Similarly, I earmark a place in the North-West area of his room where files which need to be attended to by others are kept.
The middle management cadre staff should be placed in North & East zones.
Effort should be made to keep the Centre of the office clean. I usually cordon it off and place a floral motif on the floor, a piece of art, or the image of a deity to keep it tidy.
South East is the corner for Fire, or appliances which generate heat. Earmark the South-Eastern area for placement of Generators, Inverters, Electric Meter, main Power Switch, Computer servers, generators, even the office pantry.
It is important to ensure that no one should be sitting directly under a beam. If it is so, then the work desk needs to be shifted. This also applies to computers and other office equipments.

In like manner, there are specific directions for parking, toilets, warehouse, customer waiting area, stairs, elevators, external surroundings, direction of the main entrance of the building and so on.
One must also bear in mind that maximim benefits from Vastu planning are achieved only when the office size is calculated and corrected to get the desired Yoni - Direction of Energy Flow - of the room space. Yoni calculation is an extrely important calculation and has no parallel in the world of contemporary or modern architecture.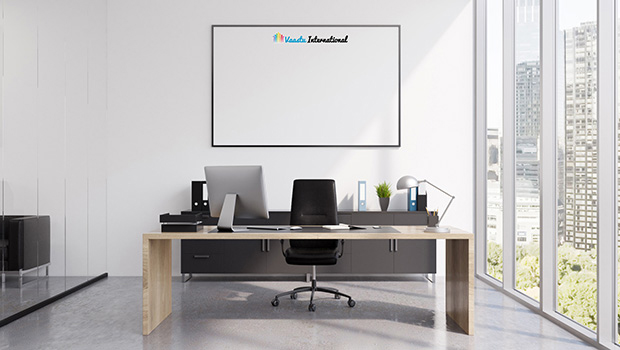 Shifting of office
If you are planning to shift to a new premises then identify a good Vastu location where to shift. The energy of the new location should support the growth and financial success of your business.
There are several cases where the business has not done well after shifting its premises.
Offices should be designed keeping in mind the balance in the movement of work and the hierarchy of authority. If offices are not made according to these principles, the absence of balance would lead to loss in efficiency, and lack of control in running the organization.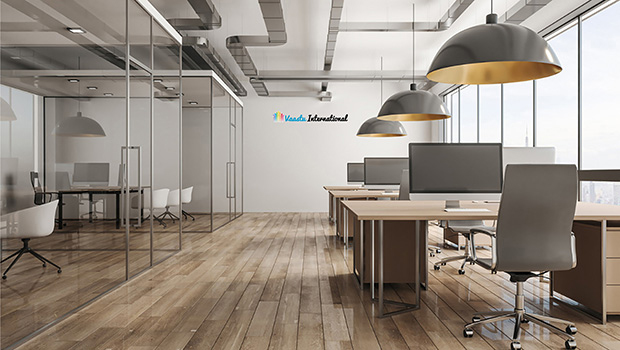 Start with noting the directions using a compass from the center of the office, and work out all the eight directions. Vaastu considers South to be the best direction. The ancient texts emphasize on the synergy between South direction and the tenth house of one's horoscope. Hence the managing director, chief executive or the officer in charge in their absence should occupy this direction. For better results they should face towards North but if not possible it could be East. If the subordinates are placed in the south and the officer in the Agni corner i.e. South East then they would soon witness ego clashes and the subordinate would be in a strong position to disobey his officer.
The South East corner is meant for those who are indulged in research work or involved in innovative and pragmatic projects. Ideally, laboratories, computers or control panels should be located in this corner. A drawback of this corner is that it brings aggressiveness in the temperament, which is fatal not only for the subordinates but also for the organization. The public relation officers should never sit in this corner. Such officers should also not sit in basement or under beams.
'South-West' has not been given importance and was meant for weaponry.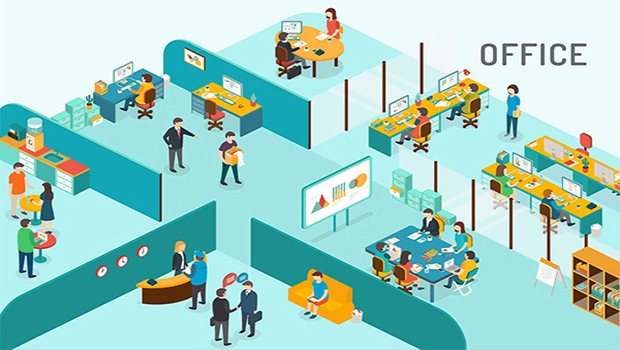 If the higher officials sit in Ishaan i.e. North East it would not be as beneficial as it would leave the other more important Vaastu positions for the subordinates. Position facing North should be followed but if not possible, it can be East.
Almirahs and racks should be placed in Nairatya i.e. South West. Heavy furniture and things should not be in north or Ishaan. For the purpose of office it helps the office run smoothly.
No permanent construction should be done in 'Brahmasthan' or the central point.

It is often said that water should be in north-east direction but this rule is applicable only with underground water tanks. So, water can be kept as per convenience. The canteen or pantry, however, should be in the south-east direction.
The sitting arrangement of the cashier should be aloof from other employees. His sitting arrangement should not be in south or south-west as this may make them lethargic and exhausted, creating problems for the employer. The best place for the cashier is north, which is also the abode of Kuber, the God of Wealth.
Employees occupying the west corner of the office are often found more talkative and may leak the confidential matters. Instead, West direction is best for training purposes.
The conference hall is best in the north-west direction. The flow of ideas is best in this corner. This corner is also suitable for waiting lounge.
Employees with high temperament should be given north-east corner. Less talented people should initially be given west direction and then should be shifted to south-east direction.
A pro vaastu door is very important for the growth of the office, with a limitation on the total number of doors. The higher officials should be in south, next to them in west and those related to reception or display activity should be in north-east.
Quick Tips
1. Boss should sit in south-west facing east or north as per vastu. West is also permissible but it must not face south.
2. In the office, the temple should not be placed at the back of the owner's seat.
3. The owner's desk must always be rectangle.
4. There must always be a solid wall behind the owner's seat.
5. Computer room should be in south-east.
6. Pantry should be in south-east or north-west.
7. Marketing departments should be in north-west.
8. Cashiers should be in the North, the abode of Kuber, the God of wealth.
9. Almirahs and racks should be placed in the South West.
10. The central point of a factory, house and office should be empty.
11. Purchase department and other should be in south or west.
12. Reception should be in north-east as per vaastu.
13. Telephone, side tables should be in south-west corner.
14. Conference room should be in the north west, since that direction is best suited for a flow of ideas.
15. There should not be any obstacle in front of any door opening.

16. Keep your files in your office as given below and it will help you in your business as each and every file in your office plays an important role in the business.
i) Account file - in south-east corner shelf.
ii) Personal file - in south-west shelf of your cabin.
iii) Purchase file - in south-west shelf made on south wall.
iv) Sales file - in north-west shelf on wall.
v) Estate file - in south-west shelf made on southern wall.
vi) Shares file - in north-west shelf mad on north wall which you want to sell. And in south-west shelf made on south wall which you want to retain.
vii) Raw materials file - in south-west shelf.
viii) Finished goods file - in north-west corner shelf.
ix) Income tax file - in south-west corner shelf.
x) Sales tax and excise files - in south-west corner shelf.
xi) Import and Export file - in north-west corner shelf.
xii) Stores file - Always in south-west corner shelf.
xiii) Cash purchase file - in south-west corner shelf.
xiv) Credit purchase file - in north-west corner shelf.
xv) Staff and workers file - in north-west corner shelf.
xvi) Litigation file - in north-west corner shelf.
xvii) Pending bill file (receivable) - if it is in north-west shelf it will help in early recoveries or payment which are due.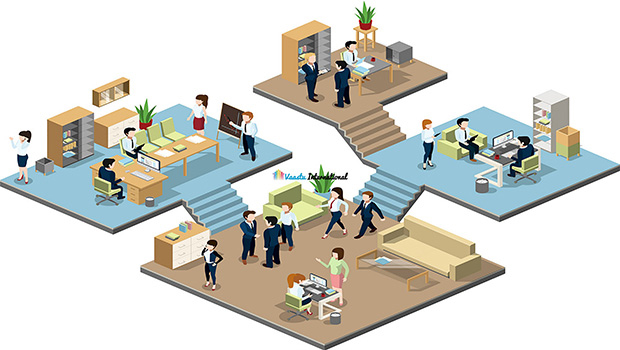 Vastu for Office
A nice bountiful office is one that faces east.
Avoid plots with uneven shapes, and opt for a square or rectangle for your office structure.
If there is any water resource or element, it must be put or installed in the northeast corner of the workplace.
When working or engaging with clients, the company's senior executive or owner must face north.
For executives and other workers, the northern or eastern sides are ideal.
Managerial and other high-level employees in the office should be forced to sit in the southern or western portion of the office, facing north or east. The northeast portion of the office should be left empty with a water resource placed.
Toilets should be built on the west or northwestern side of the building, avoiding the south-east and north-east east sides.
A pantry should be built in the southeast.
The greatest places to build a staircase are in the south, south-west, or west. Avoid taking the stairs in the office's Brahmsthan or in the center.
The reception area should be designed in the northeast.
If there is a temple built in the office in the northeast.
Employees should not be forced to sit beneath the beam.
In the northwest or northeast, a waiting room can be built.
Colours in the office should be pleasant and vibrant, not depressing, or gloomy.
Attractive photos should be put on walls, while pictures depicting conflict or evil should be avoided.
Vastu Advice For The Offices
They should be designed carefully so as that there is a balance in the movement of the work and the office should be in control of the owner. If offices are not made according to these principles, here will be no balance of energies thus less efficiency of the employees, unability to do work; owner may not manage the staff and thus failure.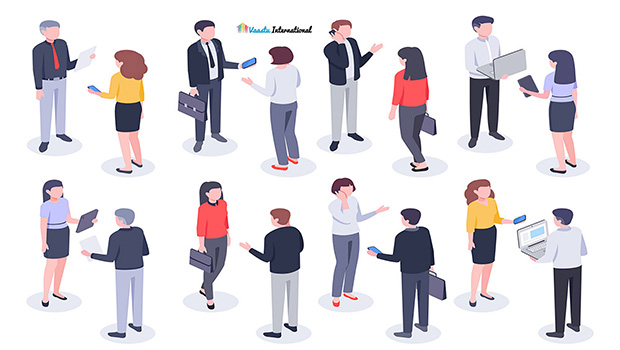 We have to take care of the following points while studying about the vastu of the offices.
Proper location of the office in the building
The exteriors of the office like shape, slope, height, water level
The direction of the Entrance
The direction & placement of the windows
The location of the beams
The location of the basement
The direction & placement of the MD room
The direction & placement of the employees designation and work wise
The direction & placement of the reception
The direction & placement of AC, cooler, audio systems
The direction and placement of the stairs
The direction & placement of the electronic equipment
The direction & placement of the pantry/kitchen
The direction & placement of the toilets
The direction & placement of the seminar and conference room
The direction & placement of the water products
The colour scheme of the room
FOR VASTU SHASTRA IN HINDI CLICK HERE
FOR 45 DEVTAS OF VASTU PURUSHA MANDALA IN HINDI CLICK HERE
FOR 16 VASTU ZONES IN HINDI CLICK HERE
FOR FIVE ELEMENTS OF VASTU IN HINDI CLICK HERE
FOR AYADI VASTU IN HINDI CLICK HERE
FOR GEOPATHIC STRESS VASTU IN HINDI CLICK HERE
FOR VASTU AND COSMIC ENERGY IN HINDI CLICK HERE
FOR VASTU TIPS IN HINDI - CLICK HERE
VASTU TIPS FOR PAINTINGS - CLICK HERE
VASTU TIPS FOR CLOCK IN HINDI - CLICK HERE
VASTU TIPS FOR REMOVING NEGATIVE ENERGY IN HINDI - CLICK HERE
VASTU TIPS FOR POSITIVE ENERGY IN HINDI - CLICK HERE
VASTU TIPS FOR CAREER IN HINDI - CLICK HERE
VASTU TIPS FOR MONEY IN HINDI - CLICK HERE
VASTU TIPS FOR HAPPY MARRIED LIFE IN HINDI - CLICK HERE
VASTU TIPS FOR PLOTS IN HINDI - CLICK HERE
VASTU TIPS FOR BEDROOM IN HINDI - CLICK HERE
VASTU TIPS FOR KITCHEN IN HINDI - CLICK HERE
FOR AROMA VASTU TIPS - CLICK HERE

Er. Rameshwar Prasad invites you to the Wonderful World of Vastu Shastra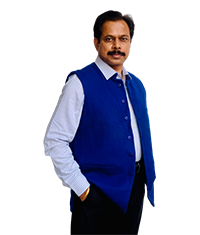 Engineer Rameshwar Prasad
(B.Tech., M.Tech., P.G.D.C.A., P.G.D.M.)
P: (+91-11) 22615299, 22615833
M: (+91) 9810105218, 9654255234