NUMEROLOGY
Vastu and Numerology
FOR VASTU NUMEROLOGY COURSES - CLICK HERE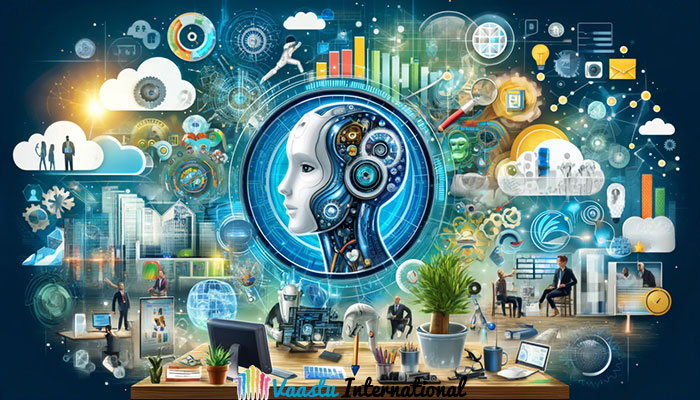 It is my endeavour to explain here what Vastu and Numerology really means, in a language which even a layman can understand.
When a soul descends on the earth it gets a body and comes out of the womb of the mother on a particular date and time. The date on which the child is born is very important in it's life as it's entire luck, so to say, depends upon that particular date.
FOR LO SHU GRID IN ENGLISH - CLICK HERE
FOR LO SHU GRID METHOD IN HINDI - CLICK HERE
FOR VAASTU INTERNATIONAL COURSES - CLICK HERE
FREE ONLINE VASTU SOFTWARE - CLICK HERE
FREE ONLINE MOBILE NUMBER NUMEROLOGY CALCULATOR IN HINDI - CLICK HERE
FREE ONLINE MOBILE NUMBER NUMEROLOGY CALCULATOR - CLICK HERE
FREE ONLINE VASTU NUMEROLOGY SOFTWARE - CLICK HERE
FREE ONLINE NUMEROLOGY CALCULATOR - CLICK HERE
FREE ONLINE HINDI NUMEROLOGY CALCULATOR - CLICK HERE
FREE ONLINE NAME NUMEROLOGY CALCULATOR - CLICK HERE
FREE ONLINE DESTINY NUMBER CALCULATOR - CLICK HERE
FREE ONLINE KUA NUMBER CALCULATOR - CLICK HERE
FREE ONLINE CHINESE ASTROLOGY SOFTWARE - CLICK HERE
FREE ONLINE TATOT CARD SOFTWARE - CLICK HERE
FREE ONLINE INDIAN ASTROLOGY SOFTWARE - CLICK HERE
FREE ONLINE DAILY PANCHANG CALCULATOR - CLICK HERE
FREE ONLINE LAL KITAB PRASHNAVALI - CLICK HERE
FREE ONLINE NAKSHATRA AND RASHI CALCULATOR - CLICK HERE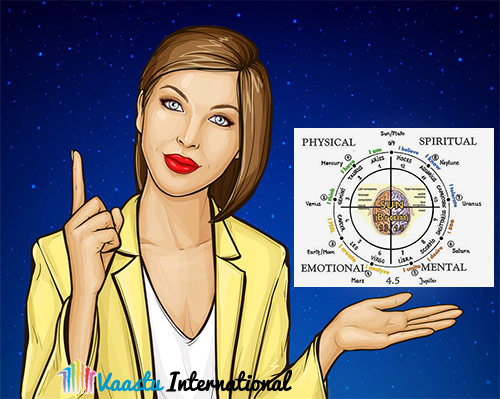 "In life, when you have CLARITY on where you want to go and GUIDELINES on what are the CHANCES of REACHING there, You can become UNSTOPPABLE."
Then the body is given a name by which it is known throughout it's life. It grows and passes through childhood, adolescence, youth and old age. Through all these stages the body lives in a particular place or places which we call houses or dwellings. The child lives with the parents till it attains the age of adolescence. Growing further into youth and old age, the body requires more houses or dwellings to live in.
This means that the entire life of an individual is virtually controlled and influenced by the following three very important factors in the person's life:
1. Date of Birth
2. Name
3. Dwelling or House.
The first two of the above factors are governed by Numerology and the third is governed by Vastu. We shall first discuss about Numerology and then take up Vastu Numerology.

"The science of Numerology is the practical application of the fundamental laws of mathematics to the material existence of man!" - Sir C. V. RAMAN (Indian Scientist; Nobel Laureate)
Numerology Calculator
An online numerology calculator to calculate your life path, name, lucky number, personality numbers and so on. Enter your name and date of birth and click on calculate button.
Calculate Life Path, Name, Lucky, Destiny, Personality Numbers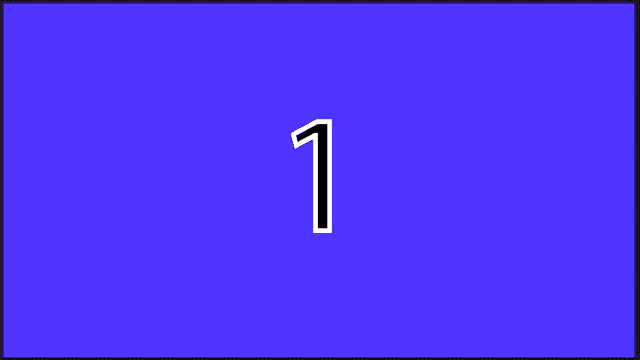 Numerology Numbers and Significance:
Life Path Number - It describes your traits and who you are at birth. The number outlines the opportunities, challenges, and lessons you will encounter in this lifetime.
Name Number - It is the sum value of the individual numbers in your name.
Lucky Number - A number which brings luck and prosperity to you.
Destiny number - It is also a lucky number. It helps you in discover your personal interest, unique capabilities, attitudes and talents.
Personality number - It describes the qualities and attributes you possess and that you are comfortable sharing with others.
Soul urge number - It describes who you are, your true desires and motives.
Friendly numbers - It is a number of your friendly pair.
Enemy numbers - It is a number of negative traits.
Lucky Day - It describes the luckiest days for you.
Lucky Color - It describes the luckiest colors for you.
Friendly Numbers - It describes the numbers that can be your friendly pairs.
Enemy Numbers - It describes the numbers that are not compatible with you.


"I am fond of figures, but I have become more fond of these NUMBERS which shape my life!" - Rt. Hon'ble W. E. GLADSTONE (4 times Prime Minister of England; a mathematical genius)
A detailed study of Vastu has been made in the other articles appearing in this website. Here I shall take up the main points underlying the science of Vastu.
I start with a simple example of an electric bell. There is metal core in the electric bell and a coil is wound around that core through which electric current is passed turning the core into a magnet. If we take out that core and, instead, place a screw driver into the coil and then pass the electric current through the coil for a few seconds, we shall see that the iron screw driver becomes very hot. It is because the screw driver has turned into a magnet. If a little of magnetic power can turn a non-living iron screw driver very hot, we can very well imagine what will be the effect of the earth which is the greatest natural magnet.
Our body is made up of the five elements. God is the creator of the universe and Nature. In Hindi we call God "Bhagwan". When we utter the word "BHAGWAN", we consciously or unconsciously remember the five elements. The letters BH in Bhagwan stand for "bhoomi" or the earth; the next letter A stands for "agni" which means the fire; the next letter is G which represents "gagan", that is, the sky or space; the W stands for the wind or the air, and the last letter N denotes "neer" or water. All these elements are present in human body and, therefore, we have to align our body to the magnetic field of the great natural magnet, that is, the earth.
East, West, North and South are the four geographical directions of the earth, of which North is the most important and is called the Great Power Point of the Earth. Also in configuration of the angles of sides between North and East, between East and South, between South and West and between East and North, we start from the North and also finish at the Great Power Point which is the meeting point of 0 degree and 360 degree North. Magnetic waves move from North to South. These waves get concentrated within the four walls of the dwellings irrespective of their size as the effect of the concentration is the same on small as well as on large dwellings.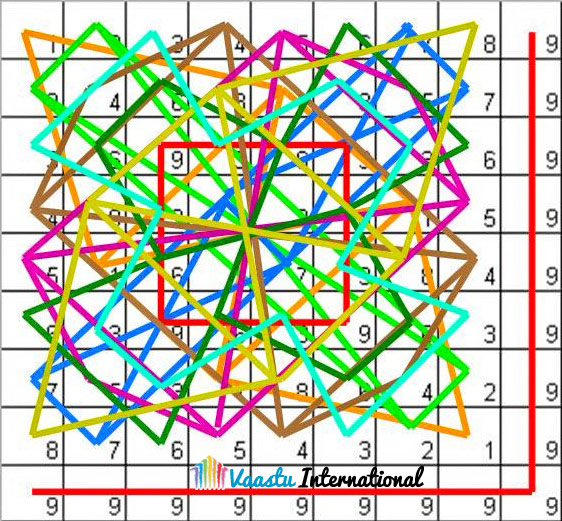 "Blind are those who do not see this invisible world of numbers!" - Prof. MAX MULLER (Sanskrit Scholar and Orientalist of Oxford University.)
It means that the ideal places for fire, air, water cooking sleeping etc. will remain the same both in a one-room dwelling and in a large dwelling having 10 or 15 rooms. In each case we have to align ourselves to the principles of Vastu to achieve the maximum benefits from the means and resources at our disposal, that is, the health, wealth and prosperity that we are striving for. How we can bring about this alignment has been dealt with in the articles you will find at other places in our website.
Now we come to Numerology. Numerology is the science of numbers. Each alphabet when pronounced creates a frequency denoted by a particular number. This means that all the alphabets have frequencies from numbers 1 to 9. When a name of a person is pronounced, vibrations are created together by all the alphabets in the name. These vibrations should match with the vibrations of the date of birth and of the placement of various facilities in the dwelling.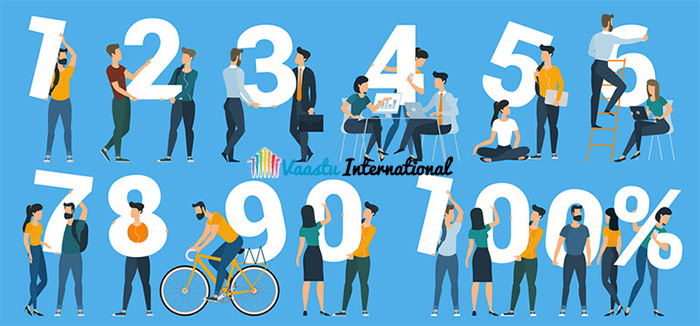 "Strange theory, but there is a convincing coincidence of numbers in human life!" - His Holiness POPE LEO XIII OF VATICAN (The 257th successor of St. Peter)
Pros and Cons of House Numbers
House Number 1 Pros
Supports creativity, independence, determination, drive, leadership.
House Number 1 Cons
Difficult if teamwork is essential to live here. Can feel isolating.
House Number 2 Pros
Quiet energy, cooperative environment, companionship, sentimental.
House Number 2 Cons
Difficult for anyone who is very independent. Can be an overly sensitive
House Number 3 Pros
Busy social hub, creative energy, great for self expression, artistic.
House Number 3 Cons
Can be scattered energy, can be a busy environment with little down time, can be a bit chaotic.
House Number 4 Pros
Practical, organized, grounded, great for handyman, good for home office
House Number 4 Cons
Not a good fit for someone who can't live within a budget, this energy can stifle someone who needs change and can cause you to feel stuck in a routine.
House Number 5 Pros
Great for those who are in sales, great if you want to be able to leave it in a moments notice. Great place to hang unusual artwork.
House Number 5 Cons
Expect the unexpected. Change will be imminent. Difficult to find peace and quiet here.
House Number 6 Pros
Love, family, tradition, comfort, food, hospitality, nurturing, comfortable. Great for homemakers, visual artists.
House Number 6 Cons
Can foster the need to gossip. A need for perfectionism. May attract unwelcome guests who are needy.
House Number 7 Pros
Great number for a quiet sacred spiritual space. Excellent for writers, musicians, pastors, students.
House Number 7 Cons
Those in a 7 house may become too reclusive. Not well suited to those who need lots of company around.
House Number 8 Pros
Emphasis on quality not quantity. Those who enjoy the material side of life are good here. Typically nice homes that are well appointed. Organized. This energy attracts money and those who are career minded with a drive to earn money.
House Number 8 Cons
Repairs can be overly costly in an 8 house due to the higher end home it likely is. The energy of the 8 can be boastful causing jealousy among neighbours etc. Those living in this energy have to learn to balance business with pleasure.
House Number 9 Pros
Great for attracting various cultures. Great for a healing practice or anything related to humanitarian or charitable efforts. Artistic. Busy environment full of patience and tolerance.
House Number 9 Cons
Not a good energy for anyone who is tight with their money. This energy tends to be that of the giver. Those who live with a half empty cup will not enjoy this energy.
Relationship between Vastu, Numerology and Astrology
Vastu shastra, Vedic astrology and numerology are three dedicated ancient sciences but have a deep intrinsic relationship with each other. Every direction in vastu is governed by a particular planet which is ruled by its underlying number and color combination.
The four major directions of east, west, north and south are governed by sun, Saturn, mercury and mars respectively.
According to numerology each planet has its ruling number which signifies the planet lord of that direction. Sun for example is governed by the ruling number 1. Mercury signifying the northern direction has a ruling number 5 while Mars and Saturn relating to South and western directions have ruling numbers 9 and 8 respectively.
Just like the four major direction, the other four essential directional coordinates (North east, North west, South East and South West) are also ruled by various planets which are governed by their ruling numbers respectively.
North eastern direction is associated with Jupiter or Ketu which is the south node of the moon. Jupiter is represented by the ruling number 3 while Ketu has a ruling number of 7. South eastern direction is associated with Venus which has a ruling number 6. North West and South west directions are ruled by Moon and Rahu (north node of the moon) respectively. The ruling numbers for moon is 2 and the number 4 represents Rahu.
Using Correlation between Vastu Shastra and Numerology Effectively
There is no denying the fact that ancient Vedic science of vastu shastra, astrology and numerology has a definite correlation.
Simply using numerology or vastu shastra in isolation can be beneficial but can be even more prudent when applied together. Since vastu shastra places emphasis on direction and numerology gives the underlying ruling number, vastu and numerology can be effectively used together.
Vastu principles can be applied according to the plot number or house number. Rather than completely demolishing the constructed building to make it more vastu complaint, small changes can be made to make it aptly balanced.
While vastu shastra gives us information about our lucky directions that can aid in positive energy, numerology gives us the numbers behind those directions which obviously bring more luck and prosperity to the residents of any particular household.
Relationship between Vastu, Numerology and Human Body
Numerology and Vastu are connected together, as two branches of the Vedic Sciences. Each direction is associated with a planet and each planet has it's number and colour. Therefore, in numerology, all the numbers are also associated with directions.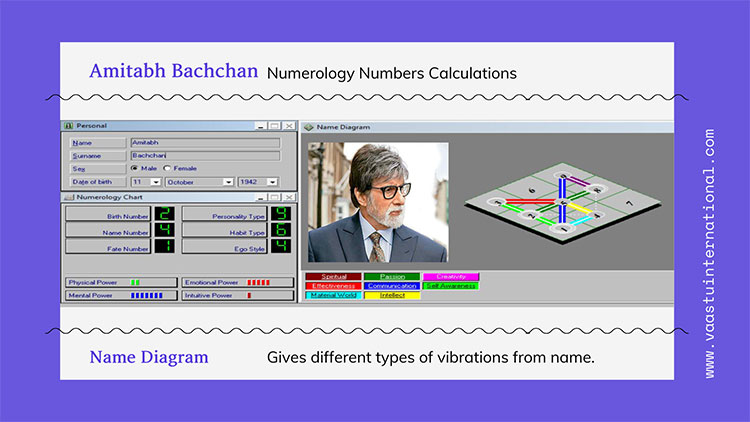 Numerology has three kinds of number,
Basic / Driver Number (Moolank) - This is the Date of Birth of a person, for example if the Date of Birth is 6 the basic number will be 6,  if it is 12 the basic number will be 1 + 2 is equal to 3.
Name Number (Namank) - It is the numerological value of the person's  name.
Destiny / Conductor Number (Bhagyank) - It is total of the date of birth (date, month, year) for example date of birth is 17-10-1981 is equal to 1 + 7 + 1 + 0 + 1 + 9 + 8 + 1 = 28 = 2 + 8 = 10 = 1 + 0 = 1
The relationship between the Basic Numbers and the Directions are as follows :

To know the suitable direction for the owner of the land we look at the basic number of the owner, the direction in which this number is written is the suitable direction. If as in above example the basic number is 3, the suitable direction will be North East.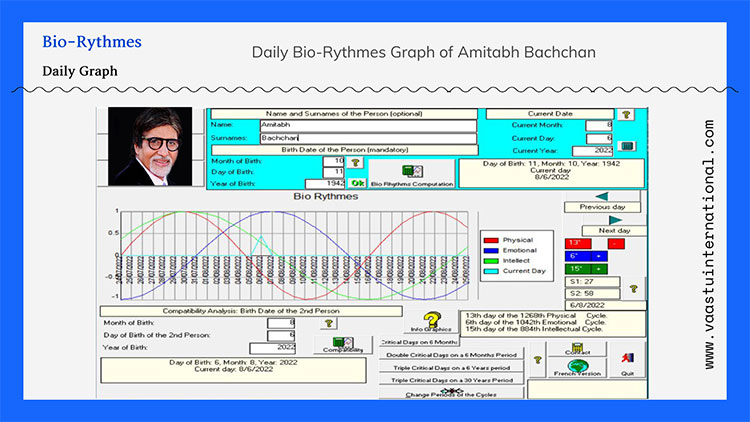 In case the Date of Birth is not known, the First Alphabet of the Name of the Person should be taken into consideration. Suppose the name of the person starts with "R", so the suitable direction will be North.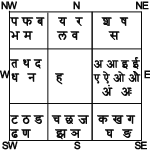 Similarly the human body if compared to the physical environment around, as a whole also represents the miniature of the nature. He also must follow the laws of nature because our body is also made up of 5 elements like the whole universe. Aham bhramasami or meaning that  I am Brahma and I am part of universe. This signifies that whatever is in the universe, is present in me and whatever is in me is a part of universe.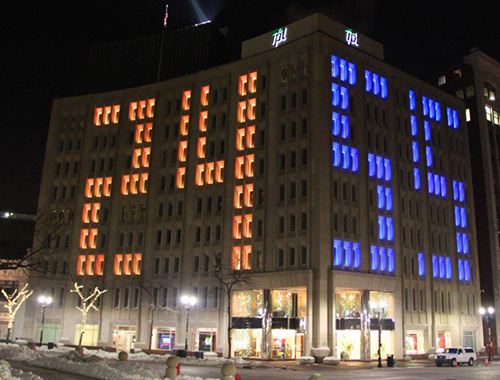 "I am sorry I did not believe it first; the prediction by numbers is wonderful!" - His Majesty MUZAFFER – ED-DIN (Shah of Persia – 1900)
The Vastu Purush of the Vastu Shashtra represents the distinct form of the cosmic being. All the structure should be built keeping in mind the various aspects of Vastu Purush. One Mouth in a Human Body represents 1 Entrance and the 9 Holes in the Human Body are similar to the Nine Planets.
TO KNOW MORE ABOUT 45 VASTU DEVTAS [ENERGY FIELDS] - CLICK ON BUTTONS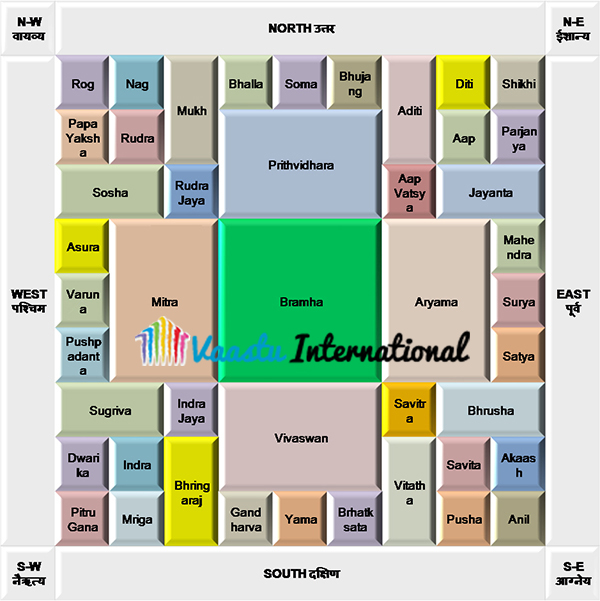 Architectural science and equipment have undergone a sea change over the years. However, the principles of Vastu, although modified to suit the modern times, still remain applicable.

Always Remember that Circular and Triangular Vastu Purush Mandalas, Given in Our Ancient Texts, are for Circular and Triangular Structures / planning only. Join our Advance Vastu Practitioner Course.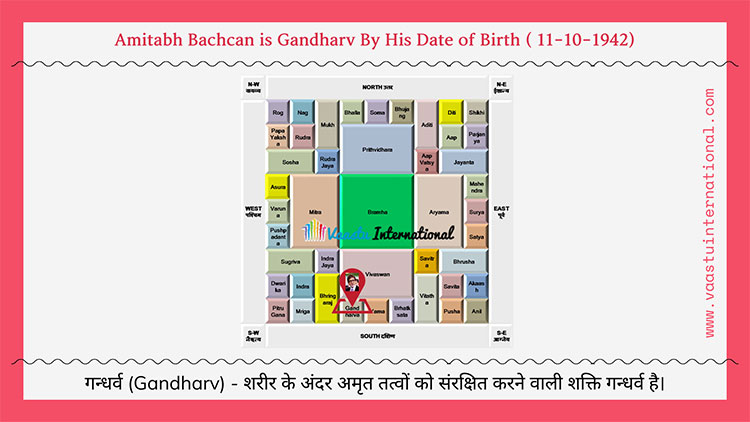 The most important and major chakras are 7 in number present in our body transform the higher cosmic energy into a human usable form. Each chakra is ruled by a specific planetary energy and therefore each number in numerology influences a specific chakra in it's function. All the chakras are in the midline of a body and are parallel to the spine. Each of them is associated with a particular colour, musical note, gemstone, fragrance, organ, psychological profile and spiritual lesson.
By knowing these three things, that is, the name, the date of birth and the inside of the dwelling we can suggest small changes like changing the spellings of the name, making little alterations in the house, to offset the bad patch of luck one might be facing in life. Thus these small changes make a lot of difference in life for the better. Through Numerology one can find a perfect match, if still single, and can also attain best results at the working place and in personal relationships.
"I do not believe in god or religion; but I am forced to believe in Numerology!" - Col. R. G. INGERSOLL (Famous atheist and orator of U.S.A.)