VASTU NEWS
Red Paint not Okay for Bedrooms
Readers Questions and Answers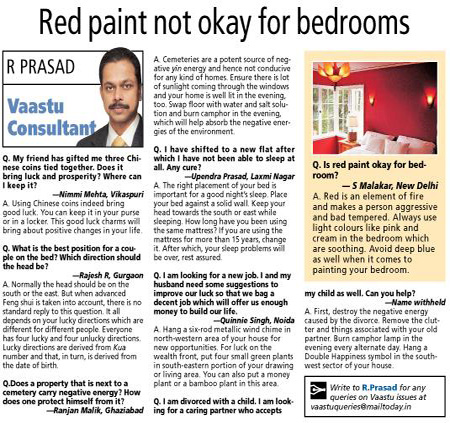 Red Paint not Okay for Bedrooms
- Rameshwar Prasad, Vastu Consultant, Delhi, India.
Q. My friend has gifted me three Chinese coins tied together. Does it bring luck and prosperity? Where can I keep it?
—Nimmi Mehta, Vikaspuri
A. Using Chinese coins indeed bring good luck. You can keep it in your purse or in a locker. This good luck charms will bring about positive changes in your life.
Q. What is the best position for a couple on the bed? Which direction should the head be?
—Rajesh R, Gurgaon
A. Normally the head should be on the south or the east. But when advanced Feng shui is taken into account, there is no standard reply to this question. It all depends on your lucky directions which are different for different people. Everyone has four lucky and four unlucky directions. Lucky directions are derived from Kua number and that, in turn, is derived from the date of birth.
Q.Does a property that is next to a cemetery carry negative energy? How does one protect himself from it?
—Ranjan Malik, Ghaziabad
A. Cemeteries are a potent source of negative yin energy and hence not conducive for any kind of homes. Ensure there is lot of sunlight coming through the windows and your home is well lit in the evening, too. Swap floor with water and salt solution and burn camphor in the evening, which will help absorb the negative energies of the environment.
Q. I have shifted to a new flat after which I have not been able to sleep at all. Any cure?
—Upendra Prasad, Laxmi Nagar
A. The right placement of your bed is important for a good night's sleep. Place your bed against a solid wall. Keep your head towards the south or east while sleeping. How long have you been using the same mattress? If you are using the mattress for more than 15 years, change it. After which, your sleep problems will be over, rest assured.
Q. I am looking for a new job. I and my husband need some suggestions to improve our luck so that we bag a decent job which will offer us enough money to build our life.
—Quinnie Singh, Noida
A. Hang a six-rod metallic wind chime in north-western area of your house for new opportunities. For luck on the wealth front, put four small green plants in south-eastern portion of your drawing or living area. You can also put a money plant or a bamboo plant in this area.
Q. I am divorced with a child. I am looking for a caring partner who accepts my child as well. Can you help?
—Name withheld
A. First, destroy the negative energy caused by the divorce. Remove the clutter and things associated with your old partner. Burn camphor lamp in the evening every alternate day. Hang a Double Happiness symbol in the southwest sector of your house.
Mail Today
Rameshwar Prasad invites you to Read Published Articles Written by Him.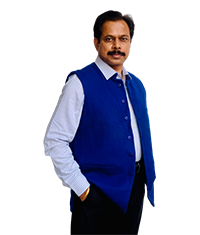 Engineer Rameshwar Prasad
(B.Tech., M.Tech., P.G.D.C.A., P.G.D.M.)
P: (+91-11) 22615299, 22615833
M: (+91) 9810105218, 9654255234