VASTU NEWS
Laughing Buddha in the house brings good luck
Readers Questions and Answers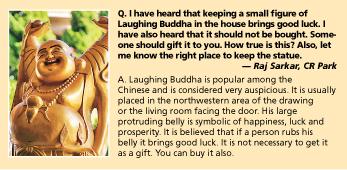 Laughing Buddha in the house brings good luck
- Rameshwar Prasad, Vastu Consultant, Delhi, India.
Q. I have heard that keeping a small figure of Laughing Buddha in the house brings good luck. I have also heard that it should not be bought. Someone should gift it to you. How true is this? Also, let me know the right place to keep the statue.
— Raj Sarkar, CR Park
A. Laughing Buddha is popular among the Chinese and is considered very auspicious. It is usually placed in the northwestern area of the drawing or the living room facing the door. His large protruding belly is symbolic of happiness, luck and prosperity. It is believed that if a person rubs his belly it brings good luck. It is not necessary to get it as a gift. You can buy it also.
Mail Today
Rameshwar Prasad invites you to Read Published Articles Written by Him.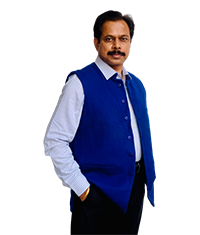 Engineer Rameshwar Prasad
(B.Tech., M.Tech., P.G.D.C.A., P.G.D.M.)
P: (+91-11) 22615299, 22615833
M: (+91) 9810105218, 9654255234