VASTU NEWS
Not able to Concentrate in Studies
Readers Questions and Answers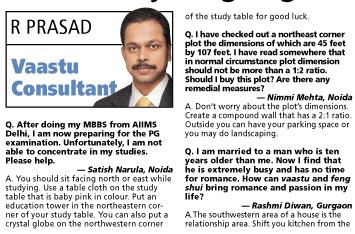 Not able to Concentrate in Studies
- Rameshwar Prasad, Vastu Consultant, Delhi, India.
Q. After doing my MBBS from AIIMS Delhi, I am now preparing for the PG examination. Unfortunately, I am not able to concentrate in my studies. Please help.
— Satish Narula, Noida
A. You should sit facing north or east while studying. Use a table cloth on the study table that is baby pink in colour. Put an education tower in the northeastern corner of your study table. You can also put a crystal globe on the northwestern corner of the study table for good luck.
Q. I have checked out a northeast corner plot the dimensions of which are 45 feet by 107 feet. I have read somewhere that in normal circumstance plot dimension should not be more than a 1: 2 ratio.
Should I buy this plot? Are there any remedial measures?
— Nimmi Mehta, Noida
A. Don't worry about the plot's dimensions. Create a compound wall that has a 2:1 ratio. Outside you can have your parking space or you may do landscaping.
Q. I am married to a man who is ten years older than me. Now I find that he is extremely busy and has no time for romance. How can vaastu and feng shui bring romance and passion in my life?
— Rashmi Diwan, Gurgaon
A. The southwestern area of a house is the relationship area. Shift you kitchen from the southwest and make a master bedroom there. You can put a rose quartz stone pair or a pair of mandarin duck in the southwestern corner of your bedroom.
Mail Today
Rameshwar Prasad invites you to Read Published Articles Written by Him.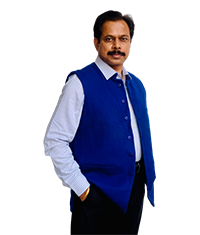 Engineer Rameshwar Prasad
(B.Tech., M.Tech., P.G.D.C.A., P.G.D.M.)
P: (+91-11) 22615299, 22615833
M: (+91) 9810105218, 9654255234