VASTU SHASTRA
Vastu Devta - Pusha (पूषा)
Pusha is a Vedic solar deity and one of the twelve Adityas. His name literally means, 'One who causes people to thrive'. He represents sun as a pastoral god, the guardian of the flocks and herds. In the Rig Veda, Pushan is appealed to feed, guard and find the lost livestock. He is lord of the paths, who protects people from the wild animals and makes their paths pleasant to tread in solitary places. He was also responsible for marriages, journeys, roads and feeding of the cattle. He protected travelers from the bandits and wild beasts. He also protected men from being exploited by the other men. He was a supportive guide, a 'good' god, leading his adherents towards rich pastures and wealth. He carried a golden lance, the symbol of activity.

FOR VAASTU INTERNATIONAL COURSES - CLICK HERE
Samaranganasutradhara identifies Pusha as the demi goddesses, 'Maatrigan'. Maatrigan (mothers) or Saptamatrikas (seven mothers) is a group of seven Hindu goddesses who are always depicted together. They are sometimes called Ashtamatrikas (eight mothers) or sometimes even sixteen.
The Ashtamatrikas are: Brahmani, Vaishnavi, Maheshvari, Indrani, Kaumari, Varahi, Chamunda and Narasimhi. They assist great Shakti Devi (goddess) in her fight with the demons. They represent the prodigiously fertile as well as the destructive aspect of nature. According to Rig Veda, Matrikas control the preparation of Soma.
10. PUSHA (SE) :
• This is nourishing like mother nourishes a child.
• Best place to keep Ghee.
• Safeguard of everything including money.
• If payment blocked. Check this zone.
• This becomes the fuel to continue the fire.
• Keep a Red Mat here to get back blocked money.
• If the child growth is not satisfactory in the mother's womb, keep a red mat and Ghee for best results.
• Imbalance causes problem in family bonding.
• Family photos kept here increases the bonding here strongly amongst the family members.
• Blue colour here shows weakened body.
• Children will not be self sufficient if imbalance here.
• A person will work under someone if this zone is imbalanced.
• Toilet here will cause bad growth of child.
• Keep a Fevicol tube to improve family bonding.
• Keep a Hanuman Ji photo showing strength there.
Devta (देवता)

PUSHA (पूषा)

Alternative Name
मातृगण
God
Pusha
Direction
SE
Planet
SATURN
Attributes
STRENGTHNER
Samagri
पुष्प, सत्तू (सतुआ), दूध, घी, कोद्रव
Mantra
ऊँ पूषन्तवव्रतेवयंन निष्येम कदाचन नमः
समराङ्गण सूत्रधार
पूषा मातृगणः स्मृतः ॥
मन्त्र
(विश्वकर्म प्रकाश)
पूषन तव व्रते वयं न रिध्येम कदाचन ।
स्तोतारस्त इह स्मसि ॥
धातु
वनष्पति
रत्न
चिन्ह
बछड़े  सहित गाय
रंग
लाल
हवन सामग्री
सेम की फली, दूध, खीर, कपूर
Role
Highway, Security, Recoverer
Grocery
Popped Rice
TO KNOW MORE ABOUT 45 VASTU DEVTAS [ENERGY FIELDS] - CLICK ON BUTTONS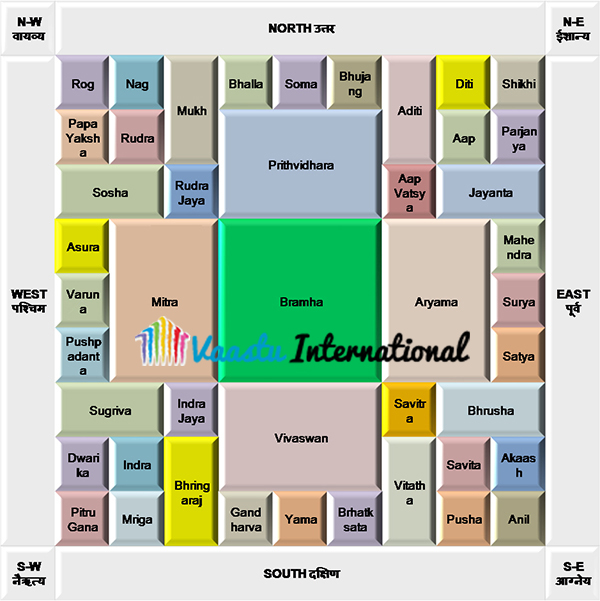 Pushan is the guardian deity of roads, who removes dangers out of the way. He is also called the 'guardian of travelers' and the 'son of deliverance'. He follows and protects cattle, and brings them home safely. His name means 'prosperer'. His favorite food is gruel. He wears braided hair and a beard. He carries a golden spear, an awl and a goad. He is a great charioteer, and his car is drawn by goats. With his golden aerial ships, Pushan is the messenger of Surya. He is the guardian of all creatures. He is also often appealed to for granting bounty. Among his other duties, he conducts the dead on the far-off path of their fathers.
Hymns in the Rigveda appeal to Pushan to guard livestock and find lost livestock. His chariot is pulled by goats. Sometimes he is described as driving the Sun in it's course across the sky.
Pushan is the God of meetings, marriages, journeys, roads, cattle, and the people with low status in society.
FOR VASTU SHASTRA IN HINDI CLICK HERE
FOR 45 DEVTAS OF VASTU PURUSHA MANDALA IN HINDI CLICK HERE
FOR 16 VASTU ZONES IN HINDI CLICK HERE
FOR FIVE ELEMENTS OF VASTU IN HINDI CLICK HERE
FOR AYADI VASTU IN HINDI CLICK HERE
FOR GEOPATHIC STRESS VASTU IN HINDI CLICK HERE
FOR VASTU AND COSMIC ENERGY IN HINDI CLICK HERE
FOR VASTU TIPS IN HINDI - CLICK HERE
VASTU TIPS FOR PAINTINGS - CLICK HERE
VASTU TIPS FOR CLOCK IN HINDI - CLICK HERE
VASTU TIPS FOR REMOVING NEGATIVE ENERGY IN HINDI - CLICK HERE
VASTU TIPS FOR POSITIVE ENERGY IN HINDI - CLICK HERE
VASTU TIPS FOR CAREER IN HINDI - CLICK HERE
VASTU TIPS FOR MONEY IN HINDI - CLICK HERE
VASTU TIPS FOR HAPPY MARRIED LIFE IN HINDI - CLICK HERE
VASTU TIPS FOR PLOTS IN HINDI - CLICK HERE
FOR VASTU TIPS ON BEDROOM IN HINDI - CLICK HERE
FOR VAASTU MEDITATION - CLICK HERE
FOR AROMA VASTU TIPS - CLICK HERE
FOR CRYSTAL VASTU (RATNADHYAYA) - CLICK HERE
FOR ART OF GIVING - CLICK HERE
FOR VASTU NUMEROLOGY - CLICK HERE

Er. Rameshwar Prasad invites you to the Wonderful World of Vastu Shastra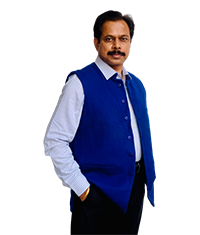 Engineer Rameshwar Prasad
(B.Tech., M.Tech., P.G.D.C.A., P.G.D.M.)
P: (+91-11) 22615299, 22615833
M: (+91) 9810105218, 9654255234