VASTU SHASTRA
Vastu Devta - Sugreev (सुग्रीव)
'Sugreev' means, beautiful-necked, hero, sort of weapon, of a divine being, body of water, conch, countenance (facial expression) of a friend, kind of pavilion, serpent of paataal, name of one of the four horses of Krishna or Vishnu.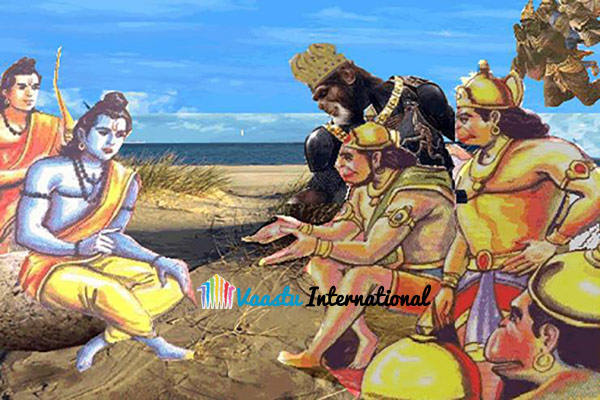 FOR VAASTU INTERNATIONAL COURSES - CLICK HERE
सु means "beautiful" + ग्रीव means "neck". सुग्रीव , here doesn't mean the Monkey Kind who helped Lord Rama. As per Samrangan Sutradhar, it represents Prajapati Manu. In the Shatapatha Brahmana, Prajapati emanated from Purusha (cosmic spirit) and Prajapati co-created the world with the goddess of Language. It also includes the "golden cosmic egg" mythology, wherein Prajapati is stated to be born from a golden egg in primeval sea after the egg was incubated for a year. His sounds became the sky, the earth and the seasons. When he inhaled, he created the devas (gods), fire and light. When he exhaled, he created the asuras (demons) and darkness.
Sugriva, according to some experts, is Lord Hayagriva, an avatar of Lord Vishnu. He is worshipped as the god of knowledge and wisdom, with a human body and a horse's head. Another legend has it that during the creation, Vishnu compiled the Vedas in the Hayagrīva form.
19. SUGREEV (WSW) :
• Good grasping power.
• One who can solve problems by merely listening to the problems.
• Power to memorise things.
• Best place to make Gym or akhada.
• Problem of forgetfulness or inability to remember if washing machine here.
• Red colour causes irritation towards to newer ideas.
• Village scene in black frames gives the power to decide where to invest and where not to invest.
• Buying a property becomes easy.
Devta (देवता)

SUGREEV (सुग्रीव)

Alternative Name
प्रजापति मनु
God
Sugriva
Direction
WSW
Planet
MERCURY
Attributes
RECEIVING POWER
Samagri
दन्तकाष्ठ, उड़द के आटे, शुभ गन्ध, धूप, उत्तम माला, कष्टक जाति के पुष्प
Mantra
ऊँ सुषुम्णः सूर्यरश्मिचन्द्रमागन्धर्वस्तरुय नमः
समराङ्गण सूत्रधार
मनुः सुग्रीव ईरितः ॥
मन्त्र
(विश्वकर्म प्रकाश)
सुषुम्नः सूर्यरश्मि-श्चन्द्रमा गन्धर्व-स्तस्य नक्षत्राण्यप्सरसो बेकुरयो नाम स्वाहा ।
चन्द्रमसे गन्धर्वायेदम् ॥
धातु
वनष्पति
रत्न
लाजवर्त
चिन्ह
गणपति, कार्तिकेय, बतख
रंग
श्वेत
हवन सामग्री
मोदक, दातौन, काली मूज और यव
Role
Capturer, Gainer
Grocery
Root of Paan, Almond (बादाम)
TO KNOW MORE ABOUT 45 VASTU DEVTAS [ENERGY FIELDS] - CLICK ON BUTTONS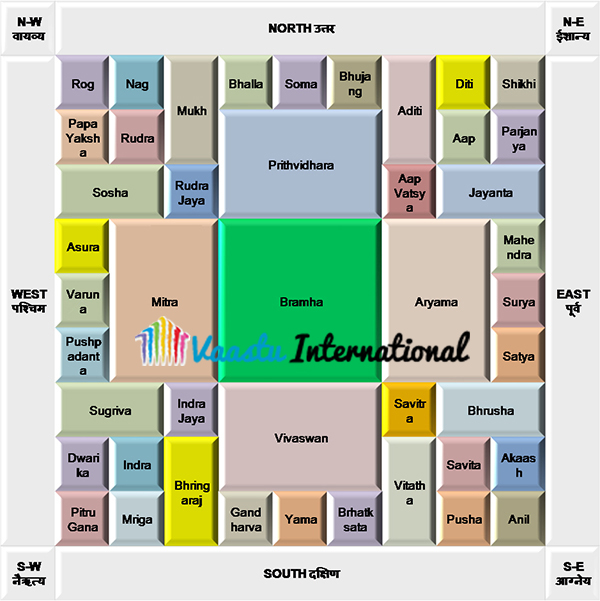 The Horse Avatar of Lord Vishnu is seen as pulling the sun up to the heavens every day, bringing light to darkness. Hayagriva's consort is Marichi, the goddess of the rising sun, more accurately the sun's light which is the life force of all things, and which is seen as the female aspect of Hayagriva. Marichi represents the essence of the power of creation of the cosmos. Whereas Hayagriva represents the other male aspect
ज्ञानानन्दमयं देवं निर्मलस्फटिकाकृतिं
आधारं सर्वविद्यानां हयग्रीवं उपास्महे |
ऋषि याज्ञवल्क received the knowledge of Shukla Vajurveda from the mouth of Hayagriva, The Mythical Horse, pulling the chariot of Sun God.
The zone for receiving and absorving the Spiritual Knowledge.
FOR VASTU SHASTRA IN HINDI CLICK HERE
FOR 45 DEVTAS OF VASTU PURUSHA MANDALA IN HINDI CLICK HERE
FOR 16 VASTU ZONES IN HINDI CLICK HERE
FOR FIVE ELEMENTS OF VASTU IN HINDI CLICK HERE
FOR AYADI VASTU IN HINDI CLICK HERE
FOR GEOPATHIC STRESS VASTU IN HINDI CLICK HERE
FOR VASTU AND COSMIC ENERGY IN HINDI CLICK HERE
FOR VASTU TIPS IN HINDI - CLICK HERE
VASTU TIPS FOR PAINTINGS - CLICK HERE
VASTU TIPS FOR CLOCK IN HINDI - CLICK HERE
VASTU TIPS FOR REMOVING NEGATIVE ENERGY IN HINDI - CLICK HERE
VASTU TIPS FOR POSITIVE ENERGY IN HINDI - CLICK HERE
VASTU TIPS FOR CAREER IN HINDI - CLICK HERE
VASTU TIPS FOR MONEY IN HINDI - CLICK HERE
VASTU TIPS FOR HAPPY MARRIED LIFE IN HINDI - CLICK HERE
VASTU TIPS FOR PLOTS IN HINDI - CLICK HERE
FOR VASTU TIPS ON BEDROOM IN HINDI - CLICK HERE
FOR VAASTU MEDITATION - CLICK HERE
FOR AROMA VASTU TIPS - CLICK HERE
FOR CRYSTAL VASTU (RATNADHYAYA) - CLICK HERE
FOR ART OF GIVING - CLICK HERE
FOR VASTU NUMEROLOGY - CLICK HERE

Er. Rameshwar Prasad invites you to the Wonderful World of Vastu Shastra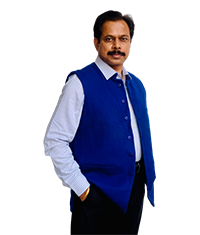 Engineer Rameshwar Prasad
(B.Tech., M.Tech., P.G.D.C.A., P.G.D.M.)
P: (+91-11) 22615299, 22615833
M: (+91) 9810105218, 9654255234