VASTU SHASTRA
Vastu For Children Room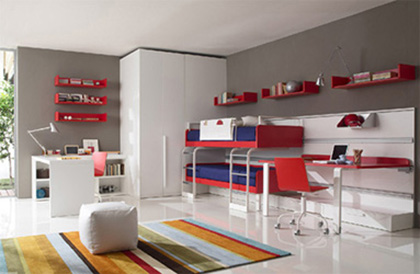 Children room is a hub of recreation, fun and frolic; however some basic things should be taken care of to make your child an all-rounder.
Vastu complaint room suggests placing everything at its proper location according to corresponding direction such as study table, bed, bathroom, and clock, and window, door and so on. Proper placement of things instills positive thinking in children's mind to work harder and making them cheerful.
Every parent is keen to see their child's progress in every sphere of life while there are some negative things that every house has due to Vastu defects which affects children behaviour and mind. Improper placement of things transforms children into brat, stubborn and low in concentration pushing their parents to get on nerves. Converting your child's room with Vastu set of rules can perhaps give you positive results making your child obedient and progressive.
Vastu Tips for Child Health
It is said that a healthy mind resides in a healthy body, but for a body to be healthy, the house should also be healthy. Vastu Shastra is a must when is comes to health, specially for children. While children are falling sick due to unhealthy routines, food habits & getting away from nature, Vastu can at least help us stay away from ill-health & restore our immunity.
Direction for Kids Bedroom as per Vastu
The direction for kids bedroom is extremely important for their health & growth. This is because children sleep for around 8-10 hours in their bedroom. Also, their belongings, books, toys & photographs etc. are generally placed in their bedroom only. The energies of the direction in which the bedroom is planned, is sure to have an impact on them when this direction is used for too long by them.
The first & foremost point is to ensure that their bedroom is not planned in a negative direction or a low energy direction. If the direction is not conducive for children, they may fall prey to regular health concerns & doctor visits. Parents complain about growth of their children and the children making frequent trips to doctors. In this case, one must appoint a professional Vastu expert to check the location of their bedroom.
Ideally, the bedroom for children is planned in accordance with their age group. Since practically one cannot be changing bedrooms with growing age, we must choose a direction which is at least good for their health & study. As per Vastu, the following directions can be good for children – East and East of North East, West and West of South West and North. If these directions are available, we must plan kids bedroom in either of these locations.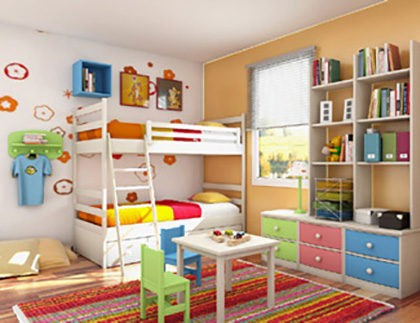 Best Colours for Kids Bedroom as per Vastu
Colours play an equally important role in shaping the Vastu of a place. If the direction for kids bedroom is chosen correctly as per Vastu, but we end up choosing the wrong colour schemes, we may even loose the positive attributes of the correct directional placement. For example, if the kids bedroom is planned in West of South West direction, using green or red shades may disturb the Vastu balancing of that direction. The positive attributes of that direction will be lost by using the wrong colour schemes.
It has been observed that using non-vastu compliant colour schemes leads to health challenges for kids. For example – using too much of red shades sometimes causes aggression in kids.
It must always be preferred to use colour schemes as per Vastu guidelines, in whichever direction the bedroom is planned. Cream, Ivory, beige & off-white are neutral shades that can be used in any direction for kids room to ensure Vastu is not disturbed. Some colours can definitely be used in accordance with Vastu like grey or yellow shades in West & South-West, Green or Blue shades in North or East. It is always better to consult a Vastu professional rather than end up choosing the wrong set of colours.
Best Sleeping Position for Kids
Also, sleeping position or head direction is important for kids to ensure a sound sleep. If the sleep pattern is good, the child growth is better. For parents who feel their child is not getting the proper sleep, they must check the sleeping position of their child, along with the bedroom direction.
One must ensure that the head must point towards South direction while sleeping. If this is not available or practical, east or west directions can also be chosen to point the head. One must not ever point their head towards North direction while sleeping. This causes disturbed sleep patterns and ultimately affects health of kids.
Placement of Nutrition & Health Supplements
Vastu Shastra is a handy tool, which enables us to utilise the nature's guidelines in the best manner. By having a complete knowledge of the directions, once can tune their house to serve the best of health. Specifically for kids, one must keep all health-related foods & consumables in the right direction as per Vastu. You may have heard about people saying that a fruit basket is auspicious to be placed on the dining table. The logic is that when fruit basket is placed in a place where you pass most of the time, you end up picking a fruit and consume the same.
Now, considering scientifically, if health supplements, nutritional food, medications, immunity boosters or fruits etc. are placed in the North of North East direction, it brings a very positive health for all the occupants.
If the house is planned in a manner which allows maximum daylight and ventilation entering from all sides, chances of falling prey to ill-health is minimized. These are the simple, yet effective aspects of Vastu Shastra which must be considered.
The Direction of Health – North of North East
There is a very important direction in every space which is termed as the health direction. The North of North East direction i.e., the area between North direction and North East direction governs the health & immunity front for the residents. To ensure the children remain healthy, this direction must be kept healthy. This direction is the ideal location for placing medicines, medical records & health related foods. Any healing related items should also be placed here as per Vastu.
If this direction is disturbed as per Vastu Shastra, it can impact our health. In case a toilet or kitchen is already planned in this direction, one must get Vastu treatment done for the same. It is to be noted that Vastu treatment does not always require demolition and reconstruction.
While planning for a new house, everyone must follow Vastu Shastra so that challenges in health can be prevented. It has been repeatedly established that Vastu compliant homes remain free from ill-health & diseases.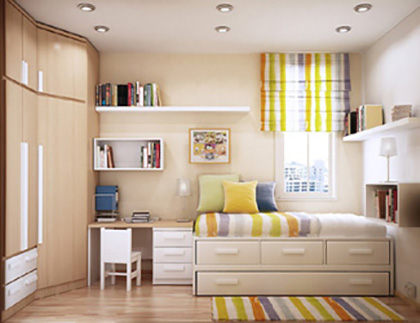 Some basic tips of Vastu for children's room are as follows:
West direction is ideal for children room and must be place there.
Keep the bed in South-west portion of room and let your child sleep with head towards South or East direction for peace of mind.
Door of children room should not directly face the bed.
South-west direction is best for placing furniture while avoid any kind of furnishing in middle or centre of the room which creates obstruction.
Keep all the furnishing 3" away from the wall.
Cabinets and closets should be placed in South or West direction.
Avoid recruiting TV, computer/laptop in children room as they effect child concentration. But seeing today's scenario and compulsion computers should be located in North and Television in South-east.
Avoid any exposed mirror in children room and do not place any kind of mirror in front for bed.
Study table should face East, North or North-east.
Study area should be clutter free in order to boosts concentration and clutter free ambience is good for generating new ideas.
Good lights should be placed in South-east direction while avoid sharp lamps on study table which begets strain.
To add freshness in your child's mood brush up his room with Green or Blue hue.
Doors in children room are best at East or North.
Green color proves the best for kids' room, as it is associated with freshness and peace and increases brain power as well.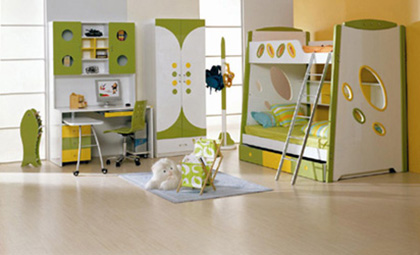 We have to take care of the following points while studying about the vastu of the children room. Vastu consultation of children room involves a thorough analysis.
Proper location of the bedroom in the house
The direction of the Entrance
The direction & placement of the windows
The direction & placement of the bed
The direction & placement of the study table
The direction & placement of the almirah
The direction & placement of the dressing table
The direction & placement of TV, AC, cooler, audio systems
The direction & placement of the telephone
The direction & placement of the pets
The colour scheme of the room
Er. Rameshwar Prasad invites you to the Wonderful World of Vastu Shastra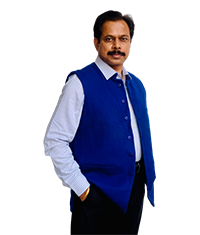 Engineer Rameshwar Prasad
(B.Tech., M.Tech., P.G.D.C.A., P.G.D.M.)
P: (+91-11) 22615299, 22615833
M: (+91) 9810105218, 9654255234