ASTROLOGY
Sun Sign Forecast For Cancer in 2018

For natives born between June 22 to July 23
(These predictions are Solar-based. Readers are requested to take date of birth into considering when reading these predictions.)
Hindi Name: Kark
Date of Birth: 22nd June to 23rd July
Ruling Planet: Chandrama (Moon)
Nakshatras: Pushya, Ashlesha
Lucky Numbers: 1, 2, 4
Lucky Days: Monday, Saturday
Lucky Colours: Orange, Red
Lucky Stones: Moon Stone, Pearl

Cancer is the fourth sign of the zodiac and its owner is moon. Sun enters this sign from June 22 to July 23 every year. The sun entering this sign will complete moving in first part (0-90 degree) and enter second part (90-180 degree). This will bring in a lot of changes and impact on all beings. It is also the house of emotions. Those who can't reflect their emotion with the right mood always stay behind other people.

Cancer Horoscope 2018
2018 might turn out to be a really optimistic year for the Cancerians. It might be full of positive energy. The year will be full of good fortune and your confidence will be high. Everything around you will emanate a sense of tranquility.
This is definitely going to a year full of growth due to the planets Jupiter and Saturn moving in your favor bringing you great opportunities. As the year progresses there is a high chance that your wishes might be fulfilled.
If you were born between the dates June 21st to July 22nd, then you belong to the Zodiac sign Cancer. It is quite a complicated zodiac sign, on one side they are caring and emotional but they are also at ties materialistic and tensed. These traits are sure to affect the outcomes in 2018.
Apart from positivity, your life will also be surrounded by a peaceful environment. Your confidence and positive attitude will help to get through the few bumps that you hit.
Cancerians are supposed to have strong instincts that have always helped them feel what is about to happen but still the future is uncertain. Take advantage of the Horoscope for 2018. It will help you to understand what the New Year might hold for you.
An overview of year 2018
Jupiter in 4th house till mid October and then in 5th house, Rahu in 1st house and Ketu in 7th house till mid September, Saturn in 6th house throughout the year, together determine the major transit results this year.
Lord of your sign Moon is located in the 12th House of your chart, the house of losses, travel, foreign connections, spiritual path, occult and psychic experiences. You would act in a different manner as negativity and the pessimism of the past will give way to a high amount of energy, confidence and at the same time a very fix attitude with a somewhat difficult temperament. Jupiter, the lord of your 6th house as well as 9th house is located in 4th house, in this year's chart, the house of mother, comforts, luxuries, home, vehicles, education etc.
This indicates ill health of mother.
Sun, Venus, Saturn in your 6th house indicate differences with father and ancestors.
The negative and the unpleasant thoughts in your mind will give way to a very positive and aggressive temperament. You will work well, you will make things happen, you would be very aggressive at work and result oriented and at the same time you will also be very active in personal life and various matters connected with you as Saturn helps.
Your mind will be torn between materialistic progress and spirituality.
2018 with respect to different aspects in your life
You will enjoy mixed results during this year. Critical and difficult works will be managed efficiently. Responsibilities increase in job or profession. Name and fame are indicated for the people in fine arts, literature, and sports.Confidential discussions with the higher authorities benefit you professionally. An agreement is also possible on mutual interest. Your previous or old certificates of performance in sports, fine arts or cultural programs and acquaintances during that time will come to utilization. Change of place is possible in job. You will address in public gatherings and also may receive awards and rewards. You will prove your honesty and character against bad propaganda made by co-workers. Your hard work will be recognized by authorities. Invitation to attend conferences and public gatherings will be received. A favorable time for students in their efforts. You will not show any interest in attending parties and entertainment programs.
Growth of children make you delighted. Huge money will be spent for the education of children with perfect understanding and experts opinion. Also you may consider voluntary retirement for your job to focus on the education of children. Your reputation will be heightened due to the children and their social service. Unemployed people may find contract, temporary or part time jobs. During second half of the year there could be stability in your career. Disappointments due to loss of soul mate can be expected. Care must be taken in preventing any loss by trusting fake saints. You help your siblings in financial affairs secretly. Deep grief and sorrow will be experienced and even spiritual talks will not give you relief. Second half will be better in comparison to first half of the year.
Payments will be received in right time. You buy landed property and it's value increases. Desire of constructing own house will be fulfilled. You will extend your cooperation in buying landed property for your friends or relatives staying in foreign land. This gives joy and happiness to them. Gifts will not be taken from anyone. Name and fame are indicated for the service organizations or cultural organizations under your authority. Efforts will be successful in gaining opportunities for higher education or suitable job in foreign land. You will shine in technical fields. Profits are indicated in business. You need to be careful in the insurance issues. Inconvenience due to tax policies is indicated. Deficiencies in written agreements and documents about properties give you inconvenience in critical time. Lack of clarity in the elder's opinions gives you troubles. Your savings in finance companies will not be received in need. Mediators will take the advantage of the situation. Law and government will not be of any use. Gains and profits are indicated for the people in the business of fancy items, electronic gadgets, stationary items, beauty products, handicrafts, wholesalers,travels, automobiles, and business in the name of others. New tax policies give you inconvenience. Irritation is indicated in banking affairs. Disputes will arise in sharing profits among partners, but you will compromise in reduction of your share to avoid conflicts. Enemies will increase.Huge expenditures are indicated to perform auspicious functions. Legal affairs will be resolved in your favor but you will have anxiety and worries. Against all obstacles and difficulties business expansion is possible. Contracts and subcontracts will give you profits. Meeting financial commitments will be a challenge and also it creates stress and fear.
You decide to be away from all the conflicting issues, but the problems search for you. Your earlier reputation help you in overcoming the critical situations. You realize the pain of psychological problems is more than physical pain. Reaction will not be there for negative incidents. Health needs care. Suffering from E.N.T problems, digestive problems, joint pains and headaches indicated.
Career & Business
When talking about the career of a Cancer man or woman, 2018 looks like an intense year. All through the year you will most probably have a work schedule that is filled with work. Sometimes the load of work might prove to be too much and you might get stuck in the cross fire. At these times try to maintain a pleasant attitude towards all so that you can create a balance in the relationship with both peers as well as seniors.
If you want a change like relocation or position in the company, 2018 is the best time for that to happen. Always try to look at the finer picture when it comes to your career aspect. It will be better to learn new skills and take up new tasks till the last quarter of 2018. New contacts will expand your social circle.
As the workload this year will be heavy do not get tensed about it, all you need to do is work hard and everything will come under your control.
With such a heavy work load, you might get confused, at such times go ahead and take advice from colleagues and seniors. They are the ones who will give you the best advice and help you when you are facing troubles. They will also help in increasing your knowledge and improve your skill set.
Love & Relationship
2018 might turn out to be a year of emotional turbulence in your love life. If you are already in a relationship then expect an increase in the passion and intensity but remember to handle disputable matters in an intelligent way using your gut feeling and instincts. If you start finding each other's fault and be impatient then you can forget about having a long and happy relationship.
Be careful about your actions as they might hurt your partner without you realizing it. Feelings of your partner must be given importance and keep your own desires under control for some time. Some of the dreams that you have had about your love might come true provided all of them are realistic and not fictional.
It might be hard for some Cancerian to select one partner when provided with many options. You can look forward to the end of 2018 as it will bring charm and add a certain degree of boldness to your attitude thus making you more attractive to prospective partners.
The relationship you are already in might turn out to be the best thing that happened to you or it might end with spite. This can be avoided by the decisions you make. Create a transparency in your love life by maintaining good communication level so that misunderstandings can be avoided. It will be imperative that you listen to your partner if you want the relationship to last. Do not let the year turn out to be bad for your love life, turn it into one of the most passionate year. It will also be a year that favors those who are planning to have a child.
2018 also predicts that it is the perfect time of the year for Cancerians who are single to find a great partner. For this to happen, you will need to step into unknown territories and seek a suitable partner. Follow the hobbies that you love to find a partner with similar interests.
Finance & Money
During the first half of the year, a Cancerian might have to make unwanted spending. This might cause some problems initially but it will lead you to create a budget that will help in making savings. A good flow of finance will occur in the form of dealings of real-estate and income in the form of legacy.
During the middle of 2018, some money will be spent on redecorating your home and on some personal accounts. Be cautious about spending too much according to the wishes of people surrounding you otherwise you might be in a lot of trouble. As you enter the second phase of the year, you will be at a much stable position with respect to finances. High-value purchases must be avoided at all costs. It is essential that you, the Cancerian make small savings whenever possible.
So ensure that at least during the first part of 2018, good savings are made as during the middle you might run into some financial issues so the savings will be of great help. The money you spend during the middle can be easily earned back during the last part of 2018. Ensure that no debts and loans are left unpaid so do not splurge too much.
Health & Wellness
Health will be on a good level in 2018. Many opportunities will come your way to enhance your health both physical and mental. Whenever you get time, make sure that you have the time to rejuvenate and reenergize your mind and body. Maintain a healthy lifestyle by eating a balanced diet and exercising.
Due to the emotional turmoil of 2018, most Cancerians might fell tensed and stressed. Make sure that your stress levels are low by being optimistic and surrounding oneself with positivity. Energy levels will sometimes be high and low at other times. Do not over work yourself; work and relaxation time must be balanced well to stay healthy. Indulgences must be avoided as it might lead to bad effects on the long run.
When the energy is high, you might feel confused as to how that energy can be spent. Exercising or following your hobbies or a particular sport you love would be the best way to spend it. Set a stable routine that balances work as well as fun. It will not only make you organized but also lower your stress levels. Do not overdo anything as rest is needed as well. Knowing one's limits is one of the ways to stay healthy.   
Family & Lifestyle
While mentioning home, major adjustment are expected in 2018. A new phase might be starting in your life with additions and deletions in the form of birth and death. The tranquility at home might be disturbed due to various obstacles. Any difference that pops up with family members must be resolved immediately but when it comes to your ideals and views maintain a firm stand while establishing them. Expect changes in your social circle as well. 
Remedies :
Follow social norms and moral values on Mondays. Do not let milk spill on ground or stove (fire).
Cancer Monthly Horoscope 2018
2018 as a year we have read how it will be. Let us take a look at what the months in 2018 is going to unfurl.
January 2018: In every aspect, career, love and finances, this month will be quite busy.  
February 2018: this month will prove to be a favorable one so relax and enjoy the month. Let tensions about the future take a back seat.  
March 2018: this month will involve a lot of interactions. It will also include decisions that need to be made and involve a lot of risk. This will increase specially during the Mercury Retrograde dates of 2018.
April 2018: all Cancerians need to keep a watch on their health during this month. Healing therapies will help to stay fit during this month.  
May 2018: This month will see a lot of activity on the family front like going on vacations with loved ones. It will also include working in a group or team. 
June 2018: This month will bring about certain alterations in personal and professional life.  
July 2018: this month will be the time when the Cancerian needs to take care of their style and looks.  
August 2018: This month might bring about disagreement between parents and children.  
September 2018: As Mars enters the first house; this month will see a lot of independence and spirited behavior.
October 2018: This month will bring about stability in the financial and professional aspects.
November 2018: As 2018 progresses and reaches the end, the Cancerians will start to see things clearly. By this month everything will become clear and they will understand what they want from life.  
December 2018: The year will end on a note of socializing with loved ones.
Er. Rameshwar Prasad invites you to the Wonderful World of Indian Astrology.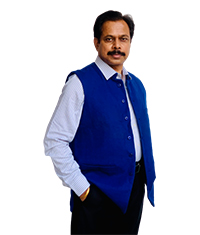 Engineer Rameshwar Prasad
(B.Tech., M.Tech., P.G.D.C.A., P.G.D.M.)
P: (+91-11) 22615299, 22615833
M: (+91) 9810105218, 9654255234