ASTROLOGY
Moon Sign Forecast For Libra in 2018

Libra - Tula [Moon Placed In Libra]
Nnakshatra - Chitra last half, Swati, Visakha first 3 quarters
Indian Star Sign: Chita 3,4; Swati 1,2,3,4; Visakha 1,2,3 padas
Name starts with Sounds (Ra, Ree, Ru, Ray, Ro,Tha, Thoo, Thoo, They R)
Rashi Lord - Venus
Rashi gem - Diomand
Favorable color - white
Favorable day - Friday
Favorable number - 6
Favorable dates - 1/15/24
General
Artistically inclined, beauty and harmony are important for you. You will have beautiful home, love art, music, theatre and dance. You are understanding and people come to you to solve their problems. You have the ability to see an argument from all angles, no wonder your sign is depicted with a judge's scale .You fall in love easily. You need to face reality and avoid escapism.
In general Thula rasi people love excitement and have the power of intuition upon which they often rely for their own guidance. Domestic life of Libra may be crossed by frequent tensions.
Annual Forecast 2018
Saturn will be transiting over your 3rd house from the moon sign. This particular transit will be fortunate and positive for realization of your goals and aspirations. Jupiter is transiting over its own sign and this is going to be a reasonably favorable transit. It will be aspecting on 5th house. Jupiter and Saturn both are aspecting 5th house and this aspect will give results of your hard work which you put in the past. Rahu's transit will give you ample opportunities to get good results in your career. Jupiter will be aspecting 5th , 7th and 9th houses in it's transit. 

People who are expecting or looking for a marriage will be able to find and get their desired match in this year. If you are trying to enhance your family , then expect good news as you'd be blessed with a child in this period. Married couples will enjoy their married life to the fullest. Jupiter is transiting over your moon sign and its aspect will be on 5th and 9th houses. Jupiter's aspect on 5th house and added with the Saturn's aspect on 5th house will be good for educational pursuits. Ketu's transit over 4th house from your moon sign is not good for health of your parents especially health of your mother. Also health of your children may also be a cause for some concern.
The upcoming year highlights your relationship, career, business, health, and auspicious events. Unexpected gains or gains through speculations is on the cards.
Auspicious events like birth of child, wedlock, participating in religious pursuits are in the offing. On the negative side, maintaining social status and dignity will be a challenge. You may have to control your tongue to maintain cordial relationship with your family members. 
Compromise your lethargic attitude to succeed in all your endeavors. 
2018 will be a favorable Year for the self-employed, artists, software personnel, scientists, scholars, architects, interior designers, and aeronautic engineers. Businesses in partnerships will also fare well. Mother's domination and interference will be at its peak. Travels during the months of November and December should be avoided and this is especially true for young Librans. Expenses towards health of spouse are inevitable.
2018 with respect to different aspects in your life
Career: Business personnel will find it tough to wrap up deals after the month of May. You will not be able to maintain a cordial relationship with your partners. Getting loans for your business will also be difficult after May. Some Librans may also face litigations in business. Avoid wordy duals with your partners or associates. 
Professionals will find better opportunities to prove their skills in the beginning of the year. During the month of May, professional success is set to bring laurels and pave the way for higher growth. Good rapport will prevail between your superiors and you. 
The later part of the year is not very promising as far as career goes. Use your goodwill and influence to maintain a cordial relationship. Some of your superiors may be openly inimical and try to block your prospects. Instead of becoming argumentative, you should develop a diplomatic and tactful nature, and strive to compromise. 
April and May are favorable months for the self-employed professionals. 
Teachers, artists, architects, doctors and hoteliers will do extremely well in 2018.
Love Relationship: You are likely to experience romance throughout the year and your heart will brim with lovely thoughts to share with your partner. Some of you will find new ways to express your love to your partner. You will be pleasantly surprised to see that your feelings are reciprocated. For many of you, wedding is in the offing before May. And, happy times are ahead with a bit of romance thrown in. This is the perfect year to improve and strengthen your bond.
Finance: Monetary gains will be seen during the month of April, May, June, September and October. Gains can be through children, siblings and through partnership businesses. Gains through foreign trade are also on the cards. The second half of the year will not be a favorable period for you as far as your finance is concerned. You may face litigation because of your business associates.
Student & Education: A rocking year ahead, for the students who are focused and give in their best. Motivation from friends and elders will help you to move forward towards success. Higher education too is in the cards. Avoid lethargy and procrastination. The keyword for the year is focus.
Health: Adopt a positive approach. Love yourself and treat your body well. This will give you energy to fulfill your desires. 
Take care of your spouse's health. Chances are that you may suffer from ailments like head ache, digestive disorders, inflammations, common cold and fever. You will see some relief after the month of May. No major threat to health is seen throughout the Year. 
Avoid unnecessary talks, lest you will be left anxious and stressed.
Remedies :
Things you need to do:
1. Help charitable causes 
2. Seek blessing from your parents
3. Do not use harsh words
4. Meditate daily for 15 minutes 
5. Chant mantra for Saturn, 108 times daily
'OM SANICHERAYA NAMAHA"
Favorable Months: January, February, March, April, May, November and December
Unfavorable Months: June, July, August. September and October
Er. Rameshwar Prasad invites you to the Wonderful World of Indian Astrology.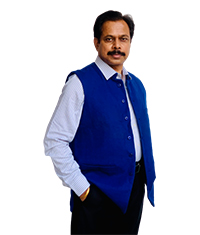 Engineer Rameshwar Prasad
(B.Tech., M.Tech., P.G.D.C.A., P.G.D.M.)
P: (+91-11) 22615299, 22615833
M: (+91) 9810105218, 9654255234