ASTROLOGY
Moon Sign Forecast For Sagittarius in 2019
Sagittarius - Dhanu [Moon Placed in Sagittarious]
Nakshatra - Moola, Poorvashada, Uttarashada 1st quarter
Indian Star Sign: Moola 1,2,3,4; Poorvashada 1,2,3,4 and Uttarashada 1 paadas
Name starts with Sounds (Ye, Yoo, Bha, Bhi, Bhu, Dha, Pha, da, Bay)
Rashi Lord - Jupiter
Rashi gem - Pukhraj [yellow Sapphire]
Favorable color - yellow
Favorable day - Thursday
Favorable number - 3
Favorable dates - 3/12/21/30
General
You are smart, intelligent, fun loving . You hold a very high opinion of yourself and would not care about what others think of you. Your general carelessness translates into money matters and this needs to be taken stock of. You do well in any field as far as it is intellectually challenging. You love to be in love but if a relationship proves wrong you do not bide your time being miserable, but move on. You are methodical and do your work neatly. You occasionally loose your temper and arrogance. You make the best parents in the world.
In general dhanu rasi people are conventional and sometimes business like also. They are prone to be misunderstood unintentionally by others on account of their hastiness in conversation.
Annual Forecast 2019
People born under Moola (4), Purvashadha (4), Uttarashadha (1 Pada) comes under Dhanu rashi. Lord of this rashi is Jupiter.
This year Jupiter moving to Sagittarius, 1st house on 29th March and coming back to Scorpio, 12th house on 23rd April. Jupiter continues his transit over Scorpio, 12th house up to 5th November and then he moves to Sagittarius sign, 1st house. Rahu transits over Cancer, 8th house up to 7th March and he moves to Gemini sign, 7th house on 7th March. Ketu continues his transit over Capricorn, 2nd house up to 7th March and then he moves to Sagittarius sign, 1st house on 7th March. Saturn continues his transit over Sagittarius, 1st house entire year.
2019 with respect to different aspects in your life
Career:
This year Dhanu Rashi people will have a normal career life. transit of Jupiter over 12th house and transit of Saturn more first house makers some hurdles in career growth. you may need to work hard to get success and achieve better growth in your career. You may also have to work away from home for some time. good thing is that Rahu transit over the 8th house will end in this year. From March onwards Rahu transit over the 7th house, as a result, you will see stress free life and mentally fit. due to bad transit of Rahu from last one and half year you might have much stress and problems with higher officials. You may also have a lack of reputation and career growth but as Rahu transit changes you will see mentally strong feeling and an increase in reputation. The aspect of Saturn over 10th House may delay every undertaking and may also give some hurdles. You may learn so many new things during this transit. Jupiter's aspect over the 6th house will give support from your colleague but at the same time, you may also have to work for them. This year will give you many opportunities to make yourself better and fit for any tough situation. Due to Ketu transit over the first house sometimes you may lose your confidence and may become Abbott negative thinker. Try to concentrate more on work which will help you to overcome from all your stress. The businessman will have some unexpected guest in their business it may be a change of place or change of business indicating in this year. If you are doing a partnership business there might be some issues with your partner, so you need to be careful while dealing with them. Freelancers' artists and other professionals will have a good time for their career but at the same time financially it will be a normal year for them.
Family:
This year will have a good family life. Jupiter's aspect of 4th house will give good harmony between family members and support from them. you may spend much time and money for your family members. you might have some issues with your life partner last year due to Rahu transit these issues will be sorted out this year as Rahu changes are transit to 7th house. the aspect of Saturn over 7th house may cause some health issues to your life partner some health issues to your life partner. There will be a change of place or change your house also indicating in this year. your children do well in their field and they become a reason for your happiness. your Coborn may get a chance to go abroad. due to Ketu transit over the first house, you may become more protective and more caretaking person, as a result, your family members may get angry because of your behaviour. try to be confident and trust others so that will help to lead a happy life.
Finance:
Financially this year will be normal. due to the transit of Jupiter over 12th house and transit of Saturn or 1st house may cause heavy expenditure. it may be a family function or a special event which makes you spend more money on it. you may also spend money on your children and purchasing property for luxury goods. This is not a good year for investing money. You will become more aggressive in spending money which may cause you to take loans are a debt from others. Try to avoid unnecessary expenditure and postpone Useless purchasing's, as a result, you will save some money. You may also spend some money on repairs of the house or vehicle. the second half of this year will give good result an increase in income and you may be able to save some money.
Health:
Healthwise this year will give a normal result. transit of Jupiter and Saturn may cause some health issues related to bones back and lungs. You may also suffer from health issues like Spondylitis and blood pressure. most of the health issues are caused by a heavy workload and not having proper food. To overcome this problem, take food in time and take proper rest. performing remedies to Jupiter and Saturn may help in reducing health issues.
Education:
Students will have a good time this year. the aspect of Jupiter over the 4th house will help them to get more interest in studies and learning new things. but at the same time, Saturn transit over 1st house may cause laziness and postpone nature. Those who are writing competitive exams will get success after hard work. Saturn's aspect over 10th House may give them a new job after hard work. The second half of this year will be more helpful for them.
Remedies for the year 2019
You need to perform remedies to Jupiter, Saturn, Rahu and Ketu for better health career and overall success. for this, you need to chant Guru, Shani, Rahu and Ketu Mantra for this planetary Stotra. You can also chant Guru, Stotra Hanuman Chalisa, Durga Stotra and Ganesh Stotra every day. This will help them to achieve better success in every undertaking and reduces expenditure and better career.
Er. Rameshwar Prasad invites you to the Wonderful World of Indian Astrology.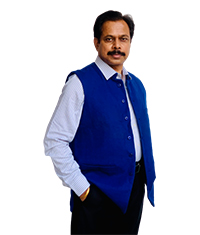 Engineer Rameshwar Prasad
(B.Tech., M.Tech., P.G.D.C.A., P.G.D.M.)
P: (+91-11) 22615299, 22615833
M: (+91) 9810105218, 9654255234