ASTROLOGY
Moon Sign Forecast For Cancer in 2019

Cancer - Kark [Moon Placed In Cancer]
Nakshatra - Punarvasu last quarter, Pushya, Aslesha
Indian Star Sign: Punarvasu 3,4; Pushami 1,2,3,4; Aslesha 1,2,3,4 padas
Name starts with Sounds (Hi, Hu, He, Ho, Da, Di, Du, De, Do)
Rashi Lord - Moon
Rashi gem - Pearl
Favorable color - white
Favorable day - Monday
Favorable number - 2
Favorable dates - 2/11/20
General
Cancerians are ruled by Moon . You are emotional and are easily carried by their sentiments. You are a hard workers and responsible and generally lead comfortable life. Cancerians are fickle minded and get disturbed very soon. You have good imagination. And have potential to be good authors, philosophers and poets. You are extremely emotional and sensitive, you are very caring, family oriented and helpful. On the flip side you could be clingy, possessive and prone to self pity. You try to avoid confrontations at all costs and are likely to retreat into your crabby shell and sulk. You hate being corrected.
In general Kataka rasi people will be much attached to their children and family. They are good conversationalists, self-reliant, honest and unbending.
Annual Forecast 2019
People born under Punarvasu (4th Pada), Pushyami (4), Aslesha (4) comes under Karka (Karkataka) rashi. Lord of this rashi is Moon.
For Karkataka Rashi people, this year Jupiter moving to Sagittarius, 6th house on 29th March and coming back to Scorpio, 5th house on 23rd April. Jupiter continues his transit over Scorpio, 5th house up to 5th November and then he moves to Sagittarius sign, 6th house. Rahu transits over Cancer, 1st house up to 7th March and he moves to Gemini sign, 12th house on 7th March. Ketu continues his transit over Capricorn, 7th house up to 7th March and then he moves to Sagittarius sign, 6th house on 7th March. Saturn continues his transit over Sagittarius, 6th house entire year.
.
2019 with respect to different aspects in your life
Career:
This year you will have a very Good career. you will see a promotion for betterment in your career. transit of Jupiter and Saturn will help you in achieving the desired result. your plans, ideas will work out properly which gives you a better growth in your career and also recognition in the office. those who are trying for promotion are a betterment in their job, they will get it after April. Saturn's transit over the 6th house will Give good support from your colleagues as well as higher officials. if you are planning to go abroad or settle down there this is the right year for you. you will get the desired result regarding this. Last year you may have delays and hurdles in every undertaking but this year you will see smooth growth in your career and work. those in the creative field they will get excellent success Jupiter transit over the 5th house will give you good Creative Thinking and recognition for your work. business people will also have better growth in their business they may start new branches are a new business in this year. Partnership Mein gives some normal results but financially and business growth wise you will see the excellent result. Due to the transit of Rahu sometimes you make it mentally disturbed are lack of concentration at your work. to overcome this problem, perform some remedies to Rahu. He will have better growth in career in the second half of this year.
Family:
This year you will have an excellent family life. transit of Jupiter over 5th house and Saturn transit over the 6th house will give you More attachment towards your family members and good support from them. your children will do well in their education and career. those who are waiting for children they will get the desired result in this year. Saturn's transit over the 6th house will help in improving family attachments. You may get better support from your maternal uncle. your life partner Will get a new job or promotion. the health of your parents will become better. You may also attend many family functions in this year. Due to the transit of Rahu over the first house and 12th house there might be some minor misunderstandings with your family members due to your stubborn nature. Try to be patient and understand your family members so this kind of issues may not harm your relationships.
Finance:
This year financially you will see very good growth in income and you also get better gains through Investments. Those who are planning to purchase a house or property they will get success in their attempts, if you are planning to invest your money on share market or any other properties this is the good year for Investments. Try to invest after April. Saturn transit over the 6th house will help in court cases and property related issues. Due to Rahu transit over the 12th house after March, may give some financial losses. Check papers and other things before investing your money on properties. do not take any Major investment decision in hurry burry.
Health:
This year health will be good for you. transit of Jupiter and Saturn will help in health issues. there will be no major health issues indicating in this year. If you are facing any issues this year will help you to overcome from them. Rahu transit over 1st and 12th houses makers minor health issues related to neck and gastric. Rahu transit over 12th house may also cause lack of sleep and mental stress. to overcome this problem, try to perform remedies to Rahu. the aspect of Jupiter over the 1st house will help in speedy recovery from health issues
Education:
This year students will have a very good time. transit of Jupiter in 5th house will give success in their education and exams. Those who are writing competition exams will get the desired result. Transit of Saturn over 6th help in getting a job. Rahu transit over first and 12th houses may cause lack of confidence and concentration. To overcome this problem, try to work hard and be confident also perform remedies to Rahu.
Remedies for the year 2019
This year you need to perform remedies to Rahu. as Rahu transit over the 1st house and 12th house may cause some health issues and mental tension to overcome this you need to chant Rahu mantra for 18000 times or Rahu Stotra daily also chanting of Durga Stotra will help in this.
Er. Rameshwar Prasad invites you to the Wonderful World of Indian Astrology.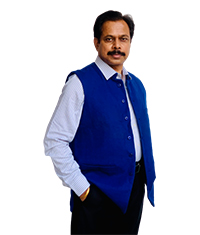 Engineer Rameshwar Prasad
(B.Tech., M.Tech., P.G.D.C.A., P.G.D.M.)
P: (+91-11) 22615299, 22615833
M: (+91) 9810105218, 9654255234