TAROT CARD READING
Free Tarot Card Reading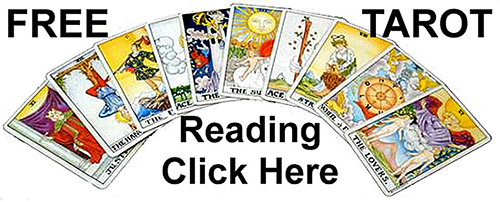 Three Card Reading
Details of the three-card system:
All cards should be right side up and not upside-down, as they infuse negative energy into the reading.

The 22 Major Arcana cards are shuffled and laid out in a fan shape. Three are picked or chosen one at a time, and laid out in a line. This three-card spread denotes the present, past and future. The first card signifying the present time and the issue, person or question, is placed in the middle.

The second card is placed on the left of the first card and signifies the past influence, block or achievement.
The third card is placed on the right of the first card and signifies the outcome or future influence. 2...1....3

The cards give insights on the physical, mental, emotional and spiritual levels of consciousness, so that no matter what the question is, an answer or direction is forthcoming.

The number of each card and their astrological symbols can be kept in mind, since they give indications of the time of events and the Zodiac signs involved.


Intrepretation
A three-card reading can give pertinent answers.

After opening the three cards you picked, read the explanation of each one carefully to understand it on the physical, mental, emotional, or spiritual levels of consciousness.

These three cards will link up and give you a story that comes from the past and goes into the future with an insight to the present moment. You must be easy and relaxed in order to enjoy the reading.
Feel empowered to make breakthroughs on old patterns, relationships, habits, fixations, obsessions and professional aspects. Intuition, sensitivity, receptivity, trust, communion and a loving energy lend a special aura to insights and interpretations revealed during a Tarot reading. A series of 78 images represent in pictorial form a summary of all knowledge, ancient energies, teachings and wisdom of the sages. It might be interesting to survey the contents of the 22 Major Arcana in the Tarot pack.


Let Tarot answer your Questions
Meeta invites you to the Wonderful World of Tarot Cards
Master of Science, Meeta Prakash has long been associated with Feng Shui. She has developed the art of Colour Feng Shui in which she uses colours & Pranic Healing techniques for different personal problems and residential defects. Since last ten years, she is also associated with healing and spiritualism. After accomplishing Reiki I and II, she is busy practicing Tarot reading as a means for spiritual development. She is a columnist of Dainik Bhaskar Group. Her articles, write-ups have been published in a number of news papers & magazines.

She is also an expert of Indiatimes Astrospeak.

She will give you the guidance and insight provided by your Cards.

Our Expert

Meeta Prakash
| | |
| --- | --- |
| Inputs Needed : Complete Name and Date of Birth | |
| Consultation Fees : Rs. 5100/- USD 50 | Fill Order Form |
Rameshwar Prasad invites you to the Wonderful World of Tarot Cards.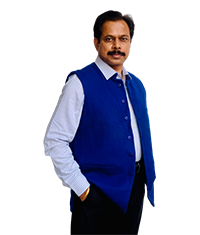 Engineer Rameshwar Prasad
(B.Tech., M.Tech., P.G.D.C.A., P.G.D.M.)
P: (+91-11) 22615299, 22615833
M: (+91) 9810105218, 9654255234