ASTROLOGY
Moon Sign Forecast For Aries in 2023

Moon Sign Forecast : Aries (Mesha)
Aries/ Mesha Rashi [Moon Placed in Aries]
Nakshatra - Aswini, Bharani, Kritika
Indian Star Sign: Aswini 1,2,3 & 4, Bharani 1,2,3; Krutirika 1 padas
Name starts with Sounds (Aa, Chu, Che, Cho, La, Li, Lu, Le, Lo)
Rashi - Lord Mars
Gem - Coral
Favourable colour - Red
Fasting day - Tuesday
Favourable number - 9
Favourable dates - 9/18/27
General
An Aries born are leaders and would like to be on the front to lead a team or group of people. It is very difficult for them to be some-one's subordinate. An Aries born is brave and energetic by nature; also more interested in sports. Aries born will be inclined towards agriculture, medical and technical subjects. People born in Aries sign generally become a sportsman, doctor, engineer or security personnel. Their negative side makes them aggressive in nature and hasty in actions.
Annual Forecast 2023
This year, you will give importance to emotions. There will be many opportunities that will help establish beneficial contacts. You may need to undertake travel. There may be some work pressure. Things may be favorable on the work front. You may receive appreciation and reap the rewards for your work. You will feel very energetic, and your enthusiasm may make you feel more restless than you normally are. Your effective communication will be of great help. You should control your temper, which may be high. Avoid giving false commitments. You should take care of public contacts in your social circle. Your health may be good, and you should continue the same diet.
2023 with respect to different aspects in your life
Career:
Career progress may be good. You may get challenging assignments at work which enhances your self-esteem. Multitasking skills will help you deal with work pressure. You will be cordial with everybody at work. You will do your best to carry out your boss' instructions. You may work patiently in tricky situations. You will be appreciated by superiors for your dedication and hard work. Encouragement from colleagues may give you great satisfaction. You will be polite with superiors and heed their advice.
Love/Relationship:
This year, your love partner could be more in sync with your thoughts. Your love life may be good. You both will plan for a memorable trip that will bring you closer to each other. You should avoid judging your partner with the information that you have. Make sure that your information is true. It is a good time for finding a genuine alliance. You may get an alliance from your close circle, which will turn out to be favorable for you.
Finance:
This year, there may be some unnecessary expenditures that should be avoided. Your financial earnings will be enough for your commitments. You will also divert some funds for some emergency use to manage a challenging situation in the future. Try to control your expenses which may be high. You will be able to recover pending dues.
Health:
This year you will be very particular in your diet. Try to increase the hemoglobin in your blood by consuming organic vegetables. Additionally, ample sleep and physical exercises will make you energetic and active. Better immunity levels can give you relief from minor complications caused by consuming outside food.
Education:
This year could bring you success. Your choice of subject will prove to be the right path for your career. You may be stubborn in your decisions which will sometimes lead to challenging situations. You should concentrate on the syllabus for improving your grades and marks.
Remedies for the year 2023
• Take blessings of your Parents.
• Do chanting lord Narayana Mantra "OM VISHNAVE NAMAHA".
• Visit Shiva Temple on every Monday.
• Do Rudrabhishekam at temple on every month.

Favorable Months: January, February, May, June, September and October
Unfavorable Months: March, July and December
Er. Rameshwar Prasad invites you to the Wonderful World of Indian Astrology.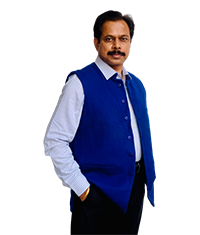 Engineer Rameshwar Prasad
(B.Tech., M.Tech., P.G.D.C.A., P.G.D.M.)
P: (+91-11) 22615299, 22615833
M: (+91) 9810105218, 9654255234