ASTROLOGY
Moon Sign Forecast For Scorpio in 2021

Scorpio - Vrishchika [Moon Placed In Scorpio]
Nakshatra - Vishakha last quarter, Anuradha, Jyestha
Indian Star Sign: Visakha 4; Anoorada 1,2,3,4; Jesta 1,2,3,4 padas
Name starts with Sounds (To, Naa, Ni , Nu, Ney, Ya, Yi, Noo)
Rashi Lord - Mars
Rashi gem - Munga
Favorable color - Red
Favorable day - Tuesday
Favorable number - 9
Favorable dates - 9/18/27
General
Scorpions are sensual, intuitive, research oriented, attractive, disciplined, emotional, and alluring, and they have a good memory. They are dominant, curious, interfering, and secretive, and they exaggerate a lot. Their most positive traits are being magnetic and understanding. The negative points are being possessive and bearing a grudge.
Annual Forecast 2021
The year 2021will bring overall good results, but there may be some minor issues for Scorpio natives, the Vrichchika Rasi people. Financially, you should do very well this year as Saturn is in your 3rd House, and that planet does very well here. Jupiter is also with Saturn and will go to Aquarius, your 4th House of home and family, for some months during the year. This means you may have enough wealth coming in. You may also succeed in competitive exams. This year can also be a good one for students, and they can go abroad for studies. Rahu will be placed in your 7th House of spouse and business partnerships. Hence, it can cause a lot of hurdles and misunderstanding with your spouse and business partners. You can initiate any big step in your personal life or career, preferably after this transit is over, or take all the necessary precautions before you embark on your big move. Otherwise, your relationship with your spouse or those in business can suffer. On the positive side, those who wanted to go abroad can now get that opportunity. This year, you may have to be very careful about your health. The family life and relationships of the Scorpio natives can be strenuous this year as your parents are prone to health problems. This is more specifically the case with your father, so take good care of him. Saturn's aspect on the 5th House can bring more structure and make you put in more hard work into your relationships, especially your love life. Since Ketu will be in your 1st House and Rahu in your 7th House at the start of the year, you are strongly advised to be careful with your eating habits.
2021 with respect to different aspects in your life
Career:
Career aspects are good for Scorpio natives, as long as they drop their laziness and overthinking nature and work hard with full dedication. Saturn, which is in your 3rd House, can make you toil, but you must also go with the flow and not stop your efforts abruptly due to laziness or lack of interest. The first half of the year can be somewhat challenging, especially January to mid- February and around mid-March. Your impatience can make you lose some of the success you have achieved in the recent past. So, think carefully before taking each and every step. But if you can stay calm and act wisely, you will achieve name and fame, especially from June to October this year. Some of you may be asked to travel within the country and abroad on work to complete some tasks. Self-employed business people can also achieve success.
Love/Relationship:
The family life of Scorpions can be dramatic this year, especially at the beginning of the year. One of your parents or both may suffer from some ailments, which might affect you emotionally, causing some distance between you and your loved ones. During April-September and from mid-November onwards, your life may be much better due to the Jupiter transit into your 4th House from 3rd House. When Jupiter is in your 4th House, your family life may be calm, positive, peaceful, and devoid of stress. Guests and relatives may also visit you during this time to share some good news or to invite you to auspicious events. Your parent's health may improve for a few months, but it is important to take care of them. Relationships with your siblings can be good this year. Rahu is posited in the 7th House throughout this year, which can create some frustrations with your life partner. During mid- February to mid- April, please be very careful and do not get into any argument with your beloved. Children should do well this year, and so you may be happy with them. Singles who want to get married can tie the knot from September onwards.
Finance:
Finances look very good for you this year, as Saturn is already in your 3rd House. This position of Saturn can help you win legal battles, too, regarding properties. If you have an ongoing court case regarding wealth, you are likely to win the case. You can also benefit from the government this year. Jupiter will be in your 3rd House for some time and in the 4th house for a few months. Rahu in 7th House is good for you to get some wealth through your life partner/business partner. There is a possibility of spendings at the beginning of the year, but there are also chances of acquiring wealth this year; so, you can go ahead and spend money without worrying about loss. You may also spend some money on religious activities, for instance, for doing poojas and homas at home. Most expenses incurred by you this year will be for something auspicious. This year you need not have to worry about cash inflow.
Health:
This year may give you mixed results as far as your health is concerned. Your health should be fine overall, but because Ketu is placed in your Rasi, the Moon sign this year, you may suffer from some ailment or the other. You must be careful and try to eat healthy, do exercises, and get some good sleep. Any health issue can trouble you only in the first half of the year; it should get better after that. Also, you may suffer from mental tension due to your parent's health. Try to meditate and do yoga daily to overcome any stress and tension.
Education:
Scorpio native students must work very hard this year to see success. Even though there are pockets of the year when planetary positions do not seem to be in your favor, with your hard work and will-power, your goals can be easily attained. The beginning of the year may prove lucky for those who are planning to sit for competitive exams. January–April and mid-September to November are also good for those who want to pursue higher education. If you want to travel abroad, then post-summer appears luckier and more suitable. If you put in hard work into universities' application and selection process, you can get even some fee-waiver or decent scholarship and go abroad this year.
Remedies for the year 2021
• Wear a pearl or coral gemstone after seeing an astrologer.
• Put a mix of sandalwood and saffron paste on your forehead before beginning an important task.
• Worship Shiva every day and recite Om Nama Shivaya 108 times, at least.
• Do Navagraha Homa for beneficial results at home and work.
Favorable Months: April, May, June, July, August, November, December
Unfavorable Months: January, February, March, September, October (During these not-so-favorable months, they should pray to their favorite deity and perform the recommended rituals)
Er. Rameshwar Prasad invites you to the Wonderful World of Indian Astrology.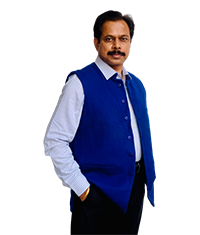 Engineer Rameshwar Prasad
(B.Tech., M.Tech., P.G.D.C.A., P.G.D.M.)
P: (+91-11) 22615299, 22615833
M: (+91) 9810105218, 9654255234