ASTROLOGY
Moon Sign Forecast For Gemini in 2023

Gemini/ Mithun [Moon Placed In Geminai]
Nakshatra - Mrigasira last half, Ardra, Punarvasu first 3 quarters
Indian Star Sign: Mrugasira 3,4; Arudra 1,2,3,4; Punarvasu 1,2,3 padas
Name starts with Sounds (Ka, Ki, Ku, Gha, D, Chha, KE, Ko, Ha)
Rashi Lord - Mercury
Gem - Emerald
Favourable colour - Green
Fasting ting day - Wednesday
Favourable number - 5
Favourable dates - 5/14/23
General
A Gemini person is a multiple-skilled person. A Gemini born will generally be business person, have good communication skills, will be innovative and intelligent. However, a Gemini Moon is indecisive by nature. By hasty activities/ decisions you might make mistakes; but such a person will also have the ability to correct the same. Gemini born is a practical person and is a go-getter.
Annual Forecast 2023
This is likely to be a successful and transformative year. Most of your projects may get cleared and bring success. You should do every work with patience which will help you cope with pressure. Be calm and cool; have a schedule to to finish your work on time. Participation in social programs will bring some welcome diversion. Be goal-oriented to make better progress. Most of the impediments in your life may be resolved systematically. You should avoid any talk which may create a bad impression about you. Health will be generally okay.
2023 with respect to different aspects in your life
Career:
During this year, you may get satisfying results. Higher officials may interact with you directly on assignments. Your plan of action may be efficient. You should work diligently as this time may be crucial for you. You should be vigilant in professional assignments. Your multi-tasking ability will help you deal with work pressure. You should obey the instructions given to you.
Love/Relationship:
It is high time that you give priority to issues raised by your partner. It may not be easy to resolve any emotional discord, but do make an attempt. You may try to find alliances through your relatives and friends, and this may be beneficial.
Finance:
This could be a smooth time for finance. You may spend money to renovate the house. Exchanging your vehicle may prove expensive. You should strictly control your expenses during travels. You may get financial support from kinsfolk if you request them. Your old investments may start yielding financial benefits. You may purchase some costly equipments for household needs.
Health:
This year you may face some stress. You should try to be more practical. You can do meditation for mental peace. You should get sufficient sleep as it is vital for good health.
Education:
This year, you may be able to improve your concentration and study well. You will work hard for securing better results in examinations. You may have more self-confidence. You may use your leisure time to gain knowledge on some interesting subject. You should take care of your diet; otherwise, you may fall sick.
Remedies for the year 2023
• Keep your character clean.
• Go on religious travels frequently.
• Visit Karthikeya temple on Tuesday.
• Worship Lord Ganesha on Wednesday.
Favorable Months: March, April, July, September, November and December
Unfavorable Months: January, May, August and October
Er. Rameshwar Prasad invites you to the Wonderful World of Indian Astrology.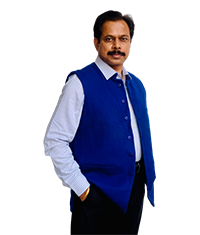 Engineer Rameshwar Prasad
(B.Tech., M.Tech., P.G.D.C.A., P.G.D.M.)
P: (+91-11) 22615299, 22615833
M: (+91) 9810105218, 9654255234