ASTROLOGY
Sun Sign Forecast For Pisces in 2021

For natives born between February 20 to March 20
(These predictions are Solar-based. Readers are requested to take date of birth into considering when reading these predictions.)
Hindi Name: Meen
Date of Birth: 20th Feb to 20th Mar
Ruling Planet: Guru (Jupiter)
Nakshatras: Revati, Uttra Bhadrapad
Lucky Numbers: 3, 5, 12
Lucky Days: Monday, Thursday
Lucky Colours: Yellow, Green, White
Lucky Stones: Moonga, White Sapphire, Cats Eye

The twelfth and last sign of all zodiacs, Pisces is known for its compassion and introspect. Ruled by the benefic planet Jupiter, sun enters Pisces around 20th February and makes an exit around 20th March. Symbolized by the arrow, Libra is a judgmental and fiery sign that is governed by divinity and wisdom. The journey of life right from infancy to adulthood requires introspection and intuition at regular intervals, this particular sign is a storehouse of all such thoughts. This is a sign of philosophy for the reason that planets placed here bestow refinement on Pisceans, with a touch of sensitive sensibilities. There is a planetary delight for all Pisceans as they can look forward to celestial bonanza.

Pisces Horoscope 2021
Pisces people should learn to be diplomatic in their speech and actions and should not hurt the feelings of others during the year 2021. Maintain cordial relationships with your colleagues and seniors at the workplace. Will Pisces find love in 2021? There will be many chances for love and romance in relations with the help of Venus and Jupiter.
You will have the support of your social circle in executing your ventures this year. Jupiter will offer you new openings. You will be able to complete your projects successfully with the help of Mars. Health will be admirable with the help of regular exercise and relaxation routines. It is essential to use your instincts to achieve success this year.
The Pisces 2021 horoscope predicts a tame year to come. In past years, things may have been crazy for you, but all that is ready to settle down. Things may be a bit tricky in your family life, but the planets are sure to help guide you. If you can keep a cool head, everything will work out in the end.
Year 2021 makes sure that most of the expectations of Pisces natives are met. Your creative pursuits would be well rewarded and acclaimed this year. Natives would have a better understanding of their current standing and the way they have to go to reach spiritual and personal upliftment. You would be able to channel your energy towards positive directions.
Over the period, your sense of confidence and determination grows. Myriad opportunities come your way, catch hold of things and try to climb up to higher levels. However it does not mean that you have to make use of everything that comes your way. It is better to say no to certain things, particularly when it comes to relationships. Natives would be blessed with academic success and professional betterment this year when compared to the past few years' period.
Jupiter will be in Scorpio for most of 2021, which will have a positive influence on your year for the better. This planet will encourage feelings of self-love and boost your creativity. This can help in so many areas of your life, including your romantic life, hobbies, and family life.
This year, you are also likely to feel more determined to try and learn new things. Even if you are inexperienced with something, don't be afraid to ask for help and try something new. Learning new things and working on your hobbies is of the utmost importance this year. Doing this will expand your happiness considerably during the 2021 Mercury retrograde.
2021 with respect to different aspects in your life
Career:
Career or profession would be at its peak level of performance for Pisces guys through the year 2021. You would be highly passionate with what you do through the year. And your hard work and enthusiasm towards work would be rewarded amicably by way of either pay hikes or promotions or your much needed relocation to a place of your choice. There would be new avenues for development on the career path, however you would have a fair share of challenges as well.
There are no major planetary influences over your work sector for the year, hence you would continue with your routine works. Occasional troubles might crop in, it would be a good time to plan for your professional future. Learn new skills and update your talents these days, particularly when prospects around seem bleak. Do not get into ventures that involve multiple risks. You have already had your professional risks for the past few years, hence be cautious. As the year progresses, there would be betterment in your career path. Be spontaneous to embrace changes and compromises that come your way these days.
Love:
This year is going to be quite a wonderful year for Pisces guys in terms of their marriage or love. Love and romance would prevail, partner would be loyal and committed to you. The single ones would be satisfied by finding an appropriate partner. Those in marriage or love would finally settle down in a cosy atmosphere brought about by their partner.
Though conjugal bliss is assured, you would have a fair share of misunderstandings and rifts with partner occasionally. Love life or marriage would not be a smooth sail. However if you would have a heart-to-heart talk with partner, then the creases can be ironed out. Temporary separation on the cards for those in a relationship and this might be owing to familial or professional commitments. This distance with partner might however bring you both more closer on an emotional note though.
For some Pisces people, an old flame might hop in from nowhere marring the current love or marriage standing. The single ones who have been onto one-night stands would feel the pressure to settle down with a committed partner these days. Through the year, natives are advised not to ignore their partners or their woos. Instead giving them their due time and attention would work wonders in the relationship for the long run. Keep a tab over your general temperament as it might meddle with your relationships at large.
Finance:
Year 2021 promises to be a year of plenty for Pisces natives in terms of financial resources. Jupiter, the planet of wealth and fortune is favourably placed so that your hands would be full of resources this year. There would be an improvement in your lifestyle and you would settle for some long term investment plans as well.
But then beware of unwanted expenditure and over-indulgence with your finances. Any sort of risk-taking or speculation might land you in troubled waters. Hence tread cautiously and do not take impulsive decisions over your finances through the period. Though there are no major planetary influences tilting your financial balance, Jupiter might tempt you with taking occasional financial risks. You are blessed with good finances through the year, hence play safe and stick to routine expenses.
Health:
The planetary positions for the year 2021 promises good health and cheer for Pisces folks. You would be highly immune to any sort of illnesses around these days. Mars, however might dampen your energy levels and make you sluggish. Resort to some physical exertion occasionally, also keep yourself mentally active for the days. And Saturn might bring periodic bouts of health issues like common cold, digestive issues and the like. Preventive measures and medical intervention would come in handy these days.
Pisces folks are generally known to indulge in food, but this is not the time. Follow a balanced diet and stick to good food habits. Get physically active, pursue outdoor sports of your interest. Swimming your forte would be a good bet. However do not overdo or over-exert yourself as muscular sprains and physical fatigue might wear you down. Find ways to boost your immune system as a whole.
Advice:
The year 2021 would be quite a blessed period for Pisces natives. Enjoy this period with your whole heart and soul and savour every moment as it comes by. Be thankful to the Gods and be good to people around. Do a kind deed daily and this would give you peace of mind and harmony in life.
Your health and finances would particularly do remarkably well this year. Spread the positive vibes around. Resort to social and charity works intermittently. Bring a smile to faces nearby. Look on the downtrodden, use your financial resources for their well-being. Be a blessing to others and stay blessed all this year.
Pisces Monthly Horoscope 2021
Let's take a closer look at the Pisces 2021 horoscope by breaking the year down into months. Below are short summaries for each individual month.
January 2021 starts the year off by giving you a sense of nearly boundless creativity and productivity. Use this time to work on projects, both at work and in your hobbies.
February 2021 encourages you to use this month for introspection. What do you want out of the year? This also continues to be a great time to work on projects.
March 2021 puts the focus on your financial state. The Sun and Venus will be in your sign for most of this month; this will boost your communication skills.
April 2021 splits the focus between your platonic relationships and your finances. This is a great time to seek advice on your finances, as this combines those two aspects of your life.
May 2021 puts the focus on your family life! For most of this month, both Venus and the Sun will be in Taurus. This will help to add stability in your relationships.
June 2021 encourages you to work on your romantic pursuits. With Neptune in Pisces all this year, this is a great time to get into a new relationship or take the next step in your current relationship.
July 2021 won't have much of a focus at all. Your daily routine will take over. Try to make time to spend time with your significant other and to work on your hobbies.
August 2021 will bless you with a boost of creativity and confidence. This makes August a great time to try to make new friends and to work on your hobbies.
September 2021 is a mixed bag. Until the 10th, Venus will be in Libra, which can help to boost your romantic life. After this period, you will be most likely to shift the focus on your family.
October 2021 will have your emotions at a high point, which can make you seem dreamy at times. Try to stay focused, as your family is likely to need you more than usual this month. This may affect your relationships with your friends.
November 2021 graces you with high levels of confidence. You are also likely to find some luck at work and in your finances.
December 2021 gives you time to prepare for the year ahead. You will be able to see potential changes in the distance. Use this month to plan your goals for 2022.
Conclusion
As mentioned earlier, the yearly Pisces 2021 horoscope predicts a relaxed year ahead. This is the perfect year for getting back to your hobbies and focusing on your family life. Use this year to better yourself both intellectually and socially. If you can do this, then 2021 should go well for you.
Er. Rameshwar Prasad invites you to the Wonderful World of Indian Astrology.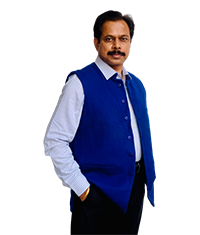 Engineer Rameshwar Prasad
(B.Tech., M.Tech., P.G.D.C.A., P.G.D.M.)
P: (+91-11) 22615299, 22615833
M: (+91) 9810105220, 9654255234