ASTROLOGY
Sun Sign Forecast For Capricorn in 2021

For natives born between December 23 to January 20
(These predictions are Solar-based. Readers are requested to take date of birth into considering when reading these predictions.)
Hindi Name: Makar
Date of Birth: 23rdDecember to 20th January
Ruling Planet: Shani
Nakshatras: Uttra Ashada, Shravana
Lucky Numbers: 9, 8, 6
Lucky Days: Saturday, Friday, Tuesday
Lucky Colours: Black, Brown, Ark Green
Lucky Stones: Neelam, Pukhraj, Pearl, Gomeda

This is the first sign of Saturn, and the tenth sign of the zodiac. In astrology, tenth house is one of the most important houses. This shows what trends and traits will be there in the profession, in the form of planetary arrangement, and its influence. For this very reason, Capricorn is regarded as the house of profession (Karma Bhava). An earth sign, it has the sun entering on December 23rd and exiting on February January 20th.

This sign represents the beginning of a new time. From this time onwards, the sun gathers momentum in the northern hemisphere. This is termed as Uttarayana, especially in the Vedic astrology. The nature of this sign resembles the traits of Jupiter, Saturn, and mobility. For the same reason, we see people born under this sign become good workers, social reformers, industrialists and agricultural workers.

Capricorn Horoscope 2021
The year 2021 will come with a lot of responsibilities towards children. This will drain out your resources and fitness levels. You can overcome these stressful situations with proper relaxation techniques. Playing some sports and cultivating new hobbies will help you in the long run.
Mars and other planets will help you to execute the projects conceived during the last year. This will be a good year for relationships with the help of Jupiter and Venus. You have the support of your social circle and Mars in the execution of your new projects. Health and vitality will be fabulous with a bit of exercise and relaxation. Finances need to be monitored carefully.
The Capricorn 2021 horoscope shows that for the last several years, and for many years to come, Pluto will be in Capricorn. This is a blessing to you and for everyone else who shares your sun sign. Opportunities will come your way, seemingly from every direction. Use your intuition to decide on whether to take a chance with these new opportunities or not. You will only make progress if you try new things, but if your gut tells you not to do something, then it is best to listen.
Year 2021 seems to be a period when Capricorn natives would get a new perspective of their lives. Through the year, you would be able to make major changes and minor tweaks to your personal life. Now you would get more freedom to work independently in your professional field. All past troubles, delays and hindrances seem to slowly go under the carpet this period. However certain areas of your life still seem to be under a mysterious cloud.
Natives would be able to explore the spiritual realm this year in a better light. Some would be enlightened by seers or sages that would pave way for peace in one's inner self. Embrace changes that come your way, though they seem to bring conflicts around. Continue with your hard work and commitment through the year, though they seem to take you nowhere nor give any major yields. Spend quality time with family, friends and nature that would boost your social morale through the year. Try to maintain harmony in your familial environment as well as it would work wonders with your general well-being.
Mars will be in Capricorn from March 17 to May 15, and then again from August 13 to September 10. During this time, your intuition will be the strongest. Use this time to make important decisions in your life. These decisions may be about your job, your hobbies, or your relationship. Either way, this is the time to quit procrastinating and make a choice.
This year, Uranus will interrupt your normal schedule, encouraging you to break out of your rut and try new things. If you are currently in a bad situation (home life, etc.) then you will find the courage to break out and find a better place to be. If you have a bad habit, 2021 is also the ideal time to work on quitting it. This is a year to better yourself. With Uranus's help, it should be easy.
2021 with respect to different aspects in your life
Career:
Career prospects look quite good for Caps during year 2021. Major changes are on the way and there would be better synchronous moves with authorities and peers in work place. But do note that hard work and commitment would be taking you places, hence do not be complacent and rest on your laurels.
The planets favor luck and fortune in your professional area all this year. However be cautious of occasional setbacks as well. Set lofty ambitions and work towards that. This period you would be encouraged by new ideas that would help you come up in your career. Some natives would find the period quite demanding and stressful. Do not lose heart, keep fighting and working and stay away from gossips and rumor-mongers around. Take major hindrances as life-lessons for now.
Love:
This year, Capricorn natives would have untold freedom in their love life. But then do use this wisely and do not flirt or enter unwanted territory. Particularly those into love or marriage might take a beating if indulgence takes precedence. The single ones are advised to use the period to forge log-lasting committed relationships and not to while away their love in one-stop relationships.
As the year proceeds, harmony comes in your love or marriage. There would be much romance and sensual pleasure on the cards for the native. You would be able to satisfy your partner mentally these days. Some single natives would be able to tie the knot around the middle of the year. There might be periods of misunderstandings with spouse or partner occasionally, it is up to you to sort this out amicably. Strive to bring about a cordial atmosphere in your love or marriage. Do everything in the knowledge of your partner. Enjoy good moments together and participate in their down-times as well. Make sure that you do not over-do stuff in relationships these days.
Finance:
For the year 2021 the planets are favorably disposed so that your financial standing would be safe and sound. There would be good inflow of money from different quarters. It is up to you to decide whether you are going in for investments for future scope or going to splurge on. Just be cautious of your moves.
Particularly, Jupiter would bless you with ample financial resources through the year. There would be occasional bouts of luck and fortune. Some of you might get your bad loans written off, some might land on a big legacy and yet others might get a pay hike. Whatever it is, try to bank it. Some Cap natives might need a revamp of their budget around the middle of the year, as they are going nowhere. Make sure that you stand on solid ground these tough times. Saturn might cause some sudden spells of misfortunes. So be careful and do not yield to temptations.
Health:
For Capricorn natives, the year ahead would have both Jupiter and Saturn in their area ruling general health and well-being. Though Saturn might bring about occasional health concerns and periods of low immunity, Jupiter would bring about some balance and betterment. But then natives ought to practice healthy habits to stay fit through the year.
Caps would have frequent minor health issues here and there. Load up on fluids, stay hydrated and take a balanced diet. Health needs more attention through the year, than the past period. Stress and strain would also play havoc with your health, hence stay safe. However some chronic ailments might disappear these days after some medical intervention. Play a sport, take good rest and the year would be quite rosy for you.
Advice:
Capricorn guys, do note that the year is a period conducive for growth and expansion. Hence it is time to focus on your ambitions and desires and give a whole-hearted effort through the year.
Capricorn Monthly Horoscope 2021
With most of the planets in your sign at one time or another this year, you will be blessed above all other signs. This year can be stressful at times, but will mostly be a breeze. Below shows a short Capricorn 2021 horoscope for each month of 2021.
January 2021, at one time or another, have Mercury, the Sun, and Venus in your sign. This starts the year off with luck in finances and in your social life.
February 2021 puts the focus on your finances and your love life. If you are married or living with your partner, these two things may be connected. This is also a good month to spend time with your children or younger relatives.
March 2021 again focuses on your finances but widens the relationship focus to both romantic and platonic relationships. The placements of Jupiter and Saturn will cause worry over your wealth. It's best to confide in your family about your troubles to ease your stress.
April 2021 has your home life feeling a bit stressful. Take some time to get out of the house or spend more time with your significant other to relax.
May 2021 puts the focus back on your romantic relationships. You will likely feel more romantic and charismatic. Use these confidence-boosters to your benefit!
June 2021 has your emotions running in full-swing. This can be confusing and distracting. However, make sure to listen to your intuition carefully. It knows what's up even if you don't.
July 2021 encourages you to quit comparing yourself to others! It will only cause bad feelings. Instead, focus on your wealth and family relationships.
August 2021 brings success in your career! You may come in contact with some stress and obstacles, but it's nothing you can't handle.
September 2021 is a time to focus on your friendships. Scorpio may be encouraging you to be secretive with your emotions, but know that you can share your feelings with your loved ones.
October 2021 makes your emotions even more intense than in other months. Again, listen to your intuition before making any major decisions. This is also a good time to work on hobbies.
November 2021 is a confusing month. You are likely to come in contact with a totally new situation. Know that the stars are there to guide you at all times this month.
December 2021 will be a completely busy month. Your focus will be split between your job and your family. You are likely to see success in both!
Conclusion
The yearly Capricorn 2021 horoscope predicts that this year comes with its fair share of ups and downs. With many of the planets shining their blessings upon your sign, you are likely to have more good luck than bad. Use this year to focus on your finances and your family. If you can do this well enough, then your year should pass by easily.
Er. Rameshwar Prasad invites you to the Wonderful World of Indian Astrology.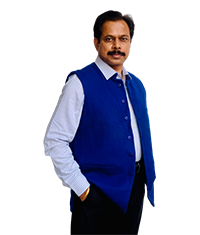 Engineer Rameshwar Prasad
(B.Tech., M.Tech., P.G.D.C.A., P.G.D.M.)
P: (+91-11) 22615299, 22615833
M: (+91) 9810105220, 9654255234