ASTROLOGY
Sun Sign Forecast For Taurus in 2021

For natives born between April 21 to May 20
(These predictions are Solar-based. Readers are requested to take date of birth into considering when reading these predictions.)
Hindi Name: Vrishabh
Date of Birth: 21st April to 20th May
Ruling Planet: Shukra
Nakshatras: Kritika
Lucky Numbers: 2,7,9,6
Lucky Days: Friday, Tuesday
Lucky Colours: Creamy White, Green
Lucky Stones: Diamond, Gomeda

Taurus is the second sign of the zodiac, which starts from April 21 and lasts till May 20. This sign serves as the storehouse of wealth and its owner is Venus.

Taurus Horoscope 2021
The Taurus 2021 horoscope brings to light the need to embrace change and to accept new opportunities. Thus, the stubborn and steady Taurus may find these tasks to be difficult, but others will be around to provide help and support throughout the year. Take risks this year; it is likely to pay off.
Year 2021 would ask Taurus natives to set their priorities in life just right. This is a time when your ambitions takes wings. Keep focussed and strengthen your inner morale. And this would take you places this year. All hindrances towards financial prosperity would be removed now. You would be blessed with much energy and vigour to conquer hitherto unexplored areas in profession.
Use this quality time with your loved ones. A great year for Taurus folks to rewind and get connected with their family and friends. You return back to your element of earth.
The year 2021 will be full of drama and excitement due to the congregation of several planets in your zodiac. There will be many conflicts, and they get resolved quickly. You can build a harmonious relationship with your spouse by removing all outstanding misunderstandings. Life with your partner will be highly delightful and might even lead to pregnancy.
You will achieve success in your life this year by trying out new and innovative ideas. Contact with the right people will be instrumental in improving your finances. You can enhance your health by indulging in a refreshing hobby.
Overall, the Taurus 2021 horoscope shows that this is a great year for bettering yourself through creativity and communication. Reach out to others when you can and work on your hobbies when you cannot. Do whatever you can to increase your activity and to better yourself. This is a year for self-improvement, so, improve yourself in any way you see fit.
The 2021 Taurus predictions also forecast that a cycle in your life is coming to an end. This has to do with a cycle that began around 2007. This could mean completion of an important goal or it could come as a sign that it's time to give up on a mission you have been working on. This is likely to cause some stress, but also resolution and perhaps a feeling of accomplishment. This cycle mostly applies to people who are 30 or older.
The planet Uranus will impact your horoscope this year, making it important that you keep tabs on your karmic energy. Be pure of heart and only move forward with positive intentions. If your intentions are anything but wholesome, karma will come back to repay you. To improve your karma, become more involved with people who need help. Letting your creativity shine can also help.
2021 with respect to different aspects in your life
Career:
Year 2021 is predicted to be quite an average period for the career performance of Taurus natives. There would be no major successes and no major failures as well. This would be a good time to hone your skills and spruce up your special talents. Be aware of your strengths and weaknesses.
Throughout the year, your professional performance would be quite good. But then around the middle of the year, some natives would be asked to choose between different career paths. Do not be impulsive, weigh the pros and cons before venturing out. Some of your past efforts in profession would start yielding fruits these days. A generally stable atmosphere prevails in the career front. But do not rest on your laurels. Do the ground work for some future scope of actions. Do not rely on luck, only hard work would pay rich dividends for you this year.
Love:
The year ahead promises goodness in your love life and marriage. Venus gives you the much needed emotional bonding with your loved one or partner. You would be much satisfied with him or her through the year. If you are single, you would locate your partner through a social connection these days. Deep feelings and romance are on the cards for the natives this year.
However there might be occasional hiccups in your marriage/love marring happiness. Things might seem to go out of your hands. Partner might stray or harbour selfish ambitions. Be tolerant towards him or her. Love and kindness would bring them back on track this period.
There are no major planetary influences on your chart areas ruling love and marriage for the year. However this does not mean that there would be conjugal animosity. Venus would make sure that there is much love and loyalty involved. Your enthusiasm would be quite communicable to your partner. You ought to rope them into your fold, else they might desert you. The single ones have a terrible period ahead for flirting. But then they should be wary of disappointments in love as well through the year.
Finance:
The financial standing of Taurus guys would be quite average during the year 2021. There are no major changes foreseen for the period in this area. Jupiter and Venus make sure that you have a steady inflow of funds and you are stable in your financial side through the period. Some natives are likely to experience some luck and fortune flow this year.
Natives are asked to have better budget management despite the stability promised. Avoid extravagant lifestyle and luxury purchases through the period. This is not the time to spend according to your impulses. You would be later caught in a financial turmoil. Do not rely on speculative deals for now, they would do you more harm now. Lay low and be thrifty all through the year.
Health:
Taurus natives are predicted with a year of general goodness and welfare as far as their health is concerned. Your ruler Venus makes sure that you are healthy enough through the year. But then natives are advised not to be indulgent with food and other bad habits that might hamper their general well being.
Do pursue some sport or the other that takes you out doors. Taurus guys are known to be great couch potatoes!. Mars blesses you with immense energy these days that would make you mentally and physically fit. Find occasional periods for rest and relaxation. Let not stress and strain run up your nerves. You would be a source of envy in the health front for others. Indulge on foods that improve your immunity level. Natives beware of digestive issues that might trouble you occasionally.
Advice:
For this year, Taurus natives would encounter changes of sorts and they are asked to embrace them with ease and not reacting to it negatively. Be a strict disciplinarian for yourself these days. Learn to adapt to things and situations around, do not be dogmatic. Your hands would be full with opportunities, and it is up to you to initiate action. Do not yield to emotions or sentiments around, especially from family members for now. Be conscious of your standing and keep your eyes and ears open. Do not put pleasure before you as disappointments are just round the corner. Be slow in taking personal and professional decisions for now.
Taurus Monthly Horoscope 2021
Now that we've taken a look at the year at large, let's look at the 2021 Taurus horoscope for each month.
January 2021 will bring energy to work harder and to be more productive. This is also a great month to begin new projects and rekindle old friendships.
February 2021 is the month to focus on your work-related relationships. Improving these can improve your career and your social life all in one.
March 2021 is the perfect time to work on your hobbies and projects. Keep close tabs on your bank account as well and don't lose sight of your responsibilities at work.
April 2021 calls for introspection. Continue to spend time on your hobbies, career, and finances like in March.
May 2021 brings Venus into the 10th house, which can help to boost your social life. Your communication will be on point this month, which can help to improve both your platonic and romantic relationships.
June 2021 is a month to focus on your family and loved ones. Your money will be fine this month, so make sure to focus on your relationships instead. It is sure to be worth it!
July 2021 continues to be a great month to focus on relationships. Venus will be in Leo for most of the month, which makes this the perfect time to reconnect and talk with family members.
August 2021 will bring some slight changes, which a Taurus-born might find uncomfortable. Take the month to become used to these changes and make sure to communicate your feelings about the changes with your loved ones.
September 2021 is a great month to focus on your love life. If you can communicate well and stay calm, then your love life will flourish. Use this advice for family members as well.
October 2021 is a month to find composure in your life. Take this time for introspection and to figure out what you want out of the rest of the year. This is also a great time to focus on your goals.
November 2021 is the perfect time to refocus on your goals and projects. However, keep a watchful eye on your finances; if you don't, they may get out of hand.
December 2021 is a time to seek help from your friends. Confess any fears and worries you may have for the year ahead. Doing this will help you to feel better.
Conclusion
All in all, 2021 is a year for introspection, working on your goals, and connecting with your friends and loved ones. If you can do this, then your year will go swimmingly. Don't be afraid to ask for help or reach out. Be kind as often as you can and karma will reward you.
Er. Rameshwar Prasad invites you to the Wonderful World of Indian Astrology.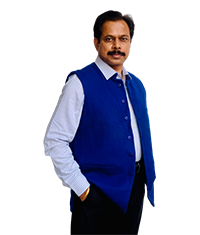 Engineer Rameshwar Prasad
(B.Tech., M.Tech., P.G.D.C.A., P.G.D.M.)
P: (+91-11) 22615299, 22615833
M: (+91) 9810105220, 9654255234