ASTROLOGY
Moon Sign Forecast For Pisces in 2023

Pisces - Meen [Moon Placed in Pisces]
Nakshatra - Poorvabhadra last quarter, Uttarabhadra, Revati
Indian Star Sign:Poorvabhadra 4, Uttarabhadra 1,2,3,4; Revathi 1,2,3,4 padas
Name starts with sounds (Dee, Du, Tam, De, Do, Cha, Che)
Rashi gem - Pukhraj [Yellow sapphire]
Favorable colou r- yellow
Favorable day - Thursday
Favorable number - 3
Favorable dates - 3/12/21/30
General
A Pisces born is polite, humble, philosophical, religious minded and God fearing. This sign people are restless, ever dreamy, contemplating and imagining about life. By nature, Pisces born is kind, sympathetic, and loyal. Pisces born incline towards management, finance, economics, law, philosophy, and spiritual subjects. Pisces sign will make one a teacher, lecturer, professor, banker, administrator, advisor, or priest.
Annual Forecast 2023
You may be active in all communications this year. Your communication skills may help you to get an opportunity in your profession. Fluctuating thoughts may prevent you from completing your work. You should do meditation to improve your focus. Your impulsive nature may impact your prosperity negatively. At times, you may lose confidence while doing your work. Try to maintain consistency in your profession for better growth. You may go on a personal trip with your family to seek mental peace. You could develop friendships with high-profile persons in your social circle. You may have to do hard work to complete your domestic tasks. Your health could be normal.
2023 with respect to different aspects in your life
Career:
This year, your efforts at work may be normal. You should have a focused mind when doing tasks. There may be a lack of communication with your subordinates. Your plan of action may be effective. You might be very busy with your work. You are likely to get new projects. Your innovative ideas for completing your work could be successful. There may be travels for work, but you should be careful on such occasions.
Love/Relationship:
Couples could enjoy conjugal bliss. You may succeed in all domestic activities. Those who are in love may have a good time with their soul mate. Your simplicity may be much appreciated by your partner. You may finalize a good marriage alliance now. Don't be hasty when making a decision on this.
Finance:
Financially, this could be a fruitful period. You may get monetary gains through your investments. There could be a rise in your bank balance. You may have some expenditure for your personal needs. You may spend money for repairing your house or vehicle. You may get financial support from friends.
Health:
Normal health is indicated this year. You may face problems connected to the central nervous system. Due to a heavy work-load, you may not take your meals on time. Seasonable changes could impact your health. You should do regular exercises and follow your doctor's advice.
Education:
This academic year, students may feel very confident. They are likely to get results according to their expectations. You will effectively plan for higher education. Implementing your own plans will give you internal satisfaction. You should also heed your well-wishers' advice before executing your ideas.
Remedies for the year 2023
• Distribute sweets to elders.
• Take the blessings of your gurus or teachers.
• Offer clothes to priests and take their blessings.
• Don't neglect your parents' instructions or advice.

Favorable Months: December, January, May, June, August and November
Unfavorable Months: February, April, July and October
Er. Rameshwar Prasad invites you to the Wonderful World of Indian Astrology.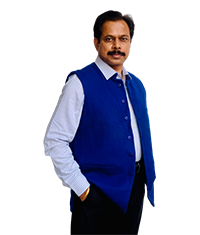 Engineer Rameshwar Prasad
(B.Tech., M.Tech., P.G.D.C.A., P.G.D.M.)
P: (+91-11) 22615299, 22615833
M: (+91) 9810105218, 9654255234